For 61 years, campers have made memories with friends at Pine Crest Summer.
Parents choose Pine Crest because of our flexibility, variety of programs, and the safety of our Boca Raton and Fort Lauderdale campuses.
Campers love Pine Crest Summer because they can customize each week of their summer. From camps in the arts, sports, science, technology, engineering, and math (STEM), and signature programs like our traditional day camp, there is something for every camper!
This summer, each week will feature a special theme with dress up days and unique activities. Scroll down to see each theme!
Week 1: Out of this World
June 10 - 14, 2019
Let your imagination run wild as you enjoy an out of this world summer experience.
Week 2

:

Everyday Heroes
June 17 - 21, 2019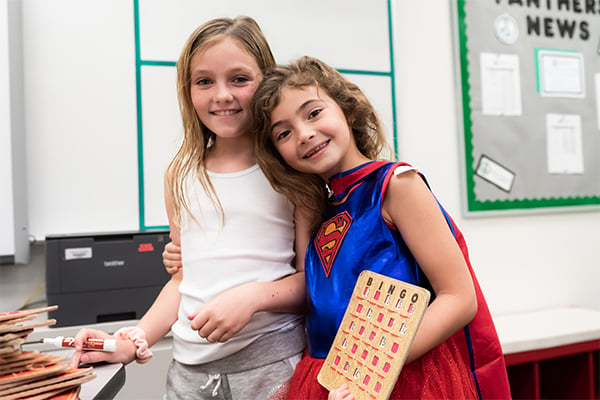 Heroes are all around us! Campers will enjoy a week of activities geared around heroes. Campers will enjoy a dress up day and hero themed activities.
Week 3

:

Having a Ball?
June 24 - 28, 2019
The Ball is in your court! Whether a sports fanatic or future Princess, this week will be a total Ball. Campers will enjoy activities, dress up days and snacks centralized around the theme of "having a ball"
Week 4

:

Party in the USA
July 1 - 5, 2019
All week long we will celebrate Independence Day with patriotic banners and flags all while enjoying state themed activities across programs.
Week 5

:

Going Green?
July 8 - 12, 2019
Going Green is whatever you want to make it. Campers will enjoy age-appropriate eco-friendly lessons on ways to help keep the Earth green. Don't be green with envy - Register for week 5 today!
Week 6

:

Under the Sea
July 15 - 19, 2019
Campers will explore life under the sea through projects, storytelling, and friendly competitions throughout the week. With Shark week just around the corner, campers will experience a week filled with Underwater themed fun! Of course, no Under the Sea week would be complete without pool time and water games in the Summer Sun!
Week 7

:

Challenge Week
July 22 - 26, 2019
Campers will participate in team initiatives. We will keep track of points on a large centralized display that campers can see throughout the week. At the end of the week, all campers will participate in the winning festivities.
Week 8

:

Panther Week-Where's Flat Panther?
July 29 - August 2, 2019
Join us as we go on a week-long search for our very own spinoff of Where's Waldo - "Where's Flat Panther?" Campers will participate in a photo scavenger hunt all week long finding, laughing and snapping a photo with Flat Panther.