Pine Crest School Band Director, Dr. Dannel Espinoza, was invited by The Academy of Arts and Letters to New York City to record with his saxophone quartet Project Fusion.
Dr. Dannel Espinoza, or Dr. E. as he is known by many of his students, can be found on the Pine Crest School Boca Raton campus. Dr. Espinoza joined the Pine Crest Fine Arts Department as the Band Director during the 2018-19 school year.
Being at Pine Crest provides Dr. E. with the opportunity to work with students who are excited about the challenge of learning new instruments and developing their existing skills. Not only does Dr. E.'s guidance benefit the students but it also helps him to hone his own abilities.


"Working with and teaching students allows me an opportunity to remind myself of the fundamentals," said Dr. E. "I can see how eager our students are to learn and this gives me the energy to go back and continue to develop my own craft."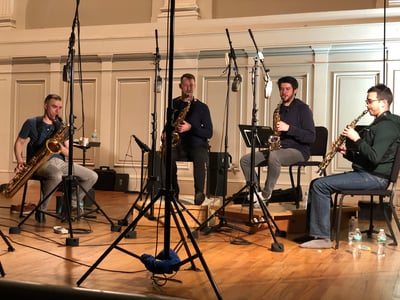 Dr. Espinoza, is an accomplished saxophonist having completed his Doctor of Musical Arts in Saxophone Performance and Literature with a Minor in Conducting from Eastman School of Music. He performs all over the United States with Project Fusion, a saxophone quartet.


Most recently, Project Fusion was invited to record in the American Academy of Arts and Letters in the Upper West Side of New York City, a premier recording studio also used by artists such as Itzhak Perlman and Yo-Yo Ma. This is the first of a multi-record deal signed with Bridge Records.


"I am constantly looking for the opportunity to grow," said Dr. E. When asked about the importance of developing the arts, "I always ask myself, what's the next thing we can do to take this somewhere we haven't been yet."


Dr. E continues to share his musical talent and wisdom with his students. Since arriving to teach on the Boca Raton campus, he has been impressed by the aesthetic beauty of the buildings and grounds, the ample resources, and the culture of collaboration.


Being somewhat of a self-described "technology nerd," he has seized the opportunity to work with Pine Crest technology specialists in the Mintz Family Innovation Lab and sound technicians in the Parents' Association Performing Arts Center. With the sense that there are no limitations to trying new techniques and tools at Pine Crest, Dr. E. imagines ways to instill in his young student-musicians a love of music.


"Who knows what the possibilities may be? One day, we may even design and print our own 3D instruments in the iLab," said Dr. E. "Any opportunity to create their own music and find music they enjoy helps students play with their ears and heart, which is something they may enjoy for a lifetime."


Pine Crest students are fortunate to have Dr. E. by their side!