By Biddi Solomon '20
At Pine Crest School, all students are exposed to the arts.
In fact, our School mission, "To offer a challenging academic experience complemented by excellence in the arts and athletics…," has ingrained the arts in our School's culture. This is seen by the fact that almost half of the student population can call themselves "student musicians."
WHY MUSIC EDUCATION?
Music education has been proven to improve the natural development of language, especially in young children.
The practice of music directly correlates with the growth of the left side of the brain, which is known to be involved with processing sounds and language. With this research in mind, Pine Crest's arts programming has been developed with intention.
"Music is a language just like any other," said Mrs. Gretchen Fasulo, Music Teacher. "The earlier you start hearing and learning the language, the more it helps your brain develop."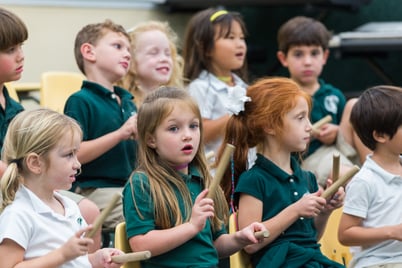 MUSIC IN LOWER SCHOOL
Starting in pre-kindergarten, students have general music classes every week, and have the opportunity to begin in the strings program.
The musical skills that students learn come together, and are presented to their peers and families in an annual show for each grade.


Middle School Band, Chorus, and Orchestra Concert

In general music, "the goal is to get students to find their internal steady beat," said Mrs. Fasulo. "This is done by using ear training and listening to different pieces, exploring different instruments, and moving their bodies to the music so that it is a full bodily connection."


The way students are assessed at this age is mostly by observation and seeing if they can take what was taught and create something of their own.


General music is implemented in student's schedules until fourth grade, and once students reach the second grade, they have the opportunity to perform with the cub choir (grades two and three) and then the mini singers (grades four and five) to refine their passion for singing.


"At this age, it is all about trying to get a spark in some students so that at some point, they can appreciate and be advocates for music in their own life," said Mrs. Fasulo.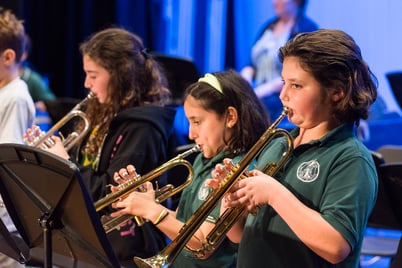 MUSIC IN MIDDLE AND UPPER SCHOOL
Once students enter Middle and Upper School, they have an opportunity to expand their interests in music.
In Middle School, music becomes an elective.


"The students who choose to take a music elective want to be there and want to learn," said Mrs. Fasulo. "At this level, it is common to read sheet music and start to practice more difficult pieces."


There are two main concerts throughout the school year where our dedicated students get to showcase what they have learned all year to family and friends.


In Upper School, "the main focus is to make music transform from simply being lyrics to sounding like an enchanting story", said Mrs. Fasulo. "Making music speak to the audience is essentially the goal at this level."


The Upper School chorus also sings in numerous languages, allowing students to learn beyond the classroom and get a glimpse of different cultures through music.


Similar to Middle School, Upper School students perform in two main concerts where they are able to display the music and skills they have learned up to that point.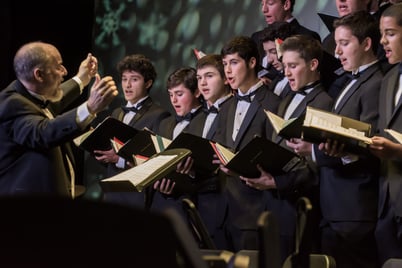 OUTCOME OF MUSIC EDUCATION
Music education at Pine Crest instills confidence that cannot be obtained in the typical classroom. Having the opportunities to perform and compete provide students with necessary skills that they can take and put to use beyond their careers at Pine Crest.


Samantha Gonzalez '19 has been in the chorus since first grade. "Participating in chorus has helped my performance, musically and academically," said Samantha. "My confidence has definitely grown, and I feel more comfortable getting up in front of people and presenting. Participating in chorus allows me to do the thing I love to do every morning, every day."


Upper School Band, Chorus, and Orchestra Concert