The Fine Arts play a pivotal role in Pine Crest School tradition. Each year, Pine Crest student-artists on both campuses and in all three Divisions — Lower, Middle, and Upper School — present a musical theater production. Last week, Pine Crest Upper School Panthers will transform into the East High School Wildcats in their production of Disney's "High School Musical."
The Upper School musical is part of the Student Cultural Arts Series hosted by Pine Crest's Founder's Council, which celebrates its 50th anniversary this year. Ashley (Palmer) Lindsay '99 serves as president of the Founder's Council and was deeply involved in the arts during her time as a Pine Crest student.

"During my time in the Pine Crest musicals, Stacy was a second home, and the cast and crew became my family," said Mrs. Lindsay. "The sheer amount of time and effort that goes into these productions is mindblowing. What a treat it was for the Founder's Council to get a sneak peak of that hard work during the High School Musical preview and Q&A session with the show's seniors. One thing that was a common theme for all the students was the familial bond this cast had, which takes me right back in time to the Pine Crest stage and makes my heart incredibly happy."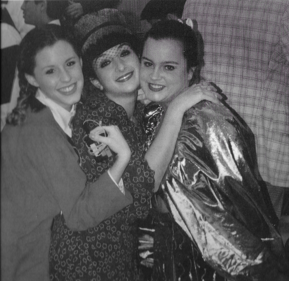 Left to right, Elizabeth (Maze) Hileman '98, Lauren (Friedman) Lin '98, and Ashley (Palmer) Lindsay '99
getting ready to perform "Gypsy," the 1998-99 Upper School musical.
From pre-kindergarten to twelfth grade, from music and visual art to dance and theater, there is a medium for every Pine Crest student to try and pursue along with academics and athletics. More than 40 Upper School students made up the High School Musical cast and production and creative team, including singers, actors, dancers, musicians, and behind-the-scenes stage crew members.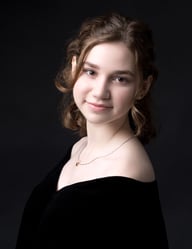 "The musical really came to mean a lot to me, especially this year," said Sydney Stanley '19, who is a cast member and a dance captain for High School Musical. "As a dance captain, I helped guide the cast by teaching, observing, and adjusting choreography. Something our director emphasized was how important the ensemble was — they created a living background and gave our incredible leads something to play off of. Speaking of our leads, it was amazing to see each of them perform. I remember being with each other in pre-kindergarten and kindergarten, and now they were the leads of the show. I am so proud of the whole cast, and there is not a group of people I would have rather spent my senior performance with."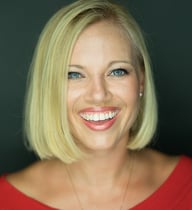 Mrs. Nikki Allred Boyd, Pine Crest Upper School dance instructor, was the choreographer and director who, alongside colleagues and students, began preparing for the Upper School musical over the summer. Beginning in August, Upper School student-artists and faculty rehearsed after school and on Saturdays.

"I educate our students to be professionals," said Mrs. Allred Boyd, who herself works professionally as a musical theater actress. "They demonstrated adaptability and an ability to step outside of their comfort zones. Learning how to interact and work with a large cast, developing characters with depth and texture — the growth in their confidence and communications skills was an honor to watch."
Libby Baker '19 was the stage manager for the second year and Mrs. Boyd's right hand.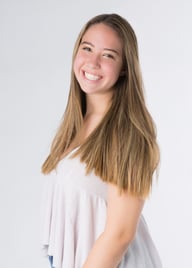 "The musical is a community I never thought I would be a part of," said Libby. "I have such a fear of the stage. In ninth grade when I decided to do backstage crew, I thought it would be the first and last time I had anything to do with theater. I was wrong. My role as stage manager demanded I listen and provide feedback. I now understand that listening is as critical as speaking, and a show is a complex process requiring skillful collaboration. My time stage managing this process allowed me to come out of my comfort zone to be part of a production even though I am not on the stage. Though we stumbled throughout the process, the end result was one that everyone involved should be proud of. From actors and scripts to props and lights, I have learned to perceive problems as opportunities to make a better show. "