By: Lindsey Keyes '24
Passion, dedication, loyalty. For students and faculty members who have had the chance to meet Mrs. Francine Savoca, they know these words describe her perfectly. She is an enthusiastic educator who places the highest value in the relationships she has established with her students and their families over the years. In fact, if you ask some of her students to reflect on the time they've shared with her, you'd realize that for many of them, Mrs. Savoca is not just a teacher; she is more like a second mother.
As one of the longest tenured first grade teachers on Pine Crest School's Boca Raton Campus, Mrs. Savoca has spent the past 33 years educating students and changing their lives for the better.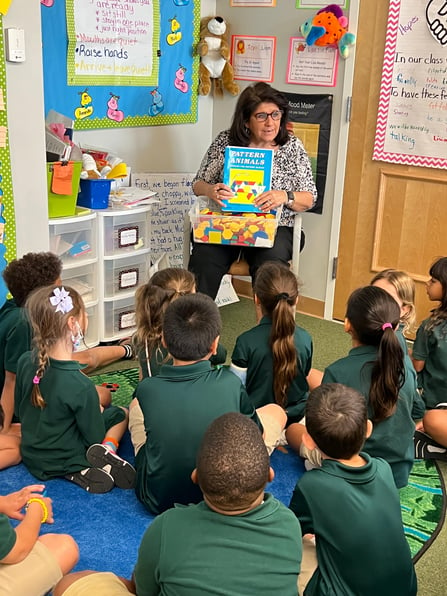 Growing up in Newington, Connecticut, Mrs. Savoca knew from a very young age that there was something special about teaching. When describing what inspired her to become a teacher, Mrs. Savoca says, "There's really not a fancy story behind it. I was gifted a blackboard for Christmas one year when I was little. It probably sounds simple, but I loved writing things on that blackboard with my chalk. I loved playing school with that board and I just knew, even at that young age, that I wanted to be a teacher."
Mrs. Savoca goes on to explain further, "As a young girl, I faced my share of challenges, like many of us do. There's nothing spectacular about me, and though I had to work through the bumps in the road, teaching always felt natural to me."
While she was certain that she wanted to teach one day, Mrs. Savoca's career began as a nursing home recreation director. Eventually, she would transition into teaching English Literature and Social Studies to middle school students in Connecticut.
In 1988, her family decided to move to South Florida. She began working as a waitress when she met a future colleague from Pine Crest who shared with her that the school was looking for substitute teachers. Mrs. Savoca became a long term substitute at Pine Crest until she eventually landed a position as the English as a Second Language (ESL) teacher. "When I started here, I had four students," she says. " One year later, I began teaching first grade."
In the beginning of her career, Mrs. Savoca recognized the wealth of talent in the faculty here at Pine Crest. "I just tried to align myself with the smartest people. I did all I could to learn from the best, and that's what happens when you're around the amazing people here at this school."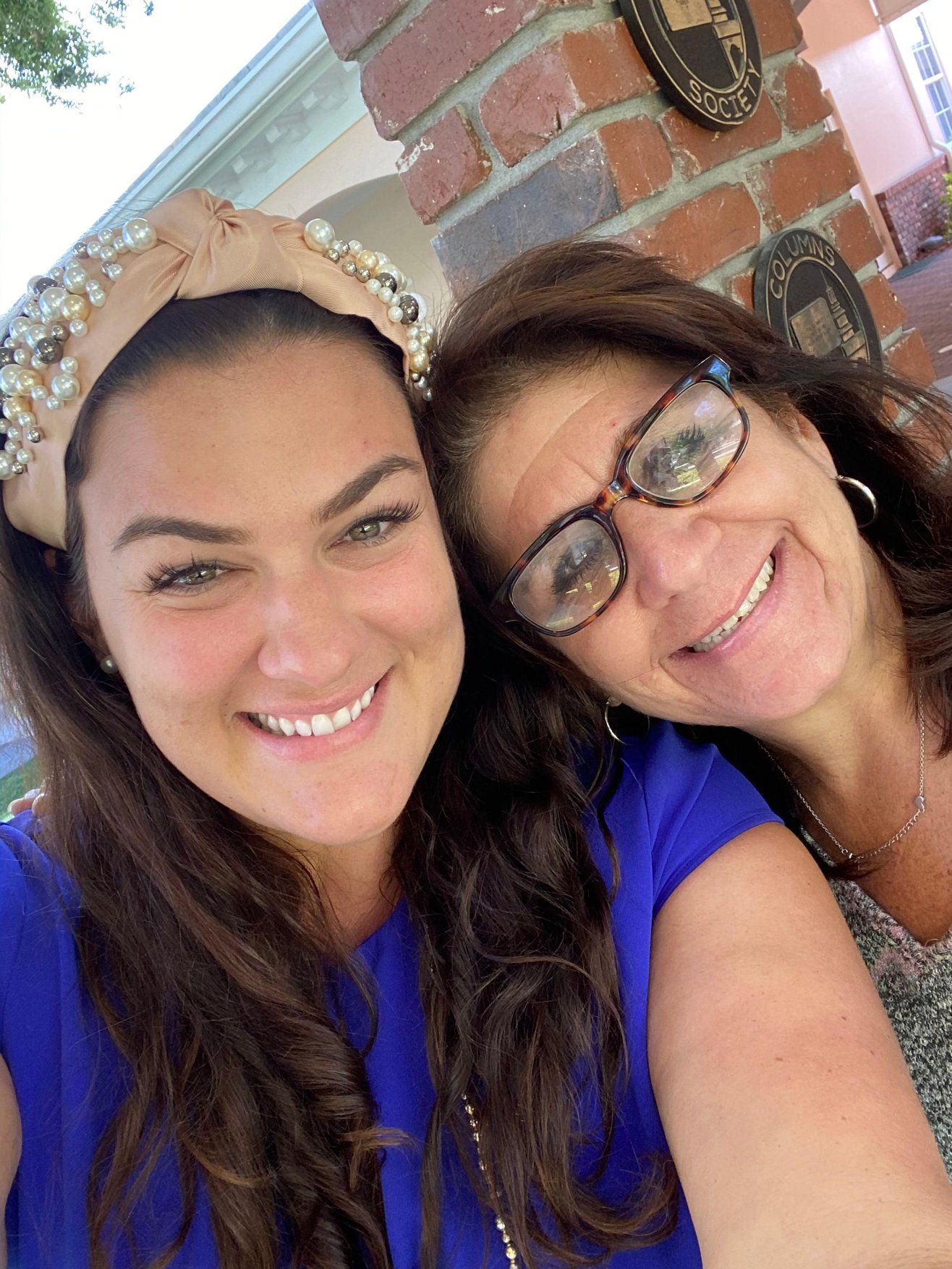 Mrs. Jamie (Fiorentino) Wolfe '03 is a former student of Mrs. Francine Savoca and was inspired by her to become a teacher.


Watching her first graders learn and grow has been one of her most rewarding experiences. "Seeing young students learn how to love, accept, and grow in all of their unique ways—they have such a beautiful way of looking at the world," Mrs. Savoca says.
Working at Pine Crest for so many years, Mrs. Savoca has seen the school change and grow in many ways. "It is amazing to watch this school grow and evolve to become greater each year. It is an honor to be a part of such excellence."
Speaking of her proudest moment as an educator, Mrs. Savoca reflects on the COVID-19 pandemic. "Being a teacher during the COVID-19 pandemic has had its challenges," she said. "I am especially grateful to be a part of the Pine Crest community during this unprecedented time. I was very proud that I was able to come back to school, be here for the children, adapt to new technology, and make it an amazing couple of years for my students. I've still been able to be true to myself as a teacher, even with all of those changes."
When reflecting on what has kept her at Pine Crest all these years, Mrs. Savoca explains that, "I've always recognized that this was a special place. Here, I haven't had the same hardships as a teacher that I did in my previous teaching positions. We are very fortunate, and everyone here is brilliant. There are so many phenomenal teachers here."
Often, when someone has had a career that spans as much time as hers, it is natural to explore changing jobs or positions. But for Mrs. Savoca, she's never considered an alternative. "At this point, I couldn't see myself teaching anything else— it's always been first grade for me. There's nothing that I feel like I want to change. I'm very content where I am because I believe I'm doing what I was meant to do."
She goes on saying that, "No matter how many times I may teach the same material each year, everything is new and exciting for my students. They are learning how to love school at this age and everything they take from here is how they are going to feel about school for the rest of their lives."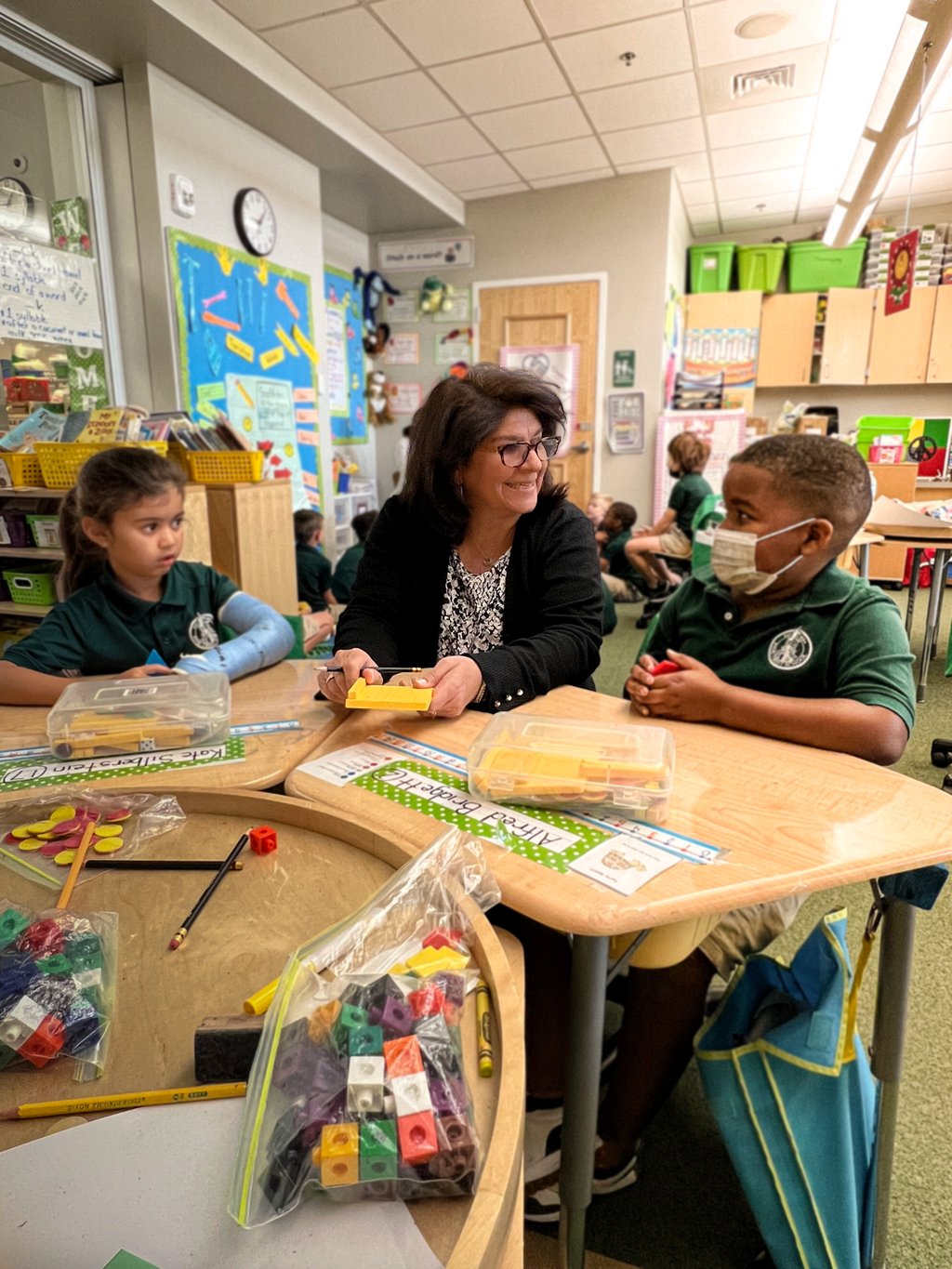 Perhaps it is also Mrs. Savoca's positive attitude that has contributed to her longevity here. "It's my mindset. I recognize that this is a blessing. I come here knowing not to take it for granted. Every day I go to work without one complaint. I don't ever have a bad day. I may come home exhausted, but no bad days."
Even with as much experience as she has, Mrs. Savoca is never content resting on her laurels. "I may not be the smartest teacher, but I try to teach from my heart. When parents or students tell me that I've done a great job, I can't see it. From my perspective, every day I ask myself how I can be better. How can I improve and go back tomorrow even stronger?"
For teachers considering Pine Crest, or beginning their careers at Pine Crest, Mrs. Savoca's advice is to "create strong relationships with your students and their parents. Communicate with them to create relationships filled with trust, so those parents know you love their kids as if they were your own."
"You want your parents to know that when they drop their kids off here every day, they're being taken care of. These students do well not because we're perfect teachers, but because they're safe in an environment where they can fail, get back up, and still thrive."