By: Asha Gandreti '25
Meet Dr. Thomas Lolis '94, Pine Crest alumnus and Upper School English Instructor.
Dr. Lolis brings his love of English and literature to his students each day. He often incorporates current events into his lesson plans, sparking lively student-led discussions.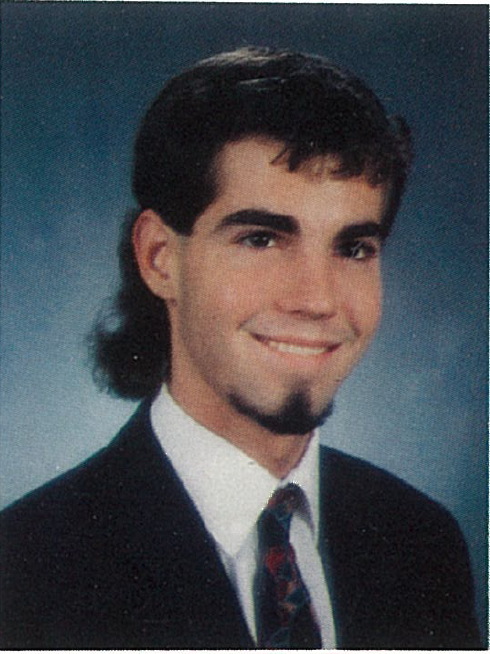 Dr. Thomas Lolis '94 as a graduating senior in 1994.
Dr. Lolis is a Pine Crest lifer, enrolling as a kindergarten student. The son of an Albanian refugee, attending Pine Crest was especially meaningful for Dr. Lolis' family.
"For a variety of reasons, my father was not able to finish school," Dr. Lolis said. "Being a student here gave me a lot of guidance. My family's background was sort of the reason why my parents sent me here, as they wanted to shift things for me to have a college-based career. Pine Crest opened up a lot of doors for me. It showed me how many possibilities there are for building a life and a future for yourself."
At Pine Crest, Dr. Lolis discovered an interest in English, history, and psychology. "In Mr. Rousseau's psychology class, not only was the psychology content really interesting," Dr. Lolis noted, "but he did a lot of work with film and film theory and opened that whole world for me to explore. I also enjoyed Mr. Uskali's English class. It allowed me to make connections between the texts and the world. It wasn't just reading books, but connecting them to things happening with entertainment and the news."
In addition to his studies, Dr. Lolis actively participated in the arts. "I helped build sets for the plays and musicals. I also played piano," he said.
After graduating from Pine Crest, Dr. Lolis completed his undergraduate studies in English Literature at the University of Miami and remained there to obtain his doctoral degree in 2007. He credits his affinity for English to his time as a Pine Crest student.
"There weren't many books in my house when I was growing up. Just being a student here made me want to read and learn more about literature. It fascinated me because of its absence in my own house—because it wasn't an interest of my parents or immediate family and it was so different."
"I was drawn to literature at an early age," Dr. Lolis continued. "I have vivid memories of my first grade classroom. There were so many books! I dove in and have not stopped. Today, my home library includes books from every major stage in my life. Those books have shaped who I am, how I view the world, and how I approach the classroom."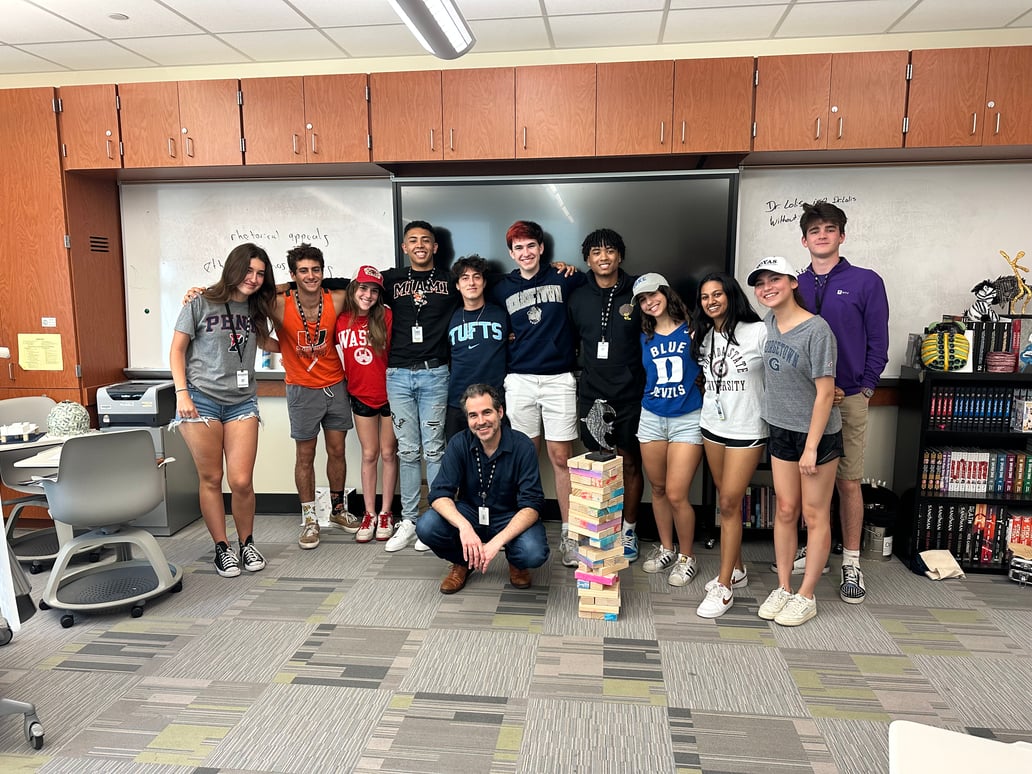 Dr. Lolis '94 with his senior students from the Class of 2023.
Dr. Lolis always knew that he wanted to pursue a career in literature, though he did not realize he wanted to be a teacher until he was in college.
"I had a few college professors who demonstrated how you can have a career path teaching. I turned to them to understand how I could have a teaching career. I had a lot of ideas about how and what to teach, but I needed a clearer understanding of the profession—How does one specialize? What is a post doctorate? How many conferences should I attend each year? How many publications should I produce each year? I had a few excellent mentors who helped me gain a better understanding of the business of teaching."
Dr. Lolis began his teaching career as a university professor with tenures at the University of California at Los Angeles and the Georgia Institute of Technology, among others. Two years ago, Dr. Lolis made his way back to Pine Crest School where he teaches a variety of Advanced Placement (AP) and Post AP courses to Upper School students.
Reflecting on what drew him back to Pine Crest, Dr. Lolis concluded that "In addition to exposing students to so much knowledge, Pine Crest teaches character. It is a part of the school's mission—and I was really interested in coming back because I know how much it did for me. I would be in a completely different place professionally, and as a whole. Knowing first hand what education can do for you, and the legacy it can build for those who come after you, like my children, makes all the difference. My daughter goes here now, Zoe '28, and my younger daughter will be here next year. Knowing what this environment can do for its students and being able to share that with my own kids is such a great opportunity."