Kindergarten teacher Mrs. Barbara Becker has been a valued member of the Pine Crest community since her eldest child walked on campus more than 25 years ago.
She served as a parents' association volunteer for many years before joining the Fort Lauderdale campus Lower School faculty in January 2007 as Mrs. Patty Schimpf's teacher II in pre-kindergarten.
Mrs. Becker brings her years of experience, deep sense of empathy, and powerful love of reading to her students each and every day.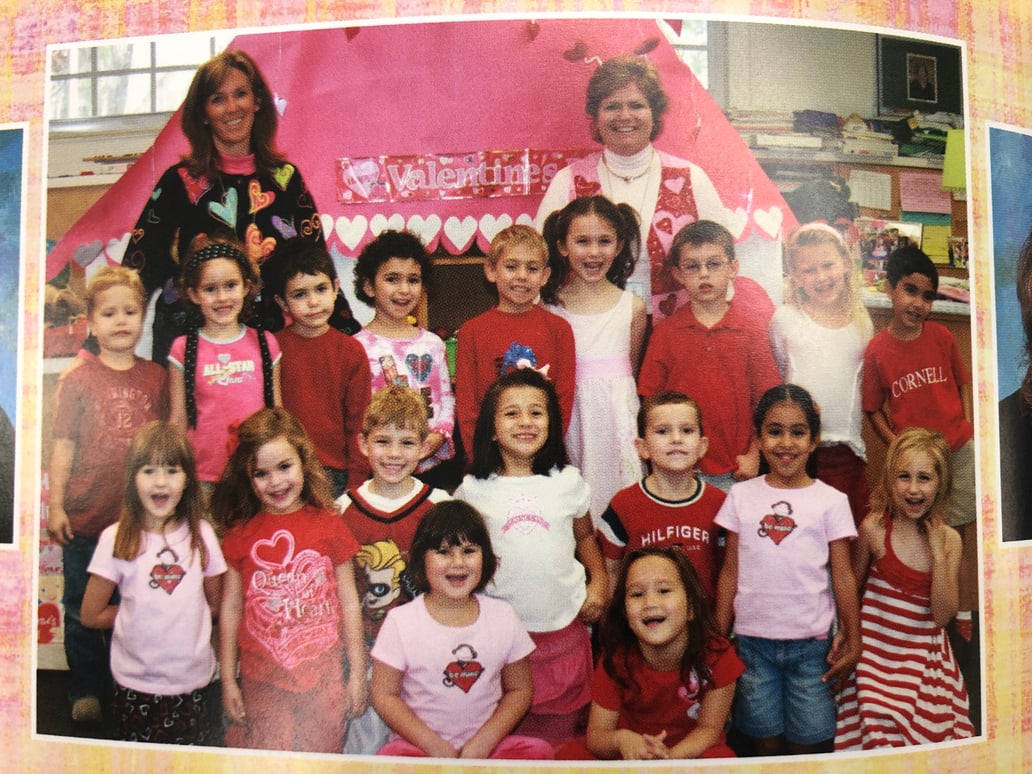 Mrs. Becker (top left) and Mrs. Patty Schimpf's (top right) 2006-07 pre-kindergarten class.

Originally from Tyrone, Pennsylvania, Mrs. Becker moved to South Florida with her husband Nicholas in 1985. Mr. and Mrs. Becker would go on to have five children: Nick '10, Emily '12, William '15, Matthew '17, and Michael '21.

The Becker family discovered Pine Crest from Nick's preschool teacher, who suggested it might be a good fit.

"We visited and fell in love with the school," said Mrs. Becker. "My husband and I say it's the best gift we could have ever given our children. The things they learned here empowered them to be such good students, to excel in their careers, and to be people of character."

In describing her proudest moments as a Pine Crest parent, Mrs. Becker explains that "with each child, it has been different. Watching them overcome obstacles that are unique to them, setting goals, and seeing them fail safely and be supported. They all blossomed, experienced failures, and kept trying and accomplishing things through the learning process."

Mrs. Becker taught for many years before moving to Florida and starting her family. When her youngest child started at Pine Crest in 2006, she was excited to return to the profession that meant so much to her.

"I always knew I wanted to be a teacher," she said. "My mother was a teacher, and I had a big chalkboard in my room when I was a little girl. I was always a teacher to my stuffed animals and dolls! As I got older, I always loved being in the classroom. I had great teachers growing up that I wanted to be like. Teaching always felt right."
Starting in pre-kindergarten, Mrs. Becker then spent 11 years teaching first grade before moving to kindergarten for the 2020-21 school year. Revered for her kindness, calm demeanor, patience, and her ability to cultivate her students' love of reading, Mrs. Becker's greatest joys in the classroom come from the small moments she shares with her students.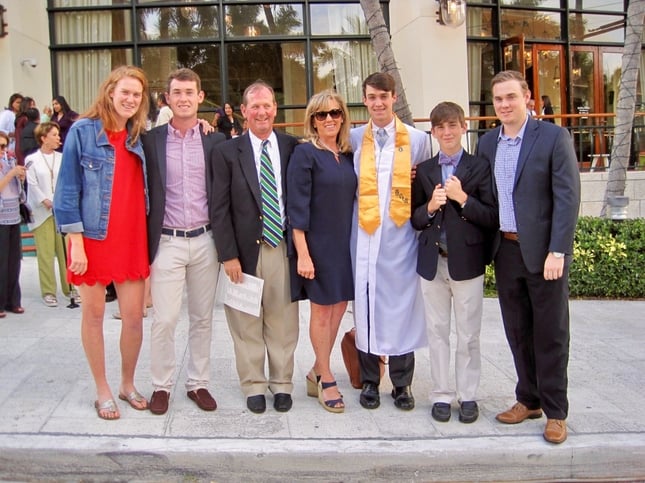 The Becker Family: Emily '12, Will '15, Nicholas, Barbara, Matthew '17, Michael '21, and Nick '10.
"Seeing a child figure something out, or master a task or a skill that started out as challenging is inspiring — and I get to see it every day!" said Mrs. Becker. "To teach something and see the looks on their faces when they get it, the confidence they feel, the pride in themselves, is simply remarkable. To have students love something—reading, writing, expressing themselves—it's the little moments that make me look forward to coming to the classroom every day."
In this extraordinary year filled with new challenges and so much change, Mrs. Becker reflects with pride how she and her colleagues adapted to teaching during a pandemic.
"I have learned so many things over the past two years and was definitely pushed out of my comfort zone," she said. "I never thought I could learn the new technology that comes with teaching virtually as we did in 2020-21. I can proudly say that it is now second nature. Flexibility and creativity have been the key—try something, and if it doesn't work, try something else."
Outside the classroom, Mrs. Becker treasures time with her family, enjoys traveling, and loves to restore old things. She is currently working on a rusted old bike—she loves to take things apart and put them back together so they are better than they were before.
Mrs. Becker hopes that her students never lose their passion for reading, writing, and learning.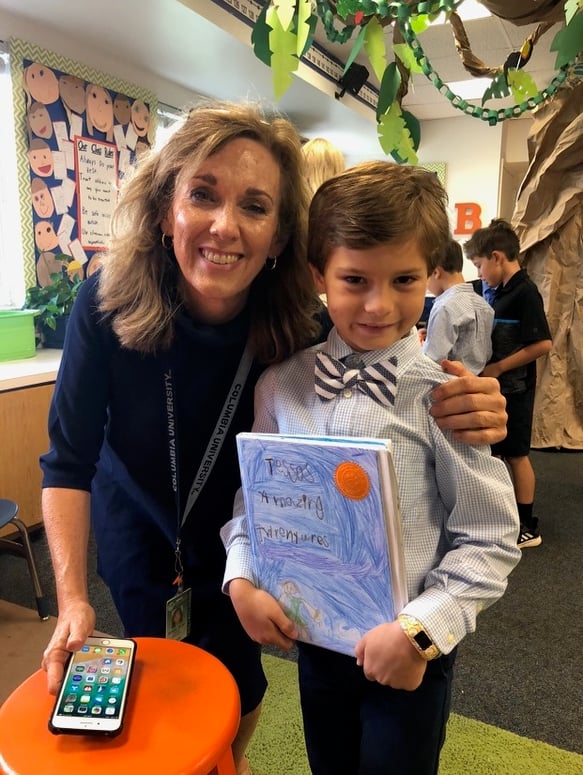 Mrs. Barbara Becker with Case Lindsay '30

"Pine Crest gives students the tools to persevere through adversity, overcome obstacles, and pursue their passions." said Mrs. Becker. "It is my joy and privilege to get to know my students, to encourage their interests, and to watch them grow as learners and as people."

As Mrs. Becker looks ahead to her retirement from Pine Crest, she reflects on what she has loved about teaching here.

"It's the best school, with the best people," she said. "I love the emphasis on character and how purposeful academics are. The faculty here are passionate about what they do. It's a great environment to work in—everyday when I walk on campus and put my badge on, I get emotional—this is the best place to be. The families are wonderful and supportive, and the children are excited to learn. Pine Crest is an incredible place to be."

"Professionally, the opportunities here have helped me grow so much as a person and as a teacher. Everything is so conducive to helping children learn. The teachers are empowered and given opportunities to help children love to learn."


While saying goodbye to Pine Crest for now, Mrs. Becker and her husband will be moving to Simon's Island, Georgia where she will continue teaching at an independent school.