Building fun, customizable, affordable bicycles has been a way for Avery Pack, founder of Republic Bike and Pine Crest Class of 1996 alumnus, to encourage people to get moving.

Republic Bike offers custom bicycles to individual customers and fleets for companies, hotels and bike-sharing programs. Avery has been making innovative bicycles since 2005.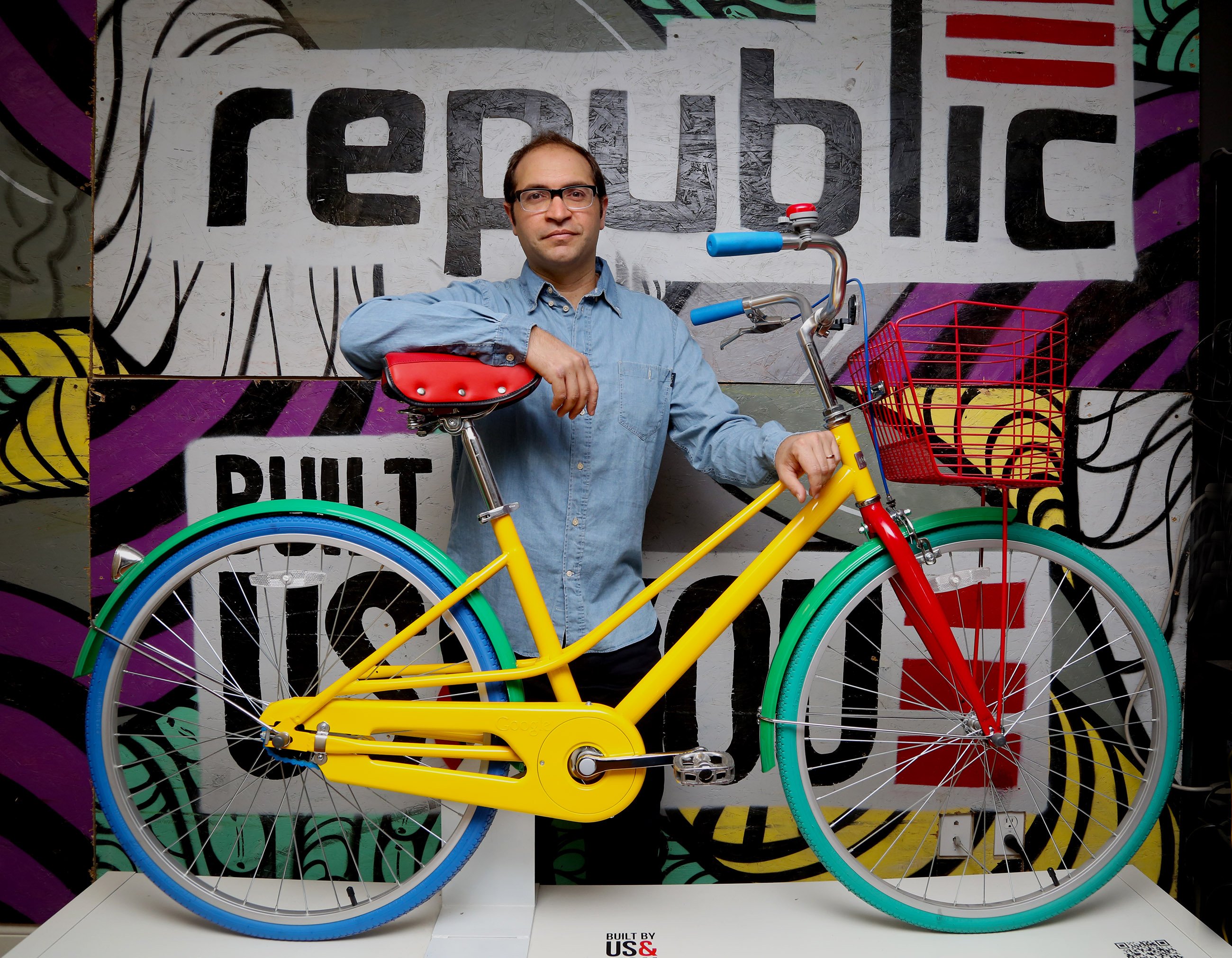 Susan Stocker/Courtesy of the South Florida Sun Sentinel
"Republic Bike was created as a way to offer mass customization for bicycles," said Avery. "We work together with the customer on the nuts and bolts of building a bicycle, and also on the design; that aspect is equally important."
One of Avery's most recognizable bicycles is the "GBike," a bicycle that Google commissioned for their campus in California.

"The GBike design has been evolving over the years as Google's needs have changed," said Avery. "We have been working hard to develop a bike that is in line with their growing company and the type of atmosphere they want to create on their corporate campus, of which the bicycles are an important part."

Avery prides himself on designing bikes that reflect his customers' needs and personalities.

"We try to let our customers shine through their bicycles," Avery said. "We take a backseat so the project represents the individual or the brand. That is how we want Google employees to feel – to see the bike as a Google bike and not a Republic Bike bicycle."

In addition to making bicycles that encourage customers to be more active, Avery is identifying technologies – such as a locking technology, tracking devices, and unique features like airless tires and chainless bicycles – that make the bikes more user-friendly.

"These innovations allow us to offer low-maintenance bicycles so customers won't have to worry about flat tires or rusted parts," Avery said. "We constantly try to design and manufacture bicycles that are more practical and functional for individual use so people can do what they enjoy most – go for a ride."

Republic Bike bicycles are assembled and shipped just 25 minutes away from Pine Crest School in Dania Beach, but the company also works with teams around the world on international projects.

"Today, a business' location is arbitrary," said Avery. "For me, it was important to find somewhere that fosters my creativity and health, and Florida is a great place!"

When asked about his time at Pine Crest, Avery recalled his art classes.

"The art program was one of the most valuable and memorable experiences I had at Pine Crest," he said. "My teacher, Mr. Bryant, was incredibly open and supportive. He was always available to give his feedback and time. He showed me that the creative process was respected the way other courses are. The weight of that is not lost on a student."

Avery offered encouragement to students who are starting college or their first jobs. "Now more than ever, it is imperative to follow your creative pursuits. It is easier than before to see an idea through to completion."