Pine Crest formed the School's first-ever Lower and Middle School FIRSTⓇ LEGO LeagueⓇ (FLL) competitive teams four years ago, and since then, the Panthers have formed eight teams who have made their mark on the South Florida region.
At the beginning of each school year, students apply to become members of a team and then begin meeting after school to prepare for competition.

In addition to engineering and programming a robot to tackle complex tasks on the FLL game board, teams are tasked with designing a solution to a real-world problem. This year's problem: imagine and solve issues facing astronauts during long space flights or stays on the International Space Station. Teams must design, build, code, and solve the problem — a problem that may be bigger than they ever imagined and requires thinking outside the box to solve it.
What may feel like a fun after-school activity playing LEGO with teammates is actually an intentional, structured exercise that helps build teamwork and imaginative thinking skills. The teams are guided by Pine Crest teacher-coaches and highly-trained specialists who attended the weeklong Carnegie Mellon Robotics Academy over the summer as part of their professional development plan.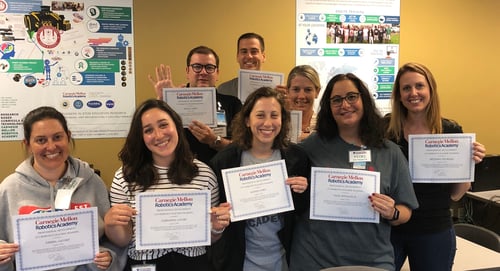 After taking a deep dive into space-related topics, each Pine Crest team imagined a real-life problem and possible solution. Some of the projects included:
The Decoders ("Radiation Reduction") team decided to solve the problem of astronauts' radiation exposure while in space. The team developed a solution that includes putting liquid hydrogen in polyethylene terephthalate (PET), a plastic that is rich in hydrogen, in the space suit through a valve that is sewed into the suit.
The Decoders 3.0 ("ASTRO HomeLink VR Goggles") team imagined that astronauts in space experience depression since they are so far away from their families. The team developed Virtual Reality Goggles that allow astronauts to interact with their family members as if they are eating dinner with them and engaging in regular conversations.
Team Delta ("Space Aces") figured that in space, astronauts can experience loneliness. The team researched the serious effects of loneliness and depression. Using Python code and Circuit Express, the team created a prototype of a robot that functions as a pet does in animal-assisted therapy. Their artificially intelligent robotic pet interacts with astronauts similarly to how people interact with dogs.
Gamma ("Cosmo Troopers") learned that astronauts face psychological problems due to extended periods of time spent away from family, friends, and the planet Earth. The long voyage with very few things to do can lead to boredom and depression. Their solution: art therapy. Art therapy is a powerful tool for loneliness and depression. Team Gamma developed a variety of activities for astronauts to bring with them such as painting emotions, journaling, line art, and meditative painting.
Each season culminates with regional tournaments and championships where teams show off what they learned and invented, and compete with their robots. Teams compete for scores in three categories: Robot Field, Core Values, and Presentation of a Research Project.