By: Danielle Keyes '24
Whether on the football field, basketball court, or in the classroom, Coach Christopher Newbold has impacted students at the Boca Raton Campus for nearly a decade. Both current and former students of Coach Newbold frequently say that his positive influence reaches beyond the field and classroom. As a former student of Coach Newbold's, I can attest to his dedication to coaching and passion for helping students grow athletically as well as emotionally.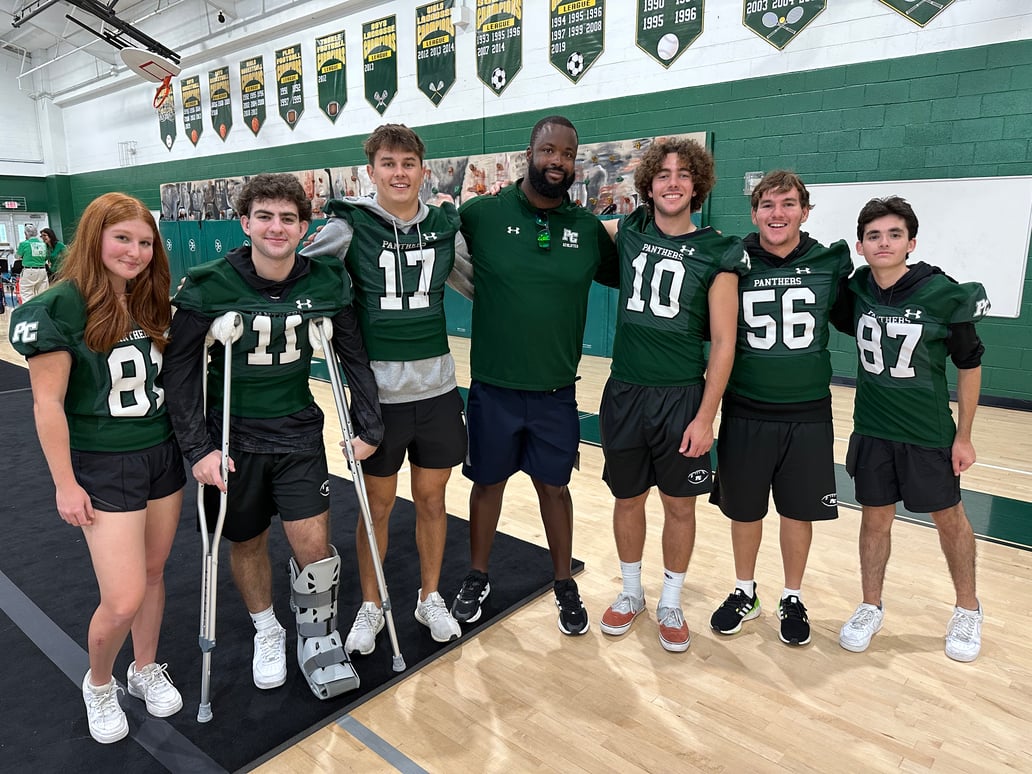 Coach Chris Newbold with his former football players from the Class of 2023
I sat down with Coach Newbold to learn more about his Pine Crest experience and his new role as the Middle School Athletic Director at the Boca Campus.
Danielle Keyes '24 (DK): Did you always want to be an educator? Did you have a different career in mind?
Chistopher Newbold (CN): No. At first, I wanted to go into law enforcement, and I started that path in college. After I graduated, I took a year off and started coaching and I fell in love with it. I never lost that love of coaching so I stuck with it, and it has given me a lot of opportunities. I am very fortunate.
DK: Have you always been passionate about fitness, health, and wellness? What drew you to this field?
CN: I have. I began working out going into my freshman year of high school, and it gave a sense of purpose. I would work out twice a day—once for football and then just by myself. I also believe that when I was younger, playing sports helped me have a "stay ready at all times'' mentality. If you have to run, jump, go do something, learn something, you really have to be prepared for it. If you are not fit in many aspects, you could really struggle. That is my philosophy.
DK: What is your favorite sport to coach?
CN: Football! I love football—it's number one for me. But basketball is a very close second.
DK: What brought you to Pine Crest?
CN: An opportunity, I'd say. They were looking for a football coach and I interviewed for the job. I heard about the job by word-of-mouth, and I was very interested. Here I am, nine years later.
DK: You could be teaching and coaching anywhere; what keeps you at Pine Crest?
CN: The community and the family, that's definitely what keeps me here. Just the feeling of being wanted, and feeling like I can make an impact. Everyone is kind, and this isn't a corporate environment. We are treated like family. I love doing what I do at Pine Crest.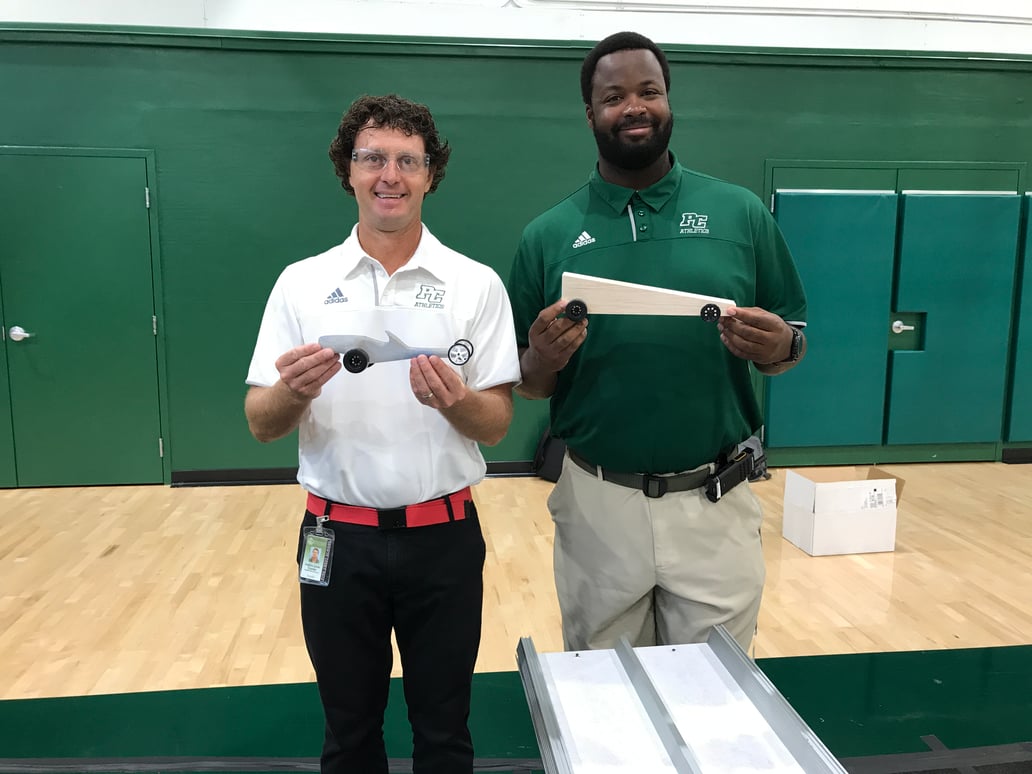 Coach Newbold built his own dragster car with eighth grade physics students.
DK: You recently became the Middle School athletic director at the Boca Campus. What is your vision for the program, and what are you most excited about in this new role?
CN: I think my vision for the program overall is to grow it. I have had many great predecessors, and I want to keep building on the foundation that they started. I also want to make sure the program remains cohesive with athletics on the Fort Lauderdale campus, and that we uphold the athletic mission statement. We share the same vision as Mr. Barry Connors, Deputy Athletic Director and Dr. Jeff Johnson, Athletic Director.
DK: Outside of the classroom, what do you enjoy doing in your free time?
CN: I enjoy walking and playing with my dog. I just started playing golf, so that has been taking up some of my time.
DK: What has been your proudest moment as a coach and educator?
CN: During this year's football season (2022-23), when our flag football team record was one and three, we were either going to lose the rest of the season or step up and save the rest of the season. We put a good second half of the season together and ended up winning the Gold Coast League Championship. We didn't lose another game and we beat the undefeated North Broward Prep.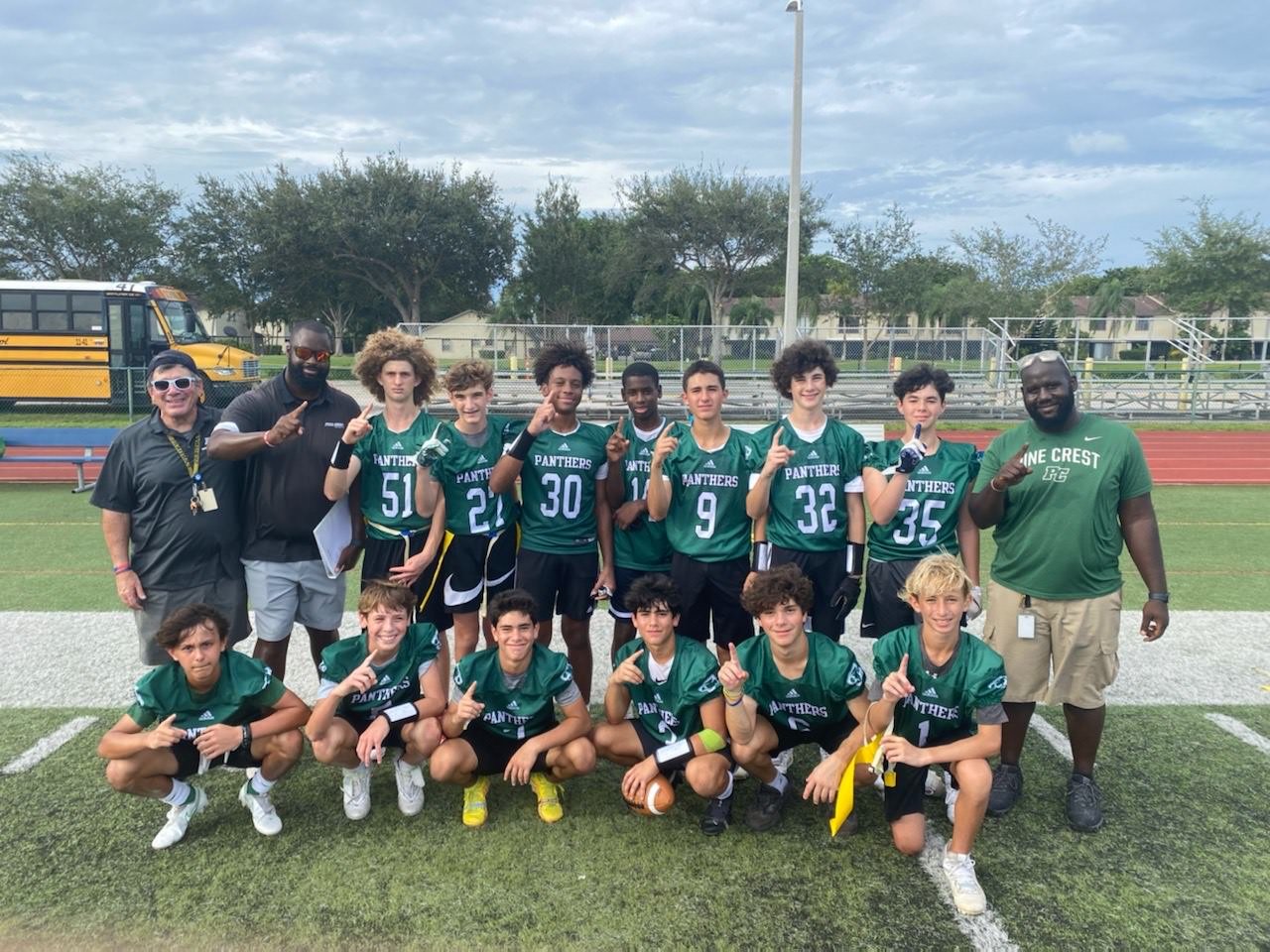 The Pine Crest Middle School football team from the Boca Raton campus won the 2022-23 Gold Coast League Championship.


DK: What is one thing students would be surprised to know about you?
CN: I've been in a couple of video games— I was in the NCAA football video games. There are not a lot of people who can say that.
DK: What advice would you give to a new or prospective faculty member?
CN: Embrace everything, and ask for help when you need it. There are many opportunities and a lot of people willing to help. Embrace what you can, do what you can, and find ways to make the best of everything that comes your way.