Michele (McNichol) Stocker '83 has come full circle in her Pine Crest experience over the course of 40 years— first as a student, then as an alumna, parent, and parent of an alumna, and now as Chair of the School's Board of Trustees.
After graduating from Pine Crest, Michele earned an undergraduate degree from Princeton University, cum laude, and a J.D. from Columbia University. She is now a shareholder of Greenberg Traurig as an attorney in the firm's commercial litigation practice. Michele is involved in the South Florida community, serving on the Orange Bowl Committee and as a board member for the NSU Museum of Art and the Crockett Foundation.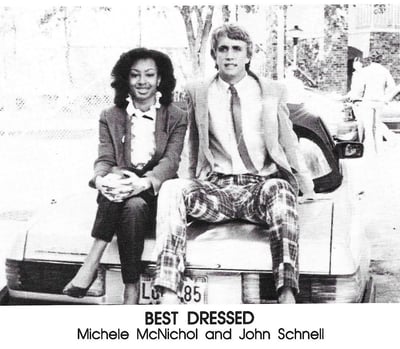 Perhaps most importantly, Michele is the proud parent of Savannah '19, who attends Syracuse University's Honors Program, and Sierra '21, who balances a busy athletics and science research schedule. We are fortunate to have Michele as our Board Chair and her family as part of our community!


Michele took time from her busy schedule to answer 10 questions about her Pine Crest experience, past and present:


The Magazine (TM): We know that you hold volunteer positions with other local organizations, what drew you to serve Pine Crest as a volunteer leader?


Michele Stocker (MS): I was having dinner with two Pine Crest friends from the Class of '83, Tim Ingham and Julie Pabst, when they first began talking with me about getting involved with the School. Tim was a Trustee, and Julie volunteered with the parents' associations and Founder's Council. When Tim and Julie eventually asked me if I would consider sharing my time and talents with Pine Crest as a volunteer leader, I immediately said "YES!" I first became a member of the Ambassador Council, knowing that there may be a view toward becoming a Trustee. I remember wondering if I would have a chance to become Chair one day.


TM: How do you feel about your new position as Board Chair?


MS: I am humbled by this whole experience, knowing that I was first introduced to Pine Crest at 14 years old as one of several African American students and today as the first African American Board of Trustees Chair. It is an honor for me to partner with Dr. Markham '18H in our shared mission to provide a safe and positive learning environment and to prepare students to be future-ready.
I get goosebumps when I reflect upon my Pine Crest experience; I have truly come full circle. You really never know where life is going to take you!


TM: What do you believe is the benefit of alumni serving on the Board of Trustees?

MS: Alumni who serve on the Board know the School very well — they have lived the values and understand how Pine Crest portrays itself in terms of high-quality education. The entire Board is deeply invested in advancing the mission of the School for the next generation of students. The alumni point of view complements other members' perspectives, which represent a diverse array of professions and constituencies, such as parents and parents of alumni.
TM: In your opening address to faculty in August, you mentioned having been recruited to attend Pine Crest. What inspired you and your family to join the School community?


MS: In the late 1970s, representatives from Pine Crest visited local public middle schools, asking administrators to refer diverse students who may benefit from an independent school education, academically and socially. My principal referred me to Pine Crest, and I interviewed and tested for a spot in the freshman class. Education was important to our family, and they encouraged me to accept Pine Crest's offer.
I was a "nerd" who loved to read! I remember feeling so excited to learn and to be challenged academically. Although Pine Crest was out of my comfort zone, as it would be for any new student, everyone was very welcoming. I made friends quickly and counted some of the dorm students among my closest friends. One friend lived in The Bahamas, and my parents would sign her out on the weekends to stay with us.


TM: If you had to go back in time and relive your time as a student, what would you do differently?


MS: I joined several clubs in Upper School and enjoyed that very much. I would have taken even more advantage of extracurricular activities. Extracurriculars are an important part of the Pine Crest experience.


TM: What has changed at Pine Crest since your days as a student? What is still the same?


MS: There are physical changes, such as the Middle and Upper Schools and the Huizenga Family Science building. The feeling of being on campus and the overall goals of the school remain the same. Pine Crest is rooted in academic excellence, the best and the brightest students, and high-caliber faculty who teach students to be well-rounded. There has always been an environment of healthy competition of students who inspire each other to learn.


TM: What was your favorite lunch as a student?


MS: Like many alumni from my era will tell you, chicken fried steak!


TM: Who was your favorite teacher? Did you have a favorite class?


MS: There are too many to name. Mrs. Deidesheimer '92H ("Mrs. D.") had a big influence on me. She was so nurturing and comforting. We would sit and chat in the library. She was almost like another mother or grandmother to me. Although he was tough, I looked forward to class with Mr. Jaswinski '96H. He was a great teacher, and I learned a lot from him. Mr. Palmaccio '08H was another great teacher. Mrs. Hunt '12H had the most influence and impact on my life. I credit her for pointing me in the right direction and for ending up at Princeton.


TM: What would surprise people to know about you?

MS: I love live music! To me, there is nothing like going to a concert in person. Most recently, I took Savannah and Sierra to the Imagine Dragons concert, and my sister and I saw the Rolling Stones at the Hard Rock.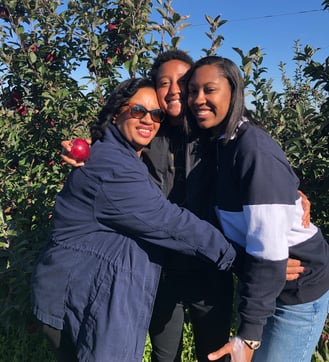 Michele with daughters Sierra '21 and Savannah '19


TM: What advice can you offer to current Pine Crest students?


MS: During your time at Pine Crest, it may feel tough, challenging, competitive — just really hard. You may feel like you are scattered in 50 different directions. I promise you that when you leave and look back on this time, you will really appreciate all that you went through. The time management and scheduling skills alone will set you apart. Pine Crest prepares you so well for what lies ahead. Look forward to what is to come!