Design thinking is a methodology for creative, complex problem solving. A design thinker questions and explores possibilities with a clear goal in mind: creating a solution, service, or product that benefits the end user. This technique is often described as human-centered because it is rooted in empathy and aimed at understanding a person or group of people.
All Pine Crest School eighth graders are enrolled in a nine-week course where teachers guide them through the entire design thinking process as a framework for real-world projects. To help build global connections and competencies, teachers challenge students with solving a global problem — access to electricity — by developing a solar light box for a student from another country to use in his or her home. Working with Level Up Village, Boca Raton students recently connected with students from Kenya, and Fort Lauderdale students paired with students in Mexico.
"As a class, we begin with talking through strategies for conducting video interviews with the students who would be using our light boxes," said Mrs. Becker. "Thinking through what and how to gather information gave our students an opportunity to take the design process out of their own heads and get to know their users' lifestyles and needs."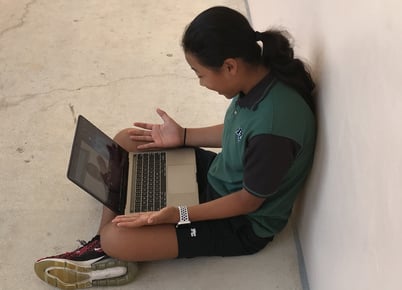 Eighth graders enjoyed communicating with students their age in another country.
"In my video exchanges, I learned how very fortunate we are and that people all around the world like the same things that we like," said Jake Rymer '23. "My partner's name is Nthenya. I learned that she wants to be a doctor and loves dogs, and this is what inspired my design: a rectangle box with her name, a picture of a dog, and a medical symbol."
After conducting video interviews, students brainstormed design ideas, designed boxes in Tinkercad, printed prototypes on 3D printers in the Zimmerman Family and Mintz Family Innovation Labs, tested the prototypes, and in some cases, went back to the drawing board.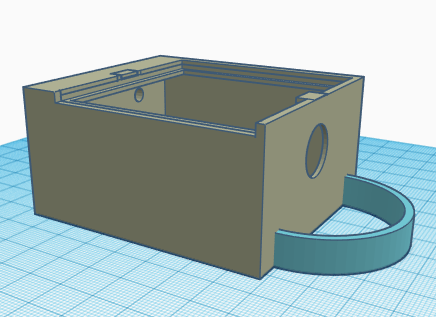 "My partner's name was Mbatha Mutua," said Elizabeth North '23. "My design definitely changed when he sent the videos to me. For one, Mbatha likes playing football, so I added a loop so he could hold the box while running. His favorite holiday is Christmas, so I plan on printing the box in red or green. I also added the loop so he could hook the solar box somewhere when he does not want to hold it."
Between working on their solar light boxes, eighth graders participate in "challenge days" or "brain busters."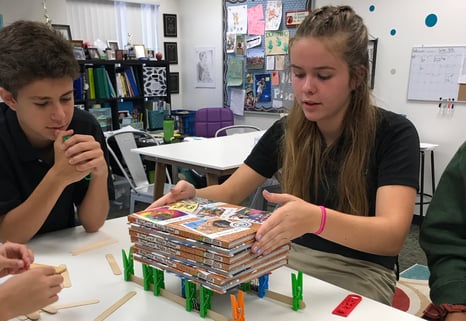 Students were recently challenged to stack as many textbooks as possible using clothespins as a base, and a paperclip challenge where they had to barter a paperclip for up to three items. This challenge was inspired by Kyle McDonald's TEDxVienna's talk, "What if you could trade a paperclip for a house?"
"I was pretty impressed," said Mrs. Pisani. "The top-traded items were a hydro flask water bottle, a computer mouse, an AUX cable for Apple products, and $50! I was most pleased with the positive feedback that the students had about the project."
Design thinking exercises open students' minds about their capabilities to address real-life needs and make positive changes within their own communities.


"I wish I could see Nthenya's face when she sees the solar box," said Jake. "My mindset has changed — this project made me want to help more in the world."