Middle School at Pine Crest is home to new virtual reality (VR) equipment, which Pine Crest Computer Science and Technology faculty are using to teach students how to create their own virtual experiences and to influence others' perspective.

"More content is being released and is increasingly available and accessible, and VR and augmented reality (AR) devices are becoming more effective," said Mr. Sean Tibor, Pine Crest Computer Science and Technology Specialist. "By the time our Middle School students go to college, they will need to know how to use this equipment and feel comfortable using it."

The terms "VR" and "AR" are often used interchangeably, but they are not the same.

"The difference is that AR takes information around you and fuses the world you are in with additional data or information  — think Pokemon Go," said Mr. Tibor. "VR is about immersion and perspective. It overlays virtual items or instances on top of the real world. The benefit of VR technology is that it can change our perspective from a few different axes: distance, time, scale, and the forthcoming, human perspective."

Delving into these axes, Mr. Tibor shared how using VR technology is not limited to one course or subject.


Distance
"[VR] allows us to travel and move," said Mr. Tibor. "Using Google Earth, we can 'fly' above a virtual globe. The images are the same as you would see on your desktop or phone, but now they are 3D. You can 'walk' the streets of a new city."

Students may see things that are far away, or travel to a place that may not otherwise be possible because of expenses or time. Recently, Pine Crest students in Ancient Civilizations class traveled to Easter Island.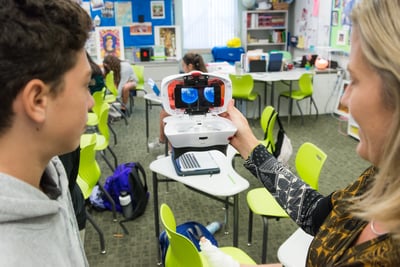 Time

The time axis allows students to see things as they once might have been.

"We can only imagine what the pyramids of Giza may have looked like," said Mr. Tibor. "Today, the soot-and pollution stained granite blocks remain, but they were originally covered in white limestone and possibly a golden top. Students can experience that original appearance with VR."

Pine Crest Computer Science and Technology specialists continuously search for software applications to implement more lessons with this axis.


Scale

Recently, sixth grade life science classes used VR to look inside the human body. They examined cell walls and saw how nutrients and waste travel in and out of the cell. Students had an interactive and 3D immersive experience to complement their learning.

"VR allows for a complete concept of how those interactions occur," said Mr. Tibor. "On the other side of that scale, we can travel in space and see planets or galaxies. We can go to different perspectives and still provide students an immersive experience."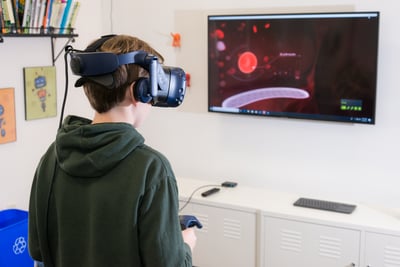 Human Perspective

The human perspective axis correlates with the School's Social and Emotional (SEE) Learning initiative. For example, there is an immersive experience at the Anne Frank House and a new experience from Stanford University about becoming homeless.

"This is not a simulation of being homeless," said Mr. Tibor. "The simulation takes students from having a home to being homeless. The experiences are intense but can build a tremendous amount of empathy."


What Students Love
Students love learning in a rich, immersive, and highly engaging way. Eighth grader Abdel Rahman Abou Shousha '23 agrees.

"In virtual reality, I can soar to places I have never been and experience things I've never experienced," said Abdel. "I can explore the human body or fly like a superhero. It makes learning a lot more interesting."

Mr. Tibor sees students developing good interpersonal skills and values through VR lessons.

"What is most popular among students is coming to our classroom and being engaged with their friends," said Mr. Tibor. "This gives them space to be social and become more familiar and comfortable with VR."

Mr. Tibor believes the most educational reward for students using VR is the opportunity to see places they would not otherwise see, such as traveling underwater or to other countries. Students think it is fun and engaging.

"I love seeing the students managing the VR system themselves," said Mr. Tibor. "They interact and guide each other through the unwritten best practices for using it. Experienced students take it upon themselves to teach first-time users how to use the system. They feel empowered to help each other, and it is great to see them being kind to one another."