By: Courtney Klar '22

As she walked across the stage to receive her Pine Crest School diploma, Mrs. Michelle (Smith) Santarelli '89 never imagined that her career path would one day lead her back to her educational roots. From a fourth grade student in the Lower School to a biology teacher in the Upper School, and a parent of two Pine Crest "lifers," John '21 and Jaden '23, Mrs. Santarelli now cannot envision herself anywhere else.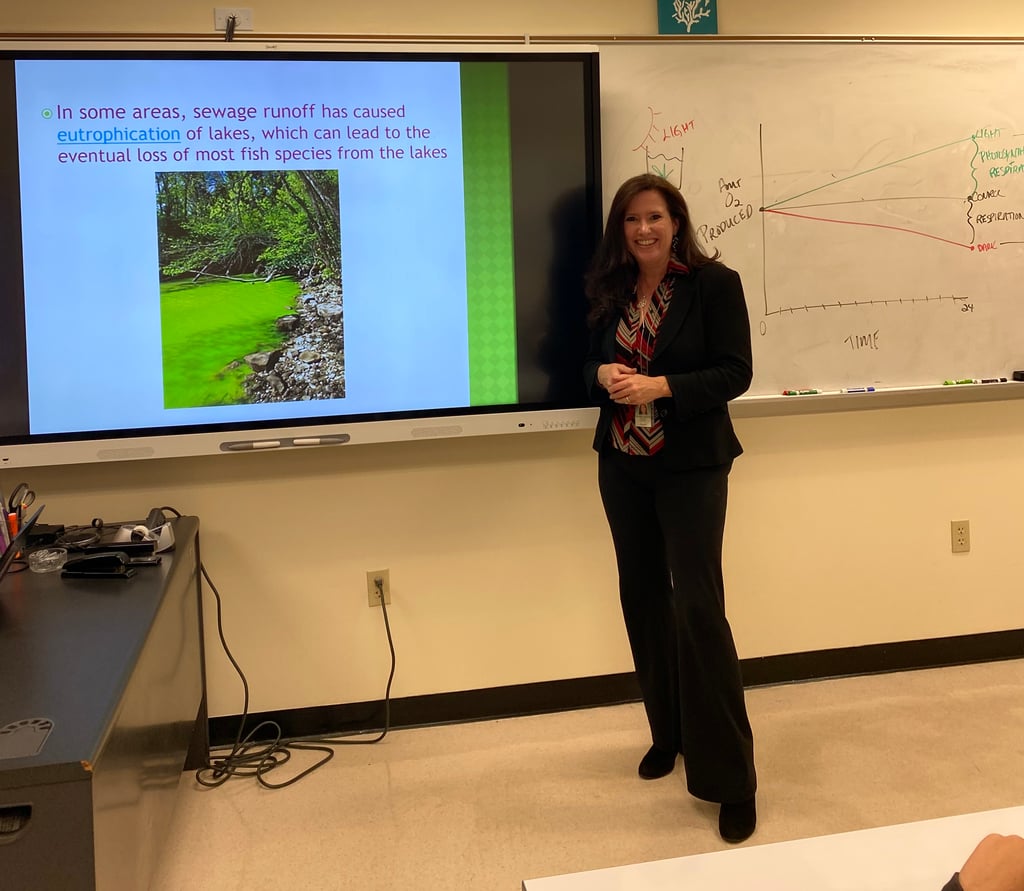 After Mrs. Santarelli graduated from Pine Crest in 1989, she attended the University of Virginia, where she received a degree in biology. Upon graduating from college, she began her career as a marketing director for an educational tutoring company. While she did well in the position, she quickly realized that her true passions were for biology and teaching. "I never thought I wanted to be a teacher," said Mrs. Santarelli. "I worked in an educational environment, which is what attracted me to that company. But I missed biology and wanted to find a way to combine biology and my love of public speaking. That was the first time I decided to become a teacher. I knew the only place I wanted to do that was Pine Crest."

On teaching biology, Mrs. Santarelli says "science is the one field that always captivated me—living organisms are so complex. What I love about biology is that there is so much we don't know. Biology is exciting, and there are discoveries being made every day!"

When speaking about what keeps her at Pine Crest, Mrs. Santarelli says the students and her colleagues. "What is great about Pine Crest students," she said, "is that if you are excited about something, they are excited about it too. My students love learning just as much as I do."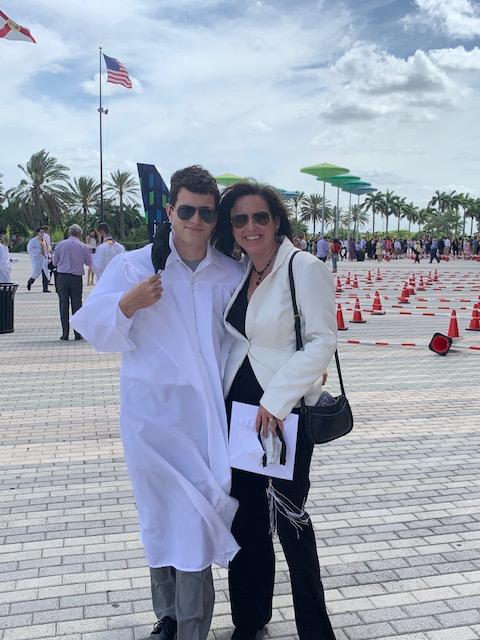 Michelle Santarelli and her son John '21 at commencement 2021.

"At Pine Crest, it feels like the sky's the limit." Mrs. Santarelli continued, "I have never had a lab idea turned down by the Administration. Whether it's working with real bones or extracting and amplifying students' DNA, the possibilities at Pine Crest seem endless."

Mrs. Santarelli credits her love for learning to two of her former Pine Crest teachers, Mr. Tad Harrington '99H and Dr. Barbara Grosz '91H.

"When I first started teaching, I actually taught English for Middle School students and biology for Upper School students," said Mrs. Santarelli. "At the time, the Middle School did not exist as a separate division. Tad Harrington was an English and Fine Arts Instructor and mentored me in my early years. He taught me not to stare at the ceiling!"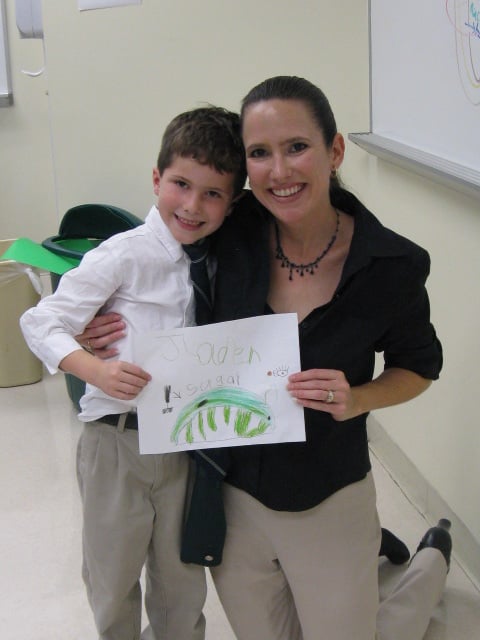 Michelle Santarelli '89 with her son Jaden '23.

"Dr. Barbara Grosz was my biology teacher as a student. When I came to teach, she was also a mentor. It was an amazing experience to teach with her."

Not only does Mrs. Santarelli strive to foster her students' love for learning, but there have been many instances when her students have inspired her. "They constantly motivate me," she said. "One year, a student reached out to me after a week of talking about CRISPR, technology that allows geneticists and medical researchers to edit parts of the genome. The student emailed me questions that didn't occur to her during our class periods. We had a long exchange about the advancements in technology."

Mrs. Santarelli takes great pride in her students, especially when she sees them graduate from Pine Crest and go on to be successful and inspiring adults. "I can think of so many students who became doctors and scientists in so many fields," said Mrs. Santarelli, "I am inspired by each and every one of them and grateful that I had the opportunity to work with them."