By: Danielle Keyes '24
"In my previous career as a news producer, the ability to have an impact came once in a while. Working at Pine Crest allows connections that can make an impact every day," said Mrs. Jaimee Rashbaum, Upper School Social Sciences and Broadcast Journalism Instructor.
Originally from Olney, Maryland, Mrs. Rashbaum is the daughter of a teacher and school principal. She says she always thought she would become a teacher, but her first passion was journalism.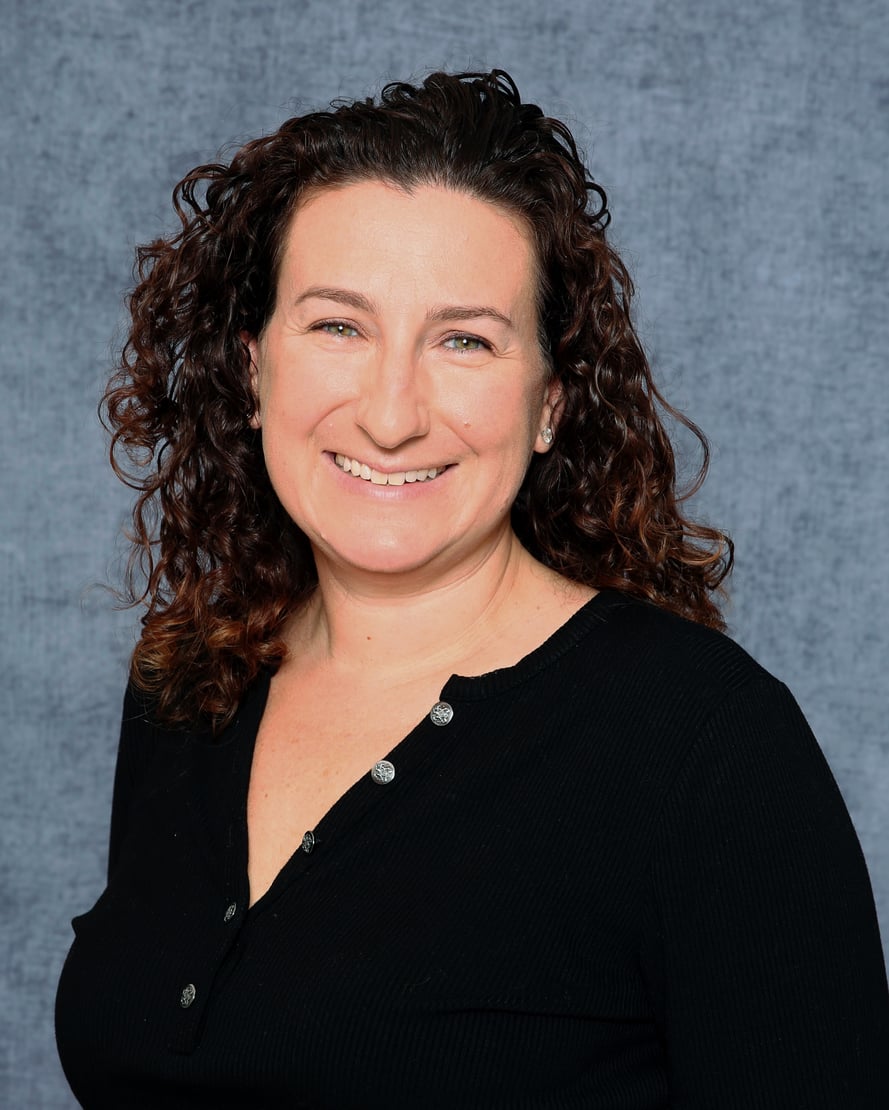 "We always watched the news as a family when I was a kid," said Mrs. Rashbaum. "My passion for journalism started there. I was always interested in what was going on in the world—we always talked about current events in my family. I didn't know I wanted to be a producer until I got to college. I have also always been interested in writing; I wrote in the school newspaper when I was in college. Journalism is a combination of my love of writing and curiosity about the world."
After graduating from the Medill School of Journalism at Northwestern University, Mrs. Rashbaum spent 13 years working as a news producer first in New York and then in South Florida.
"TV news is very dynamic," said Mrs. Rashbaum. "I loved having a lot of things to do and having to be flexible as things changed. We would plan our broadcasts in meetings and then have to drop those plans as situations changed or events unfolded."
As a producer, Mrs. Rashbaum was like the editor of a newspaper, deciding what stories would go into the newscast, in what order they would be in, and how they would look.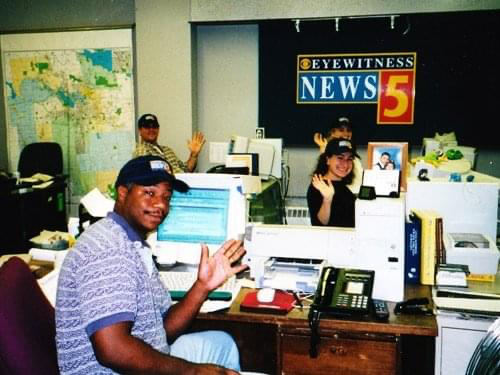 Mrs. Jaimee Rashbaum (center right) at her first producing job in Syracuse, New York.
"From the beginning, I got to make a lot of decisions," said Mrs. Rashbaum. "My first job out of college was at a small station in Syracuse, New York, working the overnight shift. I was alone until the anchors came in. I got there at 11:00 p.m., and the anchors at 4:00 a.m. I was reading newswires, communicating with reporters—being the producer is seeing the big picture and deciding how the news is going to look. When I got to a bigger market, the requirements were the same but I had more people to work with."
After her husband, Pine Crest alumnus Daniel Rashbaum '93, received an opportunity to become a federal prosecutor in Miami, the pair moved from New York City to South Florida. Mrs. Rashbaum continued to produce the news, but as a mother with two young children she was ready to make a career change.
"My husband attended Pine Crest, and we always thought we may want to send our children here," said Mrs. Rashbaum. "When I was looking to leave the TV business, I reached out to the then social sciences department head, and we began the conversation. I was first hired as a substitute for a teacher going on maternity leave in 2013. I was hired full time later that year."
Today, Mrs. Rashbaum teaches Advanced Placement (AP) US History, AP Capstone Seminar, and Advanced Broadcast Production.
"When I transitioned from being a producer to being a teacher, I didn't think there would be a lot of overlap or similarities between the two positions," said Mrs. Rashbaum. "Being able to take a lot of information and make it understandable, and communicate it in a relatable way, was something I did in both roles. I started to realize there were many similarities in explaining a complex story for the news and a complex part of history and making it relatable. For my PCTV students, my experience influences everything I teach them. Using good judgment, the elements of a good story, video selection, script writing, interview techniques; I learned that in the business and I apply it still today."


In the newsroom, "things are always changing and happening, similar to teaching," said Mrs. Rashbaum. On making the transition to teaching she says, "It was hard. I never worked harder than I did in my first year as a teacher. Being new to the field, I immersed myself in reading and coming up with lessons that would be engaging. I had a lot of help and support from every teacher in the Social Science department. There has always been an environment for collaboration—always someone to help and give support."
Outside of the classroom, Mrs. Rashbaum serves as the junior class sponsor.
"I love working with students outside of the classroom," she said. "I think this is my eighth year planning the prom. It gives me the chance to work with students in a totally different way. It is fun and exciting, and I love helping them create memories that they will look back on as adults."
Forming meaningful relationships with students has always been important to Mrs. Rashbaum.
"From my first year teaching, I loved building connections with students," she said. "The ability to get close to students and help them when they are having a bad day while helping them grow academically is something I cherish at Pine Crest."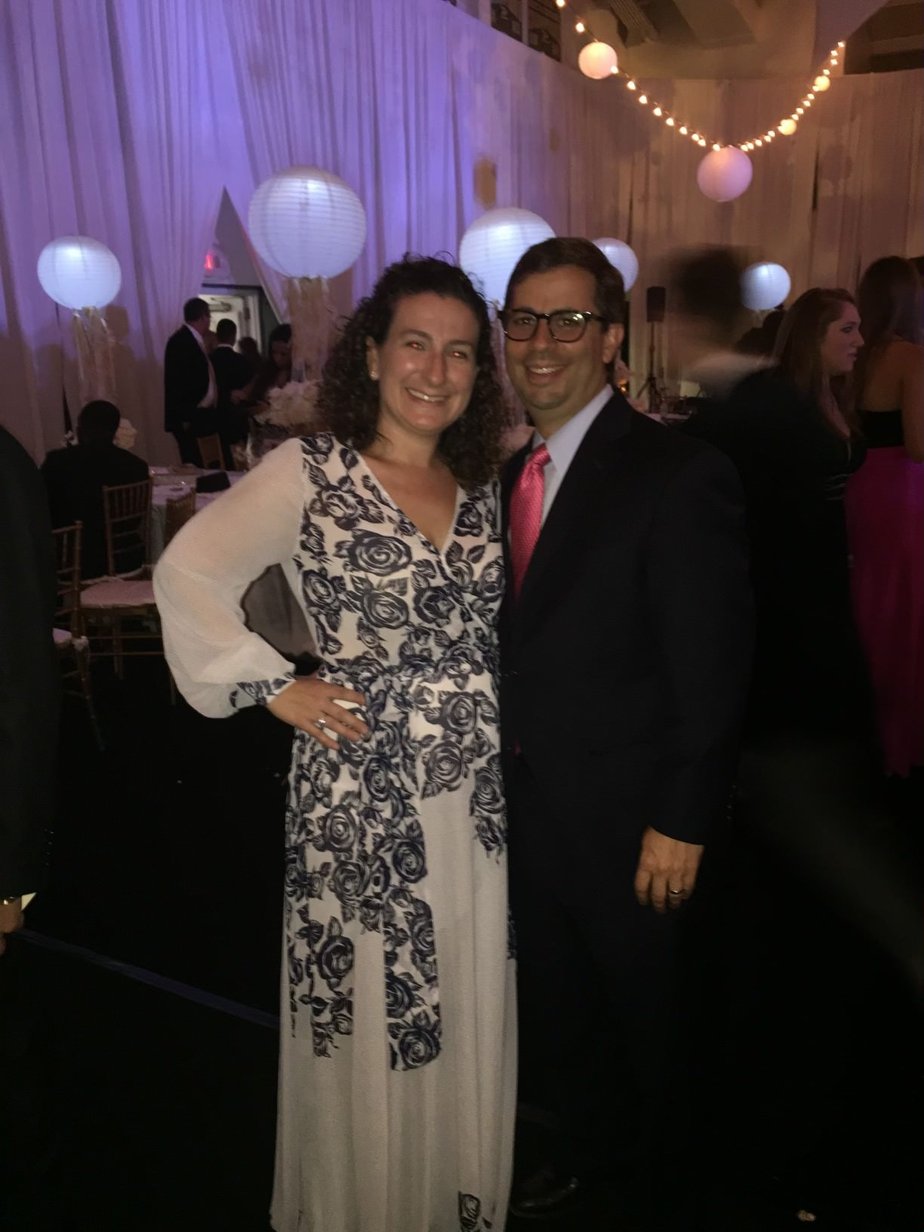 Mrs. Jaimee and Mr. Daniel '93 Rashbaum serving as chaperones at the prom.
When Pine Crest launched its social and emotional education (SEE) programming, Mrs. Rashbaum had the opportunity to bring advisory programs to the Upper School.
"Every student is assigned to an advisory group for all four years of Upper School. They will have the same teacher and students in their groups," Mrs. Rashbaum explained. "The idea is to take time in the day to build skills that are not related to a core academic course —communication, stress management, study skills, emotional regulation—and learn to identify your feelings and how to express them. Sometimes this is done in an activity where students share how they feel. Other times we do team-building activities. For example, this year, we did a month-long SEE scavenger hunt competition between advisory groups. Students had to write a skit about why their advisory is the best. They had emotional check-ins with each other and they had to take a photo of themselves eating lunch together. It was a way to build connections in the groups. Research shows that students who are able to develop social and emotional skills are more successful academically and socially."
As the Upper School Advisory Coordinator, Mrs. Rashbaum oversees the advisory groups and supports faculty advisors and students. Before the program launched, "I started reading a lot about how best to support students and SEE came out of that," she said. "I started immersing myself in SEE. I attended a training at the Institute for Social and Emotional Learning and after that experience, I felt like I could help shape our SEE programming in the Upper School. I started working with the Upper School administration to build a robust advisory program. Now in our third year of having weekly advisory, it has been an amazing experience to help teachers find pathways to those connections, and to make sure that every student at Pine Crest feels they have at least one adult they can trust."
For new faculty coming to Pine Crest, Mrs. Rashbaum says, "Get involved. Find different ways to get to know students not just in class, but through activities. Our students want to get to know you. Feel free to open up—it can only make what goes on in the classroom stronger. Also, I would say that it is ok to ask for help. Asking other teachers for help is a good thing at Pine Crest."
As an educator, Mrs. Rashbaum has had many moments of pride.
"There are so many moments in my nine years here when I have been so proud of my students. I can't pick one," she said. "But, I would say that I have been so lucky to have had the opportunity to build lifelong connections with my students. I still hear from former students. I have students from my first year of teaching who write to me during presidential debates or the State of the Union address. I am proud that I was able to make connections with students that trust me."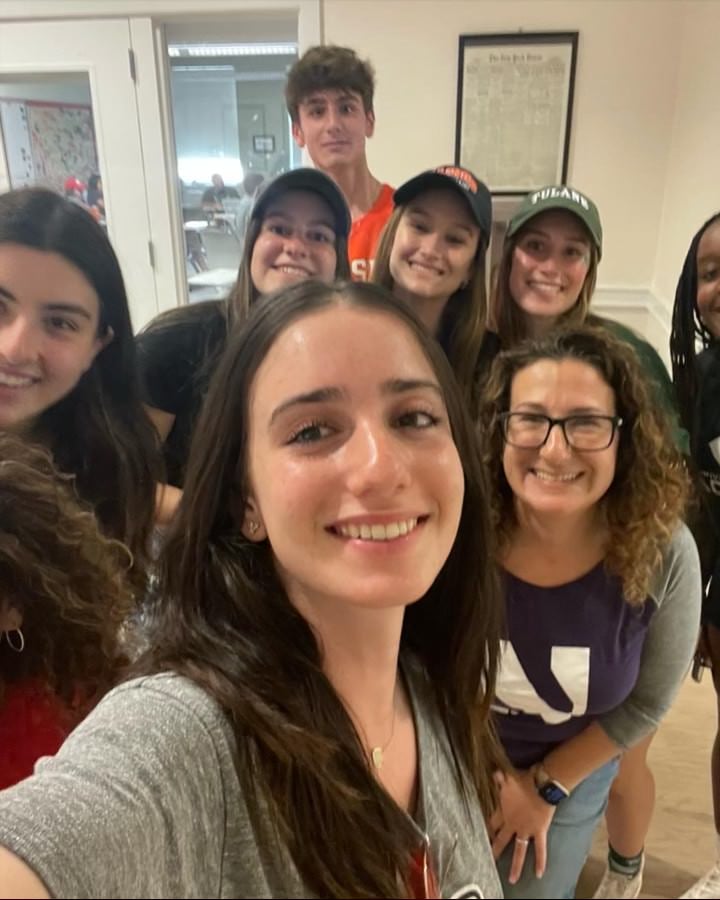 Mrs. Rashbaum with members of the Class of 2022 on their last day of school.
Pine Crest alumna Brittany Paris '15, a former student of Mrs. Rashbaum's, said "​​I'll never forget the poster in her classroom that read 'Before its History, It's News.' It's rare to find a teacher that you look up to as both a friend and a mentor. She pushes every student to their full potential, and I'm so lucky to have had Mrs. Rashbaum as my teacher. I know my career would not be the same without her love, guidance, and unwavering support."