Glen Pierson '23H, Assistant Head of Upper School and Dean of Students will retire this summer from Pine Crest School after 29 years. GP, as he is affectionately known by the students, began his career at Pine Crest in the Upper School science department as a chemistry teacher, although teaching was not always on Mr. Pierson's radar.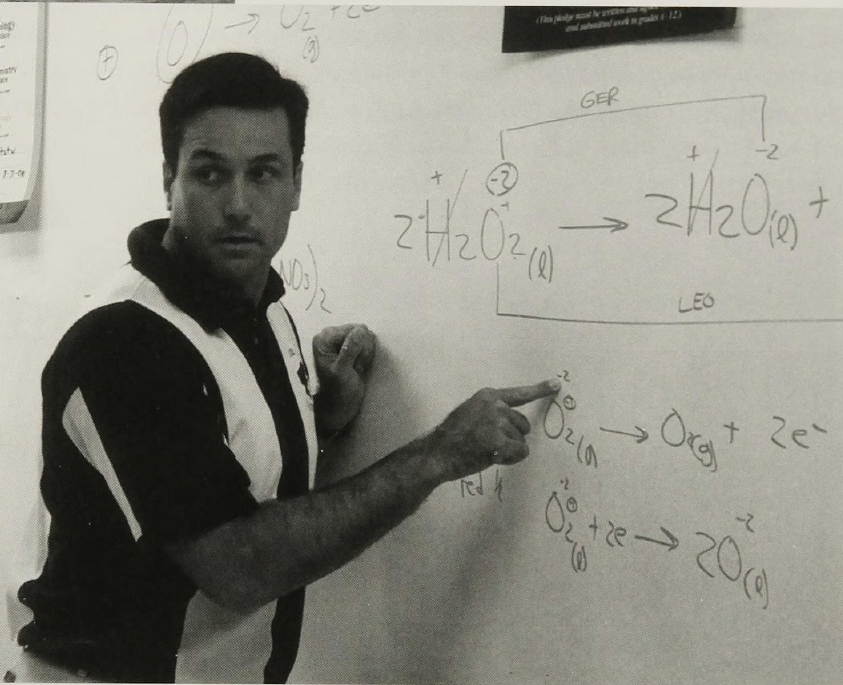 Mr. Pierson teaching chemistry in 2000.
A Philadelphia native, Mr. Pierson and his family moved to Florida when he was seven years old. He attended the University of Florida (UF) which is where his path to Pine Crest began.
"I met this incredible Pine Crest graduate at the University of Florida, my wife Cristy Sollosso '84," he said. "In a formal request to have her hand in marriage, I went to her father, the legendary 28-year veteran World Languages teacher from Pine Crest, Mr. Juan Sollosso. I went to him asking for her hand in marriage and he asked me, 'what are you going to do with your life?' I had a microbiology degree and I was ready to do all sorts of research and investigate all kinds of cool things. That is when he told me that he thought I was meant to be a teacher."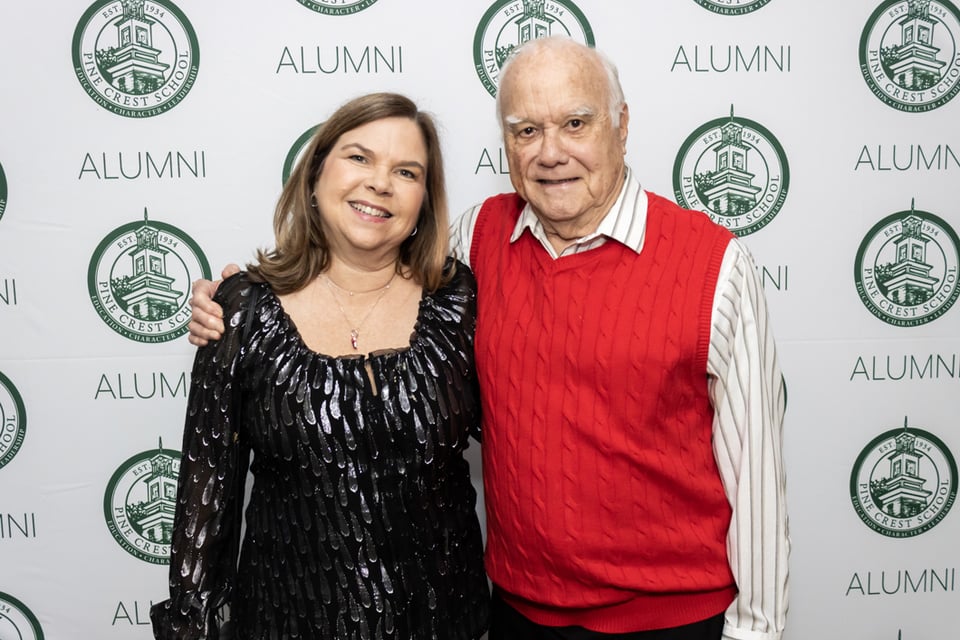 Mrs. Cristy (Sollosso) Pierson '84 and her father Mr. Juan Sollosso
"I listened to him, took his advice, and went back to UF to earn my teaching diploma, and started my life as an educator," continued Mr. Pierson. "My first teaching job was at Boca Raton Community High School; I was there for six years. Then, a window of opportunity came to get to the school that I always wanted to get to, and that was Pine Crest School. I was hired to teach in the science department and coach the great game of baseball!"
Reflecting on what has kept Mr. Pierson at Pine Crest for so long, he says it was the pride he saw many of his colleagues possess for our school.
"When I was a very young, green teacher here at Pine Crest," he said, "I always admired how much pride the 'old timers,' [I use that as a term of endearment!] had in this particular school. Gradually, the longer I taught and coached here, it became clear why they felt the way they did. And soon that was me. I began sharing those sentiments. I was feeling that same incredible joy of being a part of this community. I felt like there is nothing out there that is better than this place, and so it really was never a thought to look outside of the walls of Pine Crest. I knew when the time came for me to hang it up, it would be as a Pine Crest employee."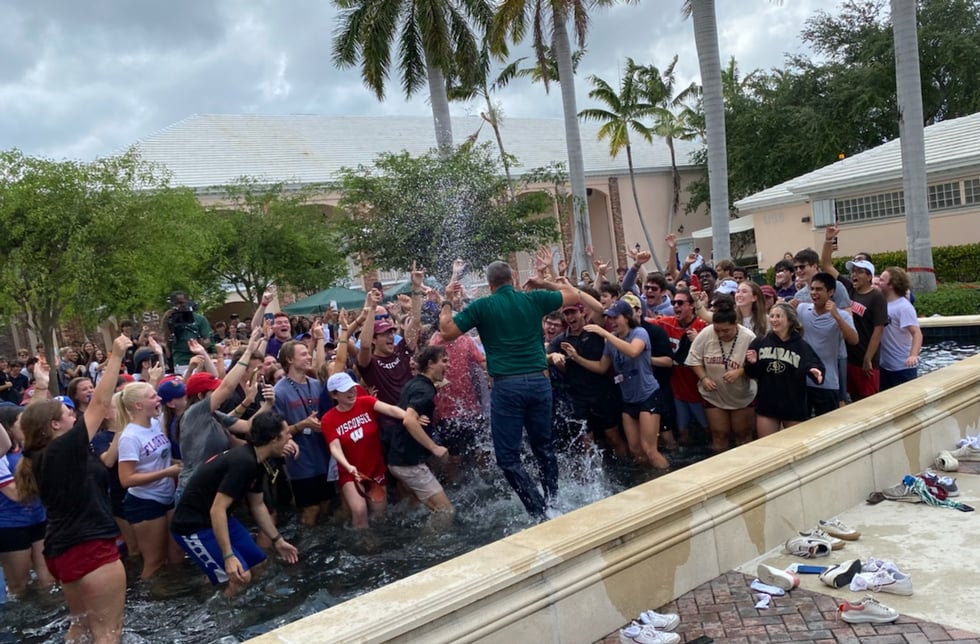 Mr. Pierson '23H joins the Class of 2022 in the Wittich Family Fountain to celebrate the seniors' last day of classes.
While Mr. Pierson is retiring as the Dean of Students, his foundation as an educator lies in the chemistry classroom.
"As you can imagine over a career of 29 years, there have been some amazing moments in my life that I'm extremely proud of," he said. "The greatest reward for me is when students come back to Pine Crest and tell me they chose their path in college because of their experience in my classroom. Or, they chose to pursue chemistry for their career and how I made a difference in their lives by inspiring them in the world of science. I think that as an educator, that is the pinnacle of what we hope to accomplish with our students—inspiring a passionate love of learning. When you do so in your subject matter, it is tough to top that feeling!"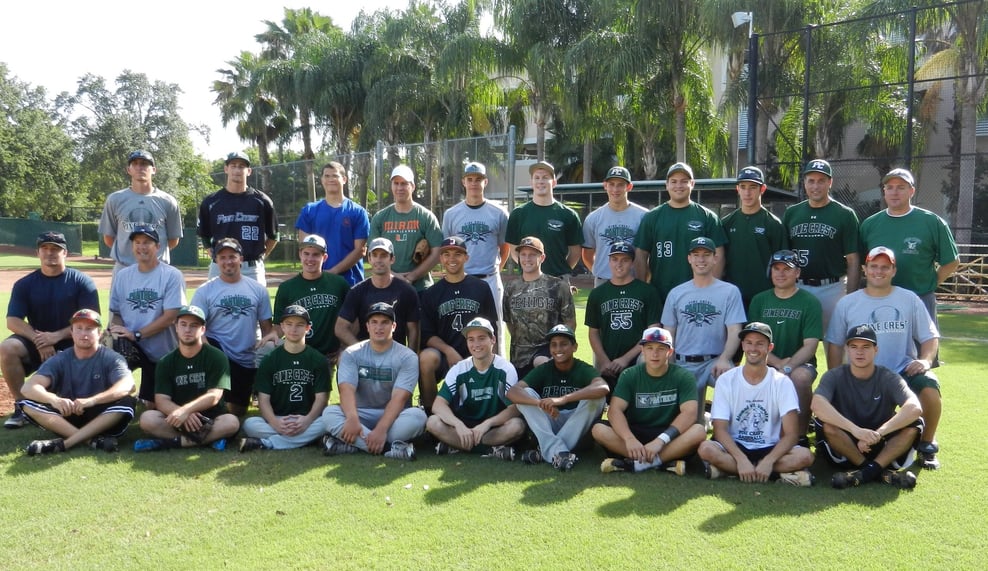 Mr. Pierson '23H and Pine Crest School baseball alumni on June 21, 2013.
Another important part of Mr. Pierson's career has been on the baseball diamond at Roschman Field.
"I spent many hours—so many years—and have countless incredible memories on that field," said Mr. Pierson. "This baseball program has had so many terrific athletes who have dedicated themselves to being their best and growing in the game of baseball, much like they did on campus when they were at their best in the classroom. I am so grateful for all the time that I spent with the ball players dating back to 1995. Even today, we have an alumni game where we get together and reminisce, play, enjoy each other's company, and celebrate many of those great memories."
Mr. Pierson described his experience in even greater detail saying, "helping students reach their goals is one of the things that is very rewarding as a teacher and a coach. Some students simply dreamed of going on to the next level and finding the perfect school. For some of our student-athletes, it was actually playing at the next level, and I'm proud to say that I helped more than 40 ball players reach that goal of playing baseball beyond Pine Crest School. I know personally how special that is because I saw it with my own son, Michael '11. He had the privilege of playing beyond Pine Crest, followed by the added thrill of being drafted as a professional baseball player."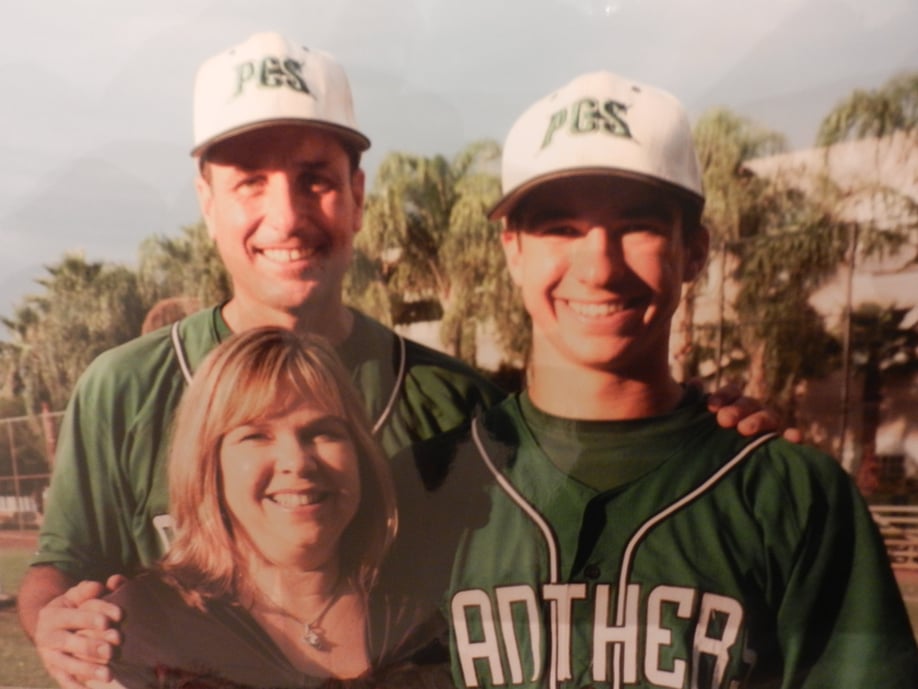 Mr. Pierson '23H, with his wife, Cristy '84 and son, Michael '11 at Senior Night in 2011.
"I am thankful to my former students and players, as they have made a difference in my life by giving me an opportunity to work with them here at Pine Crest," Mr. Pierson said. "Part of what makes this school different from any other place are the relationships that are built here. For example, several of the ball players I had the privilege of coaching later came back and coached with me. That is a testament of their love for this school and this program. I am really, really proud of what we were able to do here and what I was able to be a part of."
When Mr. Pierson transitioned to his role as an administrator, supporting students in their extracurricular activities became one of his priorities. It was not uncommon to see him after school on Best Field, in Stacy Auditorium, on the water cheering on the crew team during practice, or in the Zimmerman Family iLab. It was also not uncommon to see him at off-campus events. While Mr. Pierson has always had a passion for sports, his deep appreciation for the arts has grown over the past nine years.
"Becoming an administrator was an opportunity for me to see all the different things that go on at Pine Crest School," said Mr. Pierson. "There are so many other sports that I immediately enjoyed watching. At times, I was out there running on the track, swimming in the pool, and throwing the shot put. I've even gone to the tennis courts to play a couple of the players after a match. There are all kinds of sporting things that I've done, but the arts, robotics and all the entrepreneurship activities that take place here match the excellence we see in the athletic world."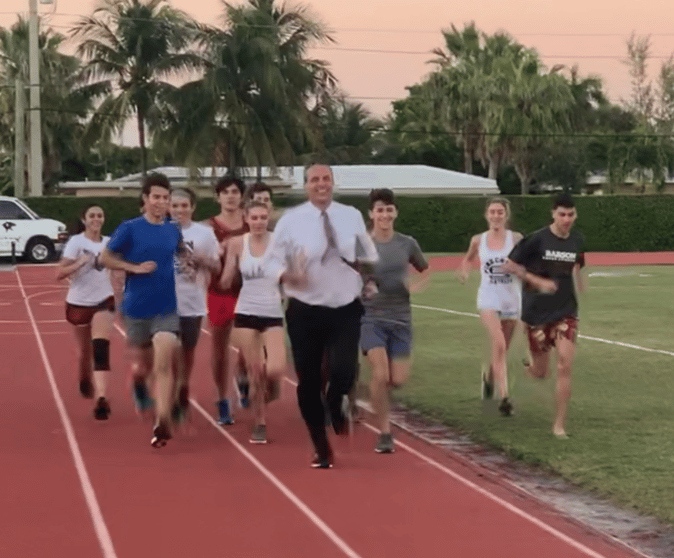 Mr. Pierson '23H hits the track with cross country athletes.
Mr. Pierson explained how some of his colleagues also helped him step outside of his comfort zone.
"Our president, Dr. Dana Markham '18H and our principal Mr. Joseph Walters '95 have always encouraged students to try new things, and so I thought 'maybe I should too," said Mr. Pierson.' "Mr. Michael Testa [Choral Director] asked me to join the chorus on stage and I did! I sang one of the holiday songs with them dressed up in my tux. It was one of those proud moments and I was really honored to be a part of the arts program. I would never say I have a great voice, but I was asked to be a part of the Playing for Change concert this year. I actually got up there and sang a little solo piece. It was short and it was repeated a couple times, but it was one of those incredible moments for me—joining all that talent that was there. It was definitely outside of my wheelhouse, but I loved it!"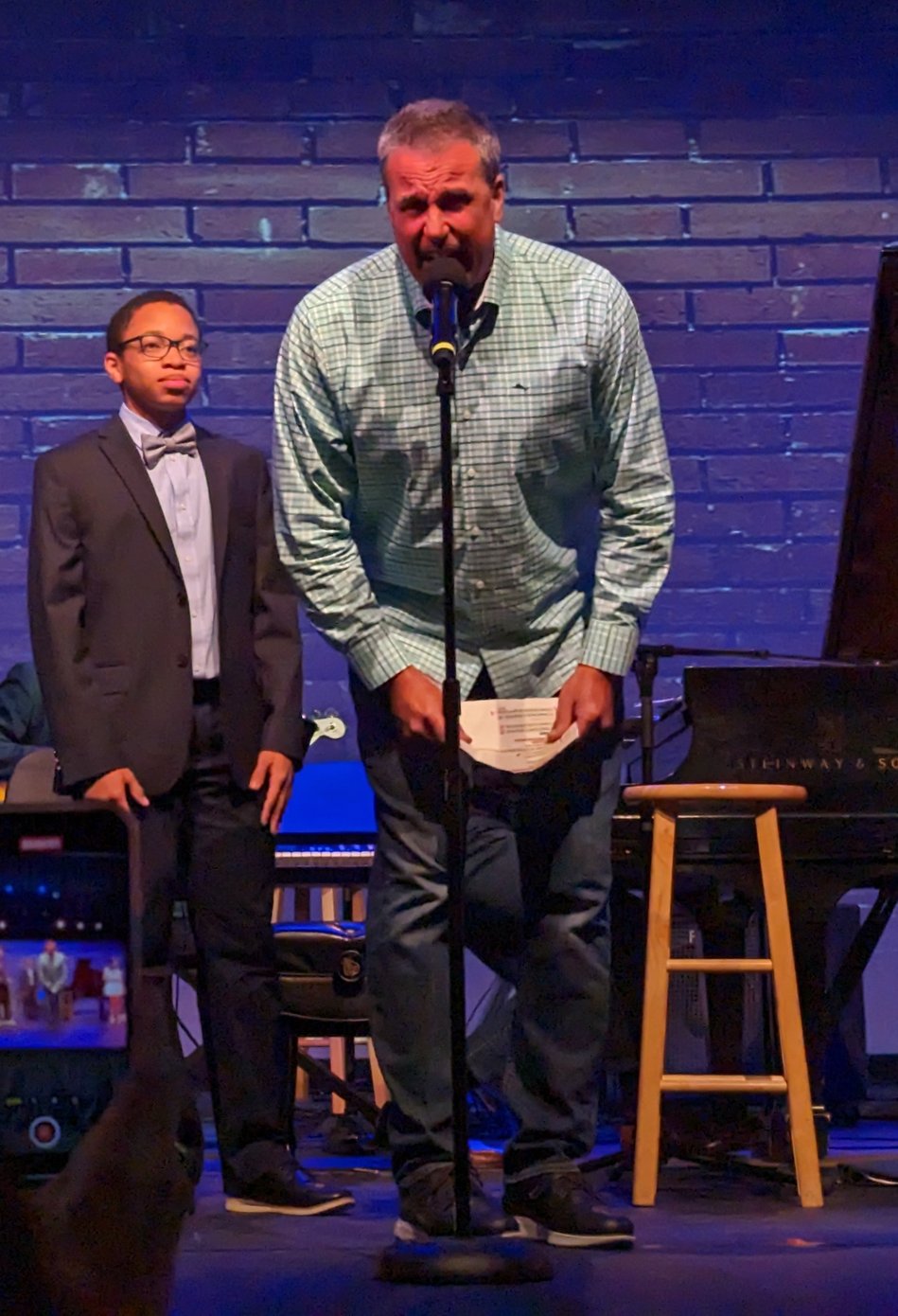 Mr. Pierson '23H takes the stage in Stacy Auditorium at the Playing for Change concert in 2023.
At this year's commencement ceremony, Mr. Pierson was named an honorary alumnus of the Class of 2023. Presenting him with this designation, Mr. Walters said, "We all know that a teacher affects eternity, and they can never tell where their influence stops. And for a very special person in our community, there couldn't be a truer statement. Through the years, and in the various positions he has held, Mr. Pierson has helped guide us through a wide variety of situations with compassion, enthusiasm, and love for our school community."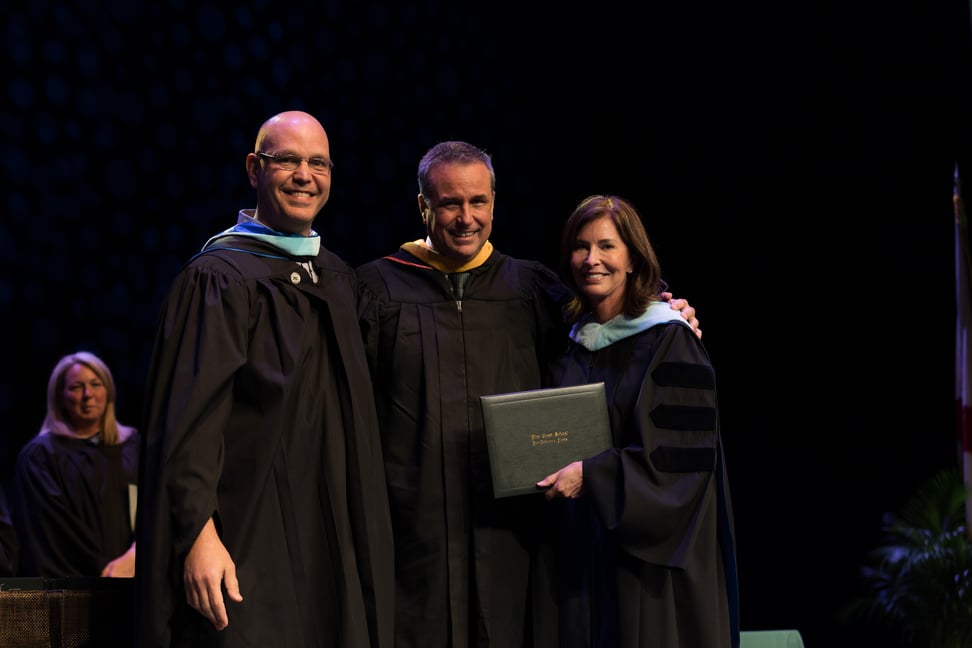 Mr. Joseph Walters '95, Mr. Glen Pierson '23H, and Dr. Dana Markham '18H as Mr. Pierson receives his honorary diploma from Pine Crest School.
A tearfilled Mr. Pierson joined Mr. Walters and Dr. Markham on stage as graduates chanted "GP! GP! GP!" Mr. Pierson didn't know it, but his wife and son, Cristy and Michael, were in the audience as well.
"I was completely blown away and so honored," said Mr. Pierson. "It was a powerful moment for me, and certainly a tearful moment for me! Knowing what this great school means to all the people who are alumni from 1934 through today, and what that means to them, that will always be one of the most remarkable moments of my life. I join my wife and my son in that recognition now as graduates and alumni. It's pretty darn special and I'm very, very grateful!"