Jordyn Elliott '16 was busy during her time as a Pine Crest student! Playing soccer for both Pine Crest and a travel team, Jordyn was thrilled when she was offered a spot on the University of California at Berkeley women's soccer team.
While serving as the team captain in her final year at Berkeley and training with an ameteur women's league during the off-season, Jordyn found a new passion during her college career.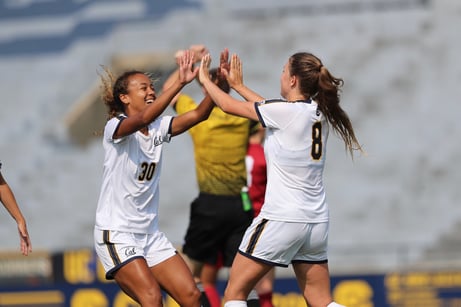 "When I came to Cal, I knew I wanted to study business," said Jordyn. "I knew that I wouldn't have a chance to gain a spot in the Haas Business School by just doing well in my prerequisite courses. So I started to network and found RISE."


An acronym for Reach, Inclusion, Service, and Equity, RISE is an outreach program in the business school with a primary goal to help underrepresented minorities with the application process and overall business community at the University.


"In order to be a business major at Cal, you have to apply to the business school," said Jordyn. "In the past, diversity in the school has been limited. This group is focused on combating the problem by helping students from underrepresented backgrounds succeed in the prerequisite classes and get involved with the School early on to better prepare for the application process."


Jordyn is passionate about fostering diverse and inclusive spaces on campus and in the workplace. "That's why I have dedicated a lot of my time beyond the field and the classroom to various campus groups that fall in line with my interests," she said.


Another campus organization that Jordyn is passionate about is the Black Student-Athlete Committee, or BSAC. "The BSAC started at Cal my freshman year," said Jordyn. "A group of Black student-athletes attended an event at the University of Texas in Austin called The Black Student-Athlete Summit, and those students came back and started the committee here. They started the committee as a safe space for Black athletes to connect and participate in social and professional development events. Since the original board of the group has graduated, I applied and have been on the executive board for the past year."



As a member of BSAC, Jordyn helps to organize meetings, book guest speakers, and lead community service efforts. "Mostly, BSAC is a space for us to be ourselves in an environment where we have a lot of similar experiences," said Jordyn. "We provide a community and support system for one another."


Reflecting on her time at Pine Crest, she said, "I don't think I would be as involved as I am had it not been for Pine Crest teaching me to go the extra mile."


As for what is next, Jordyn recently accepted a return offer from Ingenio, a tech firm where she served as an intern this past summer.


"After graduation I will become a Marketing Associate," said Jordyn. "I'm so excited about the offer and am trying my best to enjoy the rest of senior year!"