by Ivy Pisani, Innovation Instructor
Pine Crest School eighth graders have a unique project-based learning experience in their Innovation and Design Thinking wheel course. Their challenge is to design a wheelchair for a young boy named Camden who was born with cerebral palsy.
During this wheel course, students take a deep dive into the design thinking process, learning about human-centered design by identifying a need, establishing empathy, ideating with a team to brainstorm ideas, creating and testing a prototype, and gathering feedback. Empathy is the strength of human-centered design. The goal of the course is for students to address the needs of a person or group of people—to understand what others need and then design specifically for them, leaving their personal needs and preferences aside.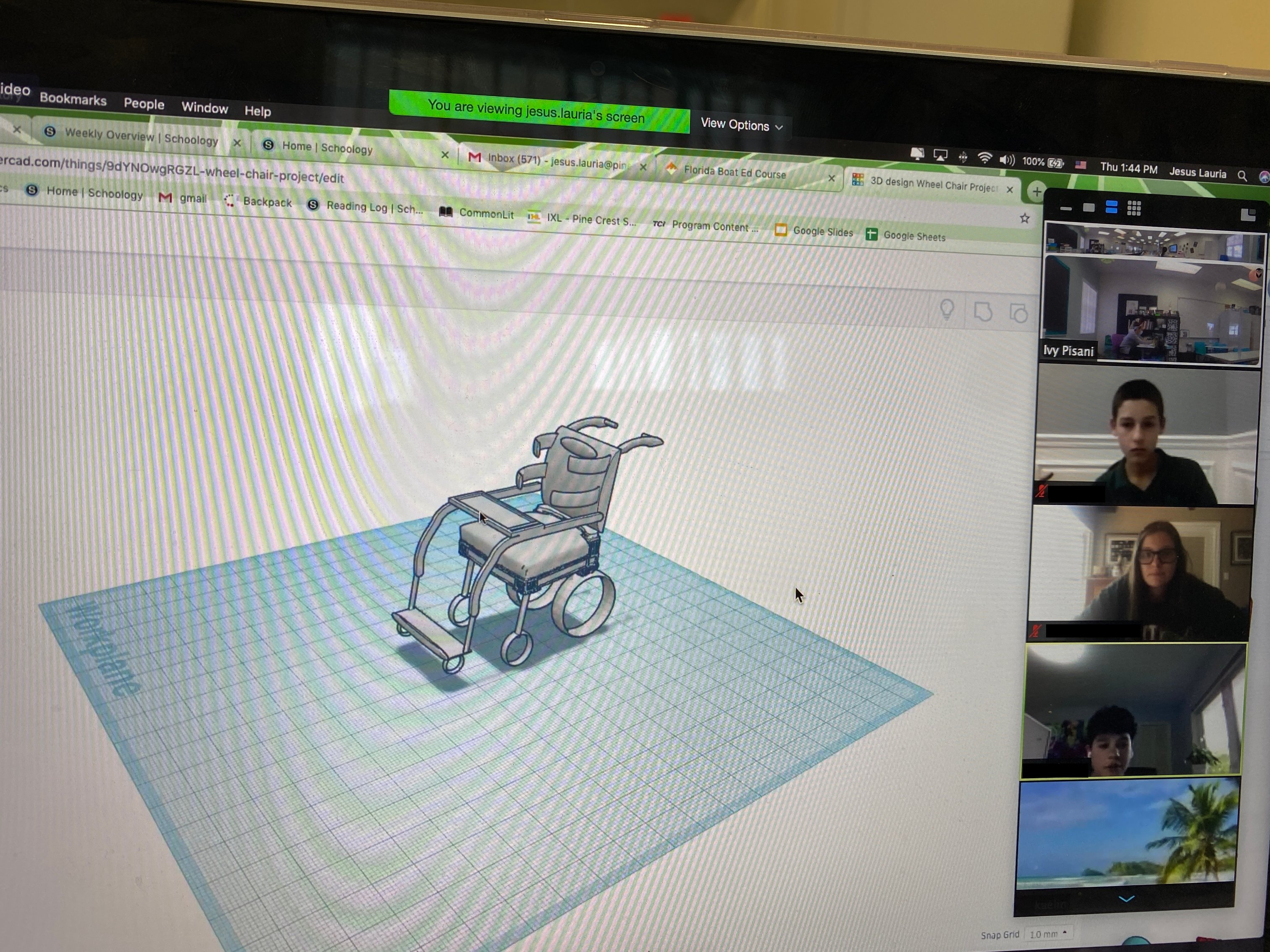 Students learn how to develop creative, effective solutions to real-world problems using the Design Thinking Process toolset designed by The Stanford d.school. In Middle School, Pine Crest students are required to take four different quarterly wheel courses each year. During their eighth grade year, students are enrolled in Innovation and Design Thinking. This opportunity for empathetic project-based learning has focused on a variety of areas such as keeping local beaches clean and helping the homeless.
Before creating prototypes for Camden, students learned the steps of the design thinking process and were introduced to interviewing techniques to help them conduct an interview with open-ended and empathetic questions.
Students watched videos about Camden to learn more about cerebral palsy. The students were guided and supported to ensure questions were not only empathetic and open ended, but would also provide information to help them design a wheelchair that would not only make life easier for Camden, but also assist his mom, Lauren.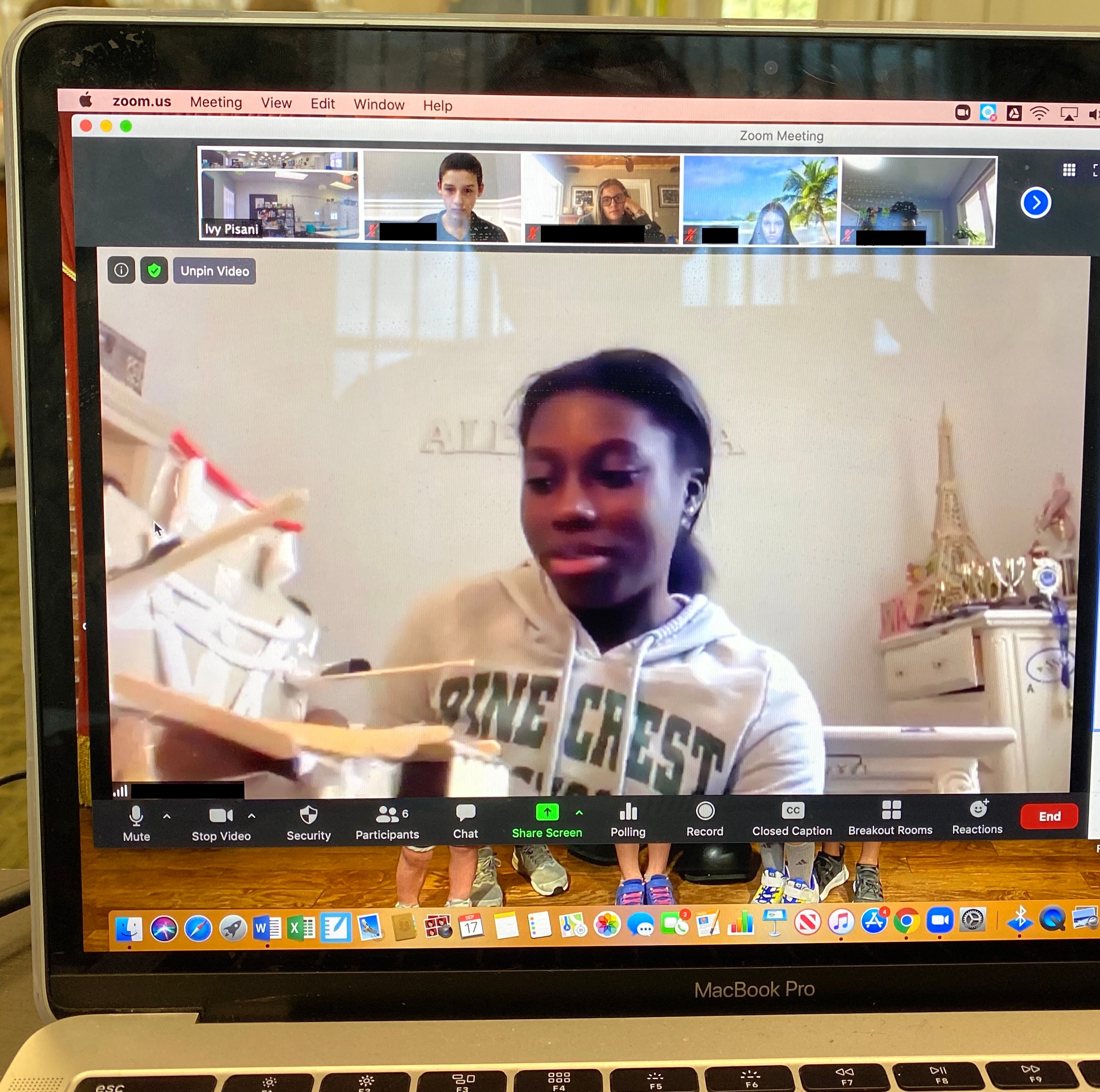 After speaking with Lauren and Camden, the students discussed the information learned from the interview and created a needs list to be addressed during the final design phase. Next, students began to iterate ideas and sketch out possible designs for the new, more functional chair.
Once the design was approved, students had the option to either design their chair through Tinkercad computer aided design software and have it 3D printed in the Zimmerman Family Innovation Lab, or produce a model using classroom materials.
The students' final step was presenting their prototypes to Lauren and Camden. Since the class did not build working prototypes, their presentation allowed them to garner additional information and return to the design thinking process to implement proposed suggestions and modifications.
"Students were most excited to speak to Camden," said Mrs. Pisani, Pine Crest Innovation Instructor. "Having Camden present on Zoom really made the design process that much more relevant for the students. Middle School-aged students sometimes have a hard time connecting to non-tangible ideas, so having the ability to speak with Camden made this project real to them."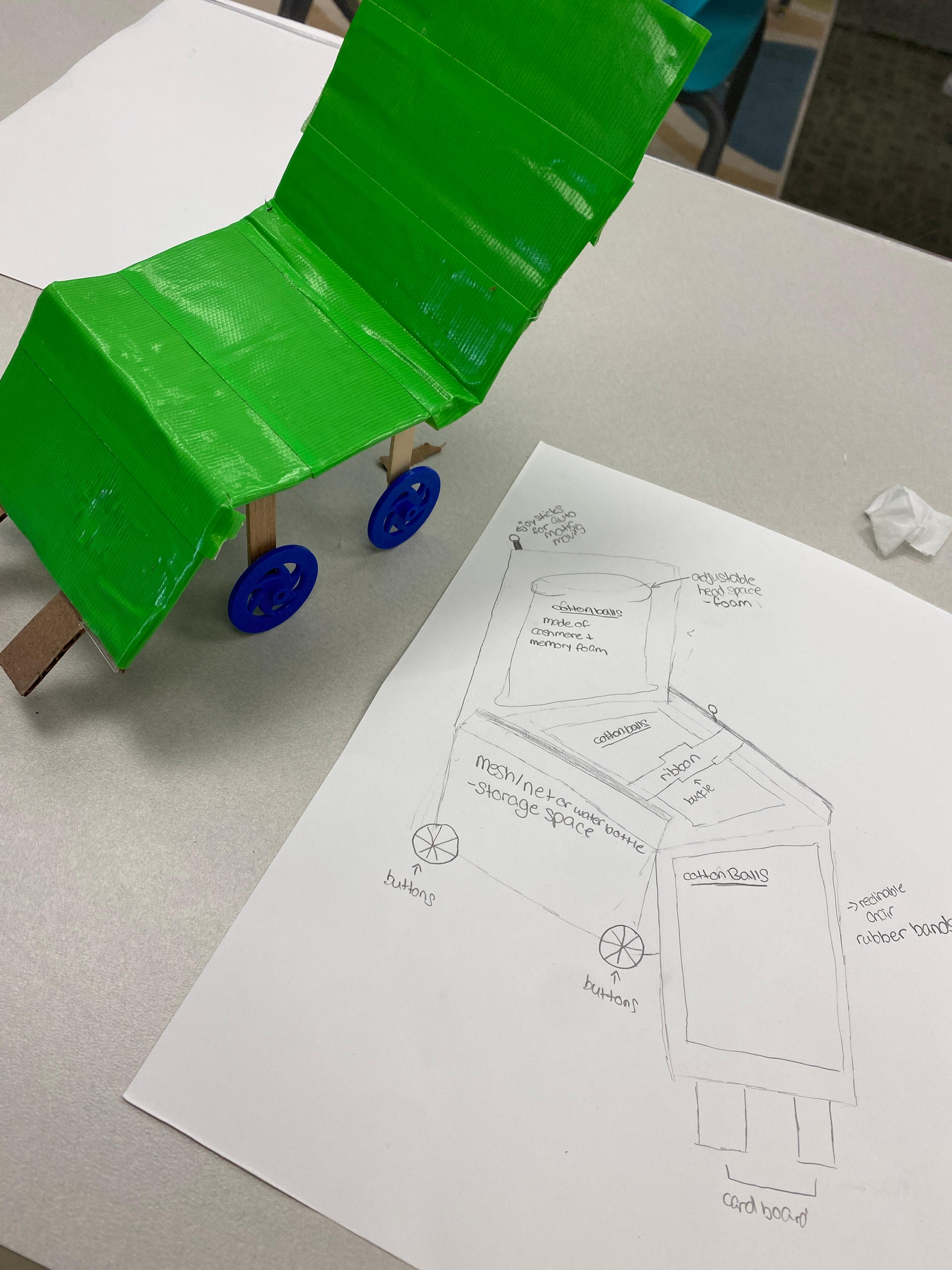 Project-based learning experiences centered on empathetic human-centered design benefit students in many ways. On the surface, students are learning about the design process and actually going through each step of it. Beyond the actual content, students learn more about cerebral palsy, the struggles and hardships of raising a child with special needs, different types of assistive technology that are available, and how our society provides for kids with disabilities.
Ivy Pisani has been an educator for 16 years. Her passion for teaching evolved when she was in middle school and had the opportunity to work at a summer camp for children with special needs. After teaching Exceptional Student Education (ESE) for eight years in the public school system, she decided to explore other career opportunities, which eventually led her to Pine Crest School. Ivy has attended specialized workshops in design thinking at some of the top universities in the country, completed a year long fellowship in leadership and design, and earned a masters degree in Educational Leadership all while establishing her roots at Pine Crest. Ivy teaches Design Thinking for eighth grade students and a study skills course for sixth grade students. Additionally, she is the advisor for the Middle School yearbook and can be found coaching on the volleyball court, soccer and lacrosse field. Ivy is also the proud mom to Pine Crest Lower School students Dominic '31 and Michael '33.