By: Lindsey Keyes '24
Alexandra, or Alex, Gladding '23 is a Pine Crest lifer, beginning her academic career in pre-kindergarten on the Fort Lauderdale campus. A multi-sport athlete, Alex's love for sports have characterized her time in the Upper School where she has been a starter on the varsity basketball and lacrosse teams since her freshman year.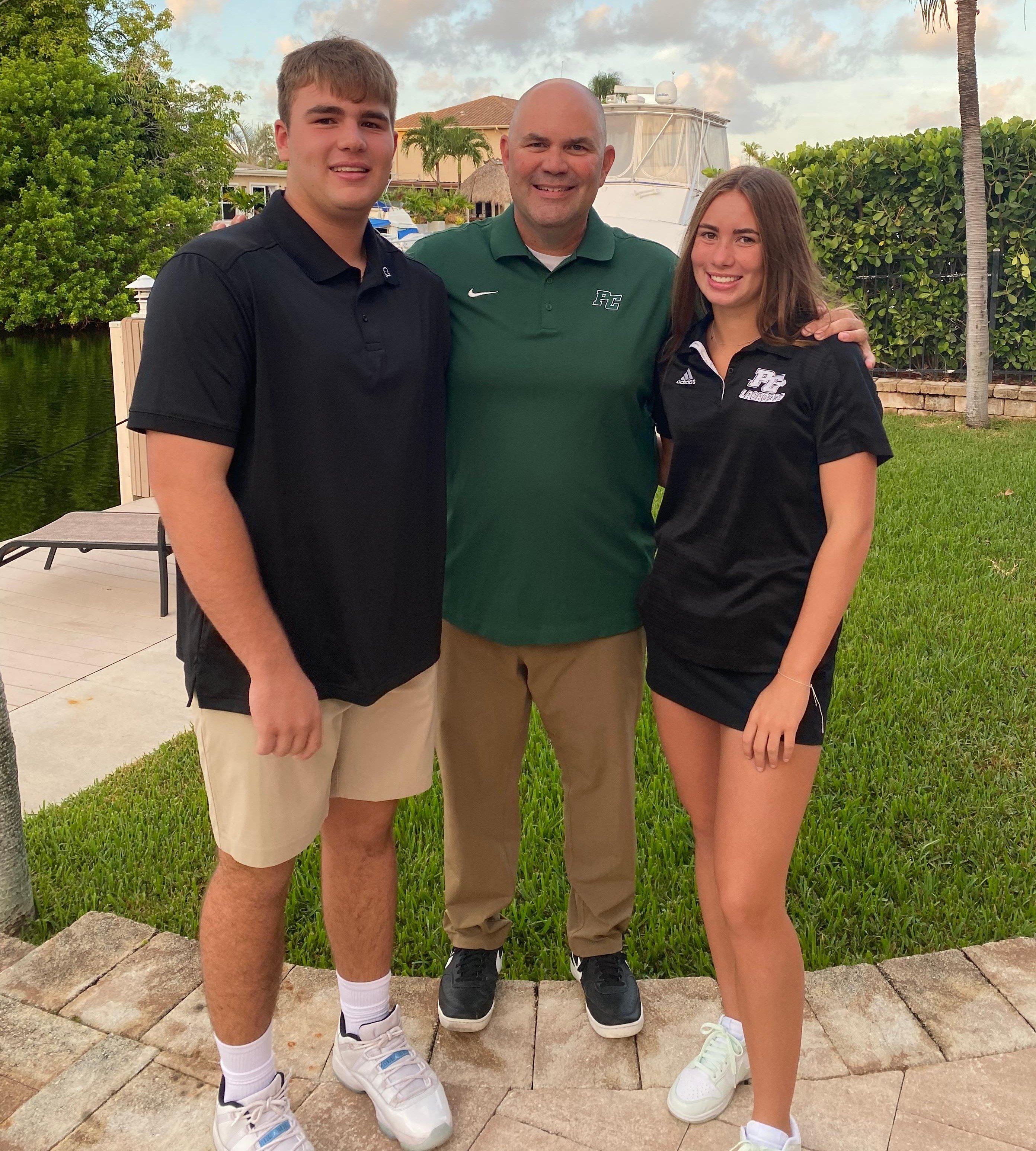 Alex (right) with her brother, Stephen Gladding '26, and father, Crane Gladding '89.
As a senior, Alex was named captain of the girls lacrosse team, leading them to their ninth consecutive Florida High School Athletic Association (FHSAA) 1A district 15 championship title. Knowing she wanted to continue her lacrosse career in college, she has worked hard over the past four years to make that a reality.
As the college athletic recruiting season began Alex was one of four student-athletes at Pine Crest to be offered the National Letter of Intent (NLI), a binding agreement between a prospective student-athlete and an NLI member institution. Alex will be a freshman at Vanderbilt University next fall joining their women's lacrosse team.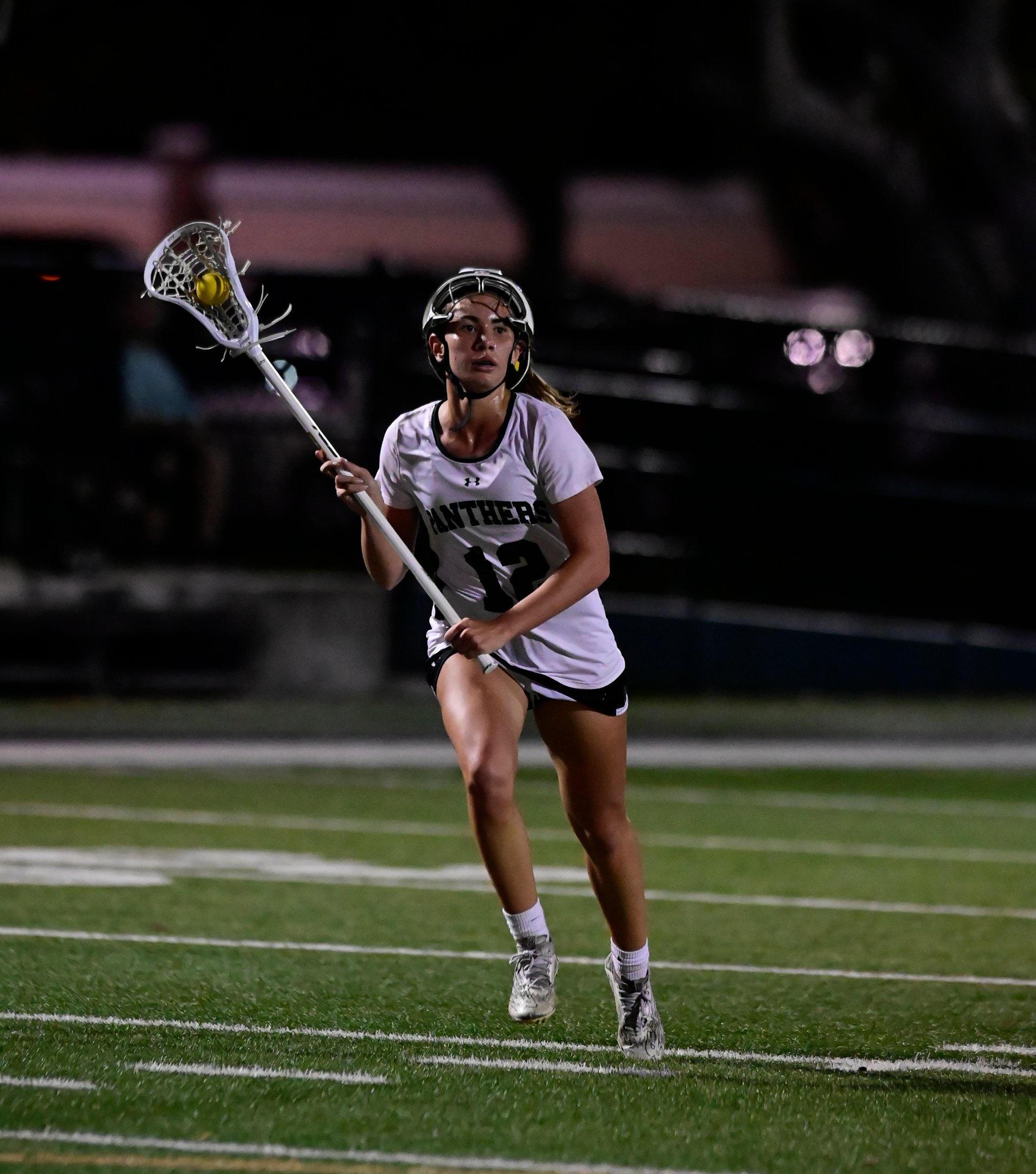 During her senior year, Alex set two School records. On the basketball court, she set the record for most points in a single game by scoring 38 points. She then went on to shatter the School record on the lacrosse field by netting 118 goals this season.
In addition to her impressive achievements on the court and field, the Sun Sentinel named Alex a First Team All County girls lacrosse player for the past three years, and named her player of the year for 2023. As the school year came to a close, Alex was awarded a Bill Rousseau award, named after former Pine Crest Athletic Director, Bill Rousseau. The Rousseau Awards are given to the senior athletes who best exemplify good sportsmanship, leadership, and outstanding athletic abilities.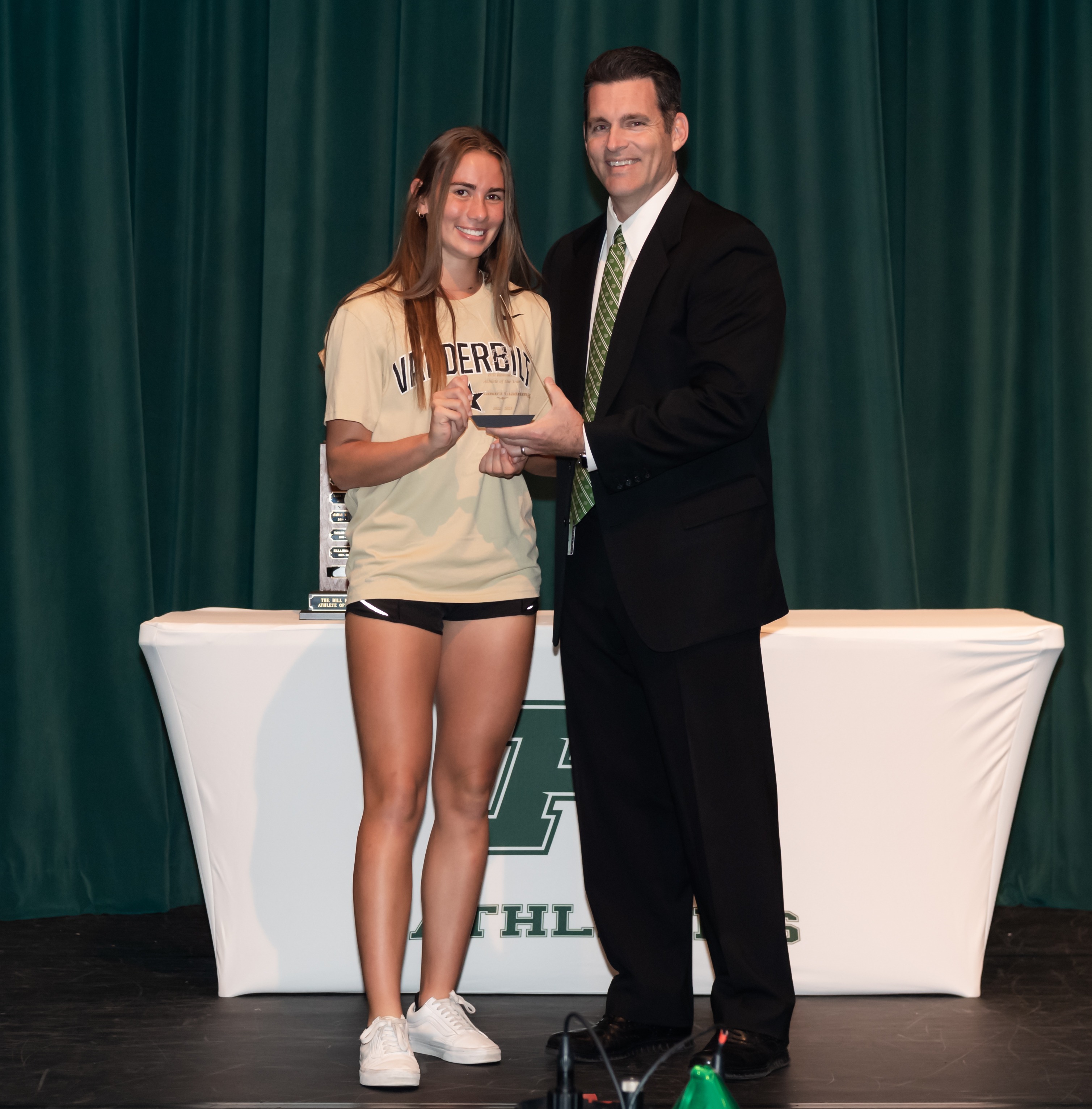 Alex receives the Bill Rousseau award from Jeff Johnson, Athletics Director.
Before Alex graduates and heads to Tennessee, I had the opportunity to learn more about her.
Lindsey Keyes '24 (LK): How long have you been playing lacrosse? What drew you to the sport?
Alex Gladding '23 (AG): I started playing lacrosse in fifth grade. I have always played sports, and in fifth grade, I had a friend that told me to try out for the school team. I started taking lessons with a former Pine Crest lacrosse player, Emily Becker '12, and I fell in love with the sport. I felt like lacrosse was a balance of the various sports that I had been playing. I had great coaches throughout Pine Crest who encouraged and motivated me to continue with lacrosse.
LK: As the captain of the lacrosse team, what is it like to serve as a leader to your peers?
AG: It has been an awesome experience! When I was younger, I looked up to the captains of the teams I played with. I hope to have made an impact on my teammates the way my captains did when I was an underclassmen.
LK: What is a favorite memory or moment of pride for you with lacrosse?
AG: Last year, we beat our biggest rivals Saint Thomas Aquinas. They were the defending state champions and are one of the best teams in the state.
LK: What would surprise people to know about lacrosse at Pine Crest?
AG: We have a really positive team environment. Our team really gets along, we respect each other, and work hard together. Our coaches really set the tone for our team and their support and their drive for success has been inspiring.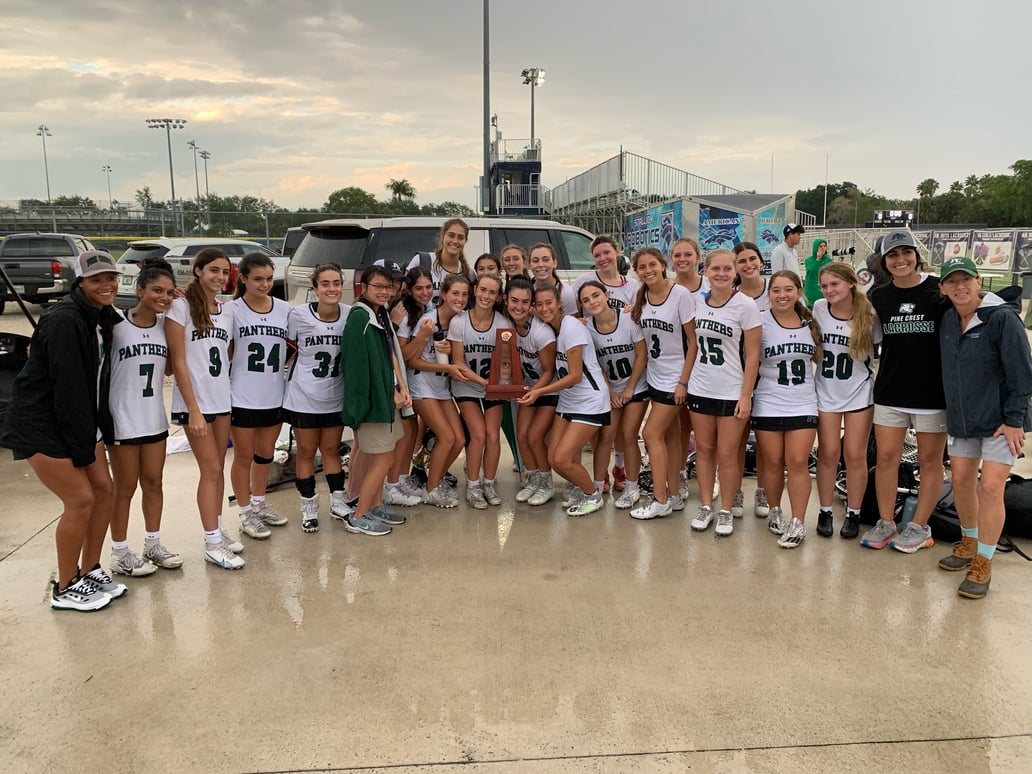 The Girls Lacrosse team won their ninth consecutive FHSAA District Championship for the 2022-23 season.
LK: How do you balance your school work and your sports schedule?

AG: I have to be mindful of my time. I get as much done during the school day as I can and try to use my weekends to get ahead of the upcoming week.
LK: What are you most excited about as you get ready for your first semester at Vanderbilt? Do you already know what you will study?
AG: I will be studying Human and Organizational Development. I am excited for the college environment and am looking forward to meeting my new teammates.
LK: What are you looking forward to as you join NCAA athletics?
AG: I am looking forward to growing as a player—surrounding myself with players who are going to push me to get stronger and be a better athlete.
LK: What will you miss most about Pine Crest?
AG: I will miss the friends and connections I have made over the past 14 years. I will also miss all of the teachers and coaches that have made such a big impact throughout my life.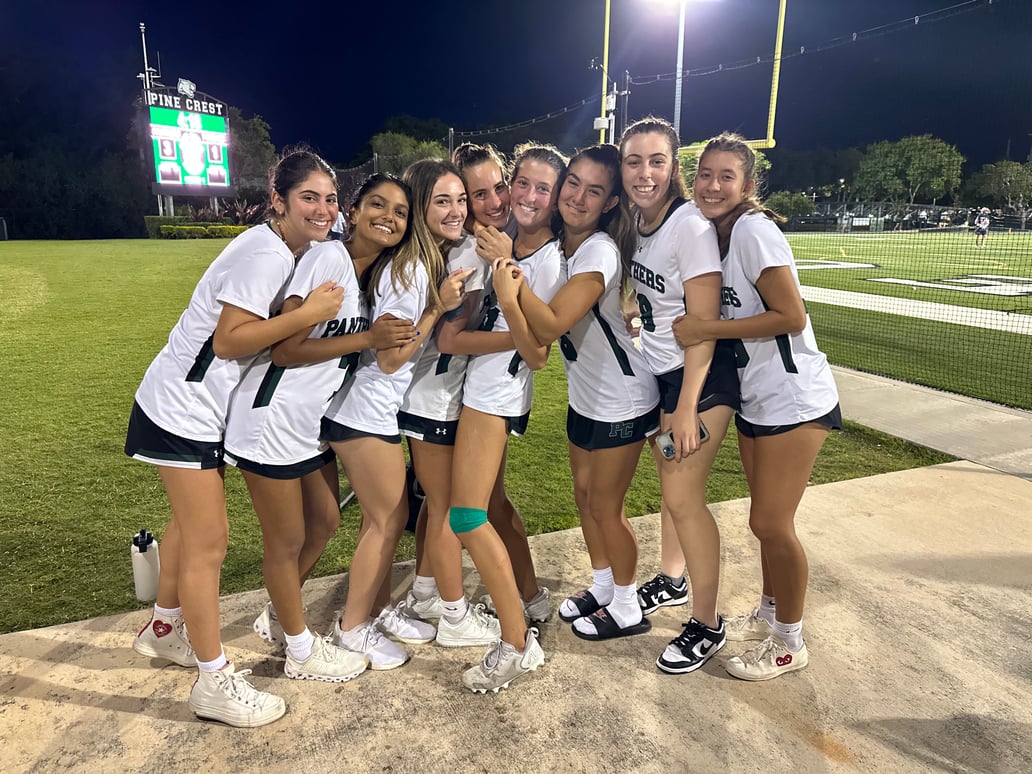 Alex poses with a few of her lacrosse teammates.
LK: What was your favorite class or teacher?
AG: My favorite teacher is Señora Zingg, she has made a true impact on my life and is always understanding. Mr. Ashjian, who was my math teacher in Middle School, was a great coach and teacher and has also made a positive impact on me.
LK: What advice would you give to an incoming freshman on how to make the most of their Pine Crest Upper School experience?
AG: Just enjoy it and cherish every moment because it goes by quickly.