Joining the Pine Crest community in sixth grade, Ben Weber '23 took advantage of what Middle and Upper School had to offer. He served as a positive force in and out of the classroom through his intellectual curiosity, enthusiasm, and hardworking nature.
A member of the Technology Student Association (TSA), a national organization that offers a broad program of STEM-based activities and competitions, Ben has been tinkering, building, and iterating throughout his time at Pine Crest.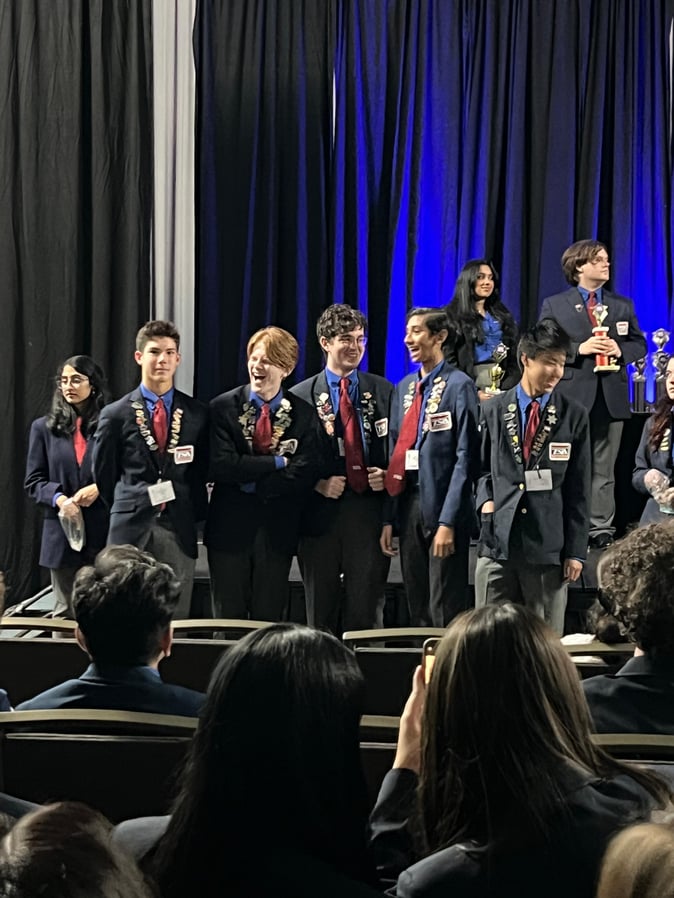 Most recently, he has been involved with the hoop house in the Fort Lauderdale campus organic garden. We had the opportunity to learn more about Ben and his keen interest for science and technology.
What are some of the things you love to do?
Ben Weber (BW): The main extracurricular I am involved with is TSA. I was a co-president of the Pine Crest chapter. This year, I have been most involved in the drone challenge, building an open source drone to navigate through obstacles, pick up objects, and drop them. Our team placed third in the state, even though we had an accident, and it didn't fly during the competition. Luckily, we had a strong interview and were able to progress and now will compete on the national level this summer.
Can you tell us more about the hoop house? What is it and how does it work?
BW: The hoop house is a sustainable garden. We have been implementing techniques used in The Netherlands and in places without a lot of farmland. The hoop house is more sustainable than traditional farming methods because it doesn't require soil. Soil is very spacious, heavy, and pretty inefficient in terms of getting nutrients to plants. The hoop house has a system of PVC pipes in a snake pattern with a water-based nutrient solution that pumps through them. The solution cycles back to the bottom and then travels back up. We replace the solution every two weeks.
We grow lettuce, bok choy, tomatoes, and kale. We have experimented with strawberries and a few other crops, but they didn't work out. We donate everything we grow to Our Father's House Soup Kitchen, which is a local food pantry.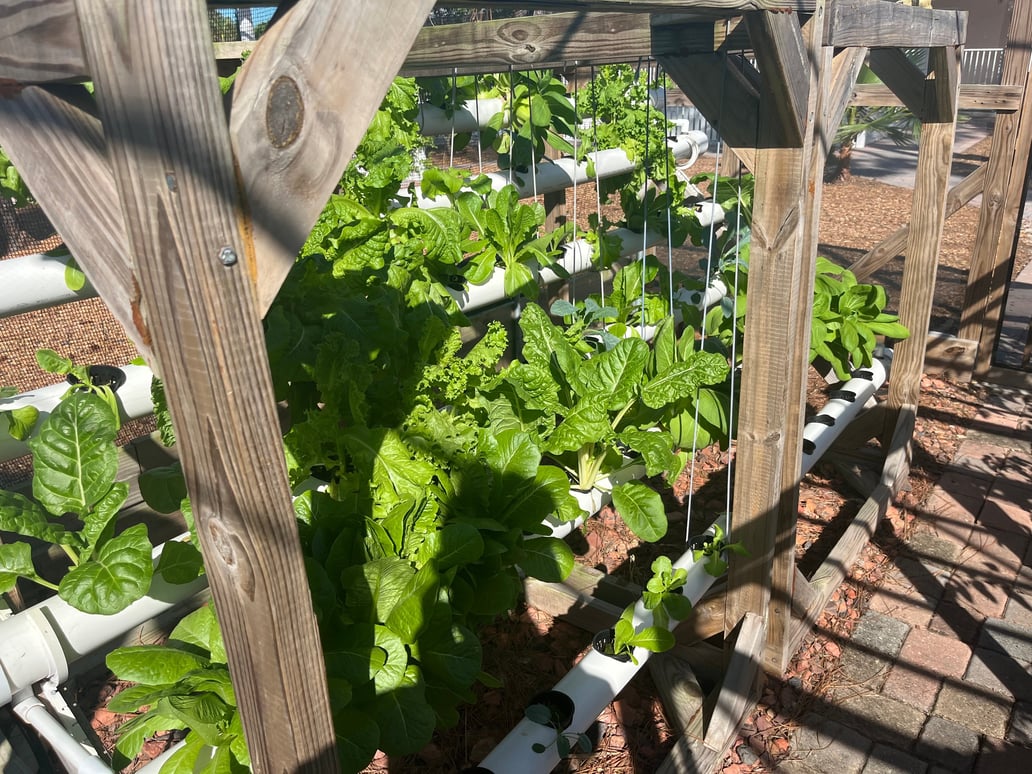 What was your favorite class or teacher?

BW: She's never been my teacher, but I have known Mrs. Kolettis since Middle School. She has been a formative person for me. I have seen her pretty much everyday since I started here, and she has taught me a lot of important lessons. I used to be worried about small things, but she has taught me to let things go and look at the big picture.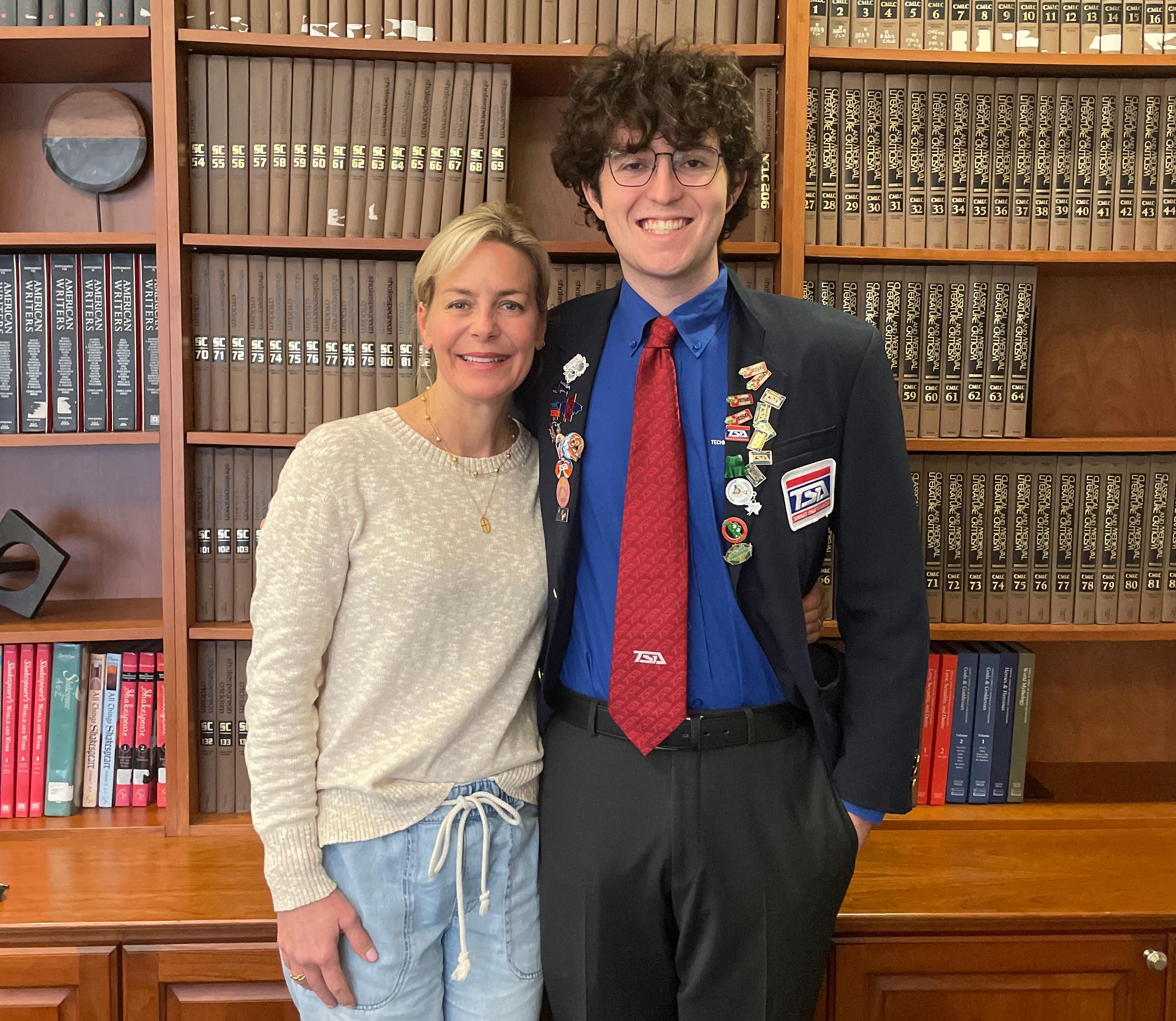 Mrs. Keri Kolettis with Ben Weber '23
I took Physics C, which is a college-level, calculus-based study of introductory classical mechanics, electricity, and magnetism. It is a calculus-based class with Mrs. Silvina Peiretti. I have never struggled more in a class, but Mrs. Peiretti's demonstrations are always on-point. The class has made me look forward to taking more physics-based coursework because the applications for it are endless.
Do you know where you will be going to college? What are you most excited about as you begin college in the fall? Do you know what you want to study?
BW: Princeton! I will major in electrical and computer engineering with a minor in finance and possibly a minor in statistics and machine learning. Before I applied, I had never visited any college campus. I recently visited, and aside from being struck by the beauty of the campus, there was a club fair. There was one club, the Princeton Racing Electric team that any student can join. They are a culmination of physics, electrical engineering, and computer science. Beyond that, I am looking forward to being in a new place and meeting new people. I already reached out to a professor about a lab in drone technology, too!
What do you think you will miss most about Pine Crest?
BW: I have had a particularly tight-knit friend group that I will miss. This year, we started going on trips and just doing more stuff together. I will miss my teachers. Now that I have been here for so long, there are so many I can just stop by and say hello to.
During my junior year, I was working 40 hours a week and getting home late. Pine Crest resources and teachers were really supportive. It was a hard time, but it was pretty helpful and my strongest skill now is time management.
Do you have a favorite memory from your time at Pine Crest?
BW: A lot of my favorite memories come from competing at TSA at the state and national competitions. Some friends and I were competing in the data science and analytics event at TSA nationals last year. We had 24 hours to come up with a defensible claim about data we were given by the judges. We stayed up the full 24 hours! It was the first time I have been up that long. We really wanted to win. I remember walking out of that hotel with everyone ready for the day, but defeated from the night. We ended up placing sixth, but spending time as a team, mentally challenging ourselves—I will always remember that night.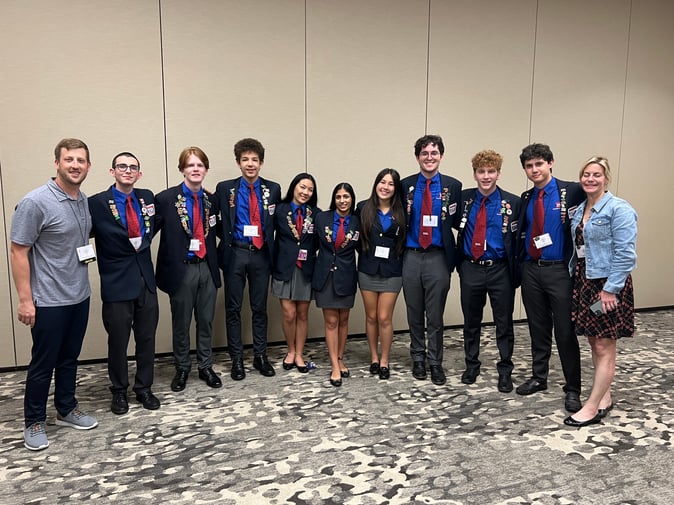 If a rising ninth grade student were to read this story, what advice would you give them on making the most of their Upper School experience?

BW: Do what you really care about. I think students feel they should join a lot of clubs because it will help them look more attractive to colleges, but I think doing what you truly enjoy and proving you had fun while doing it will be better than doing a lot of things you don't care about. There are a lot of resources here and teachers to help you.