Since joining Pine Crest School as a third grade student, Greer Udelson '23 has been a standout student-musician. A singer in the chorus and musical performances, Greer also plays the flute in the band, which she joined in fourth grade.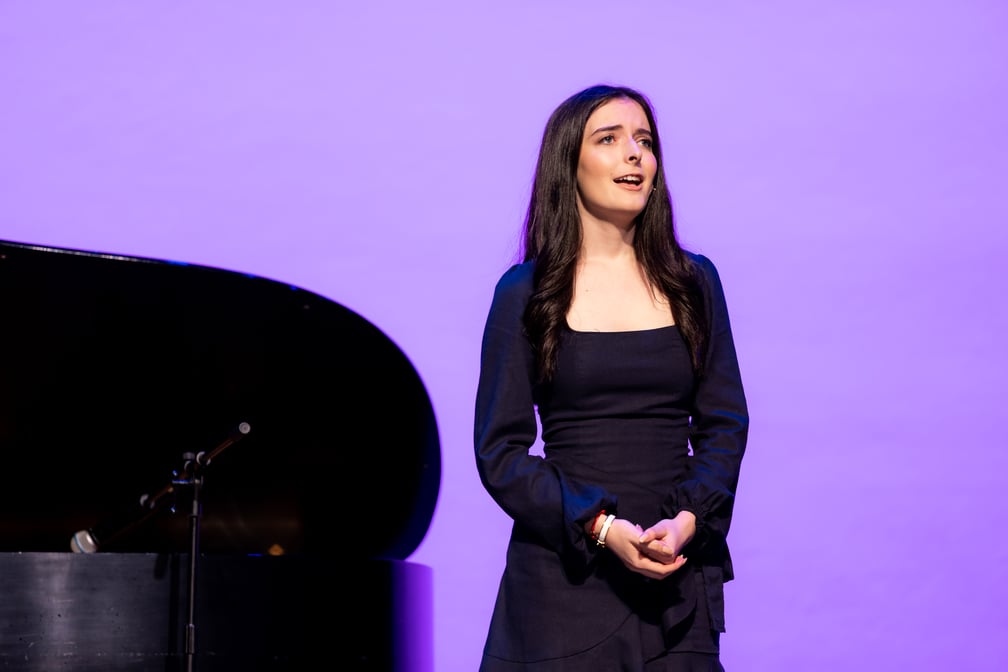 Greer Udelson '23 performs for the Founder's Council.
Among many accolades, Greer was this year's recipient of the Founder's Council Student Cultural Arts Series Award for Excellence in Vocal Music. She was also the recipient of the Outstanding Artistic Achievement Award at the commencement ceremony for the Class of 2023.
"The award is granted to the graduating senior who has contributed to Fine Arts programs and possesses the attributes of the ideal artist—talent, discipline, and creativity—coupled with 21st century thinking skills," said Larry Mellone, Fine Arts Director. "Greer has been an outstanding member of the chorus, theater and band programs earning top awards at district and state competitions. She has earned national awards for voice not once, but five times. She is kind, dedicated, and extraordinarily talented."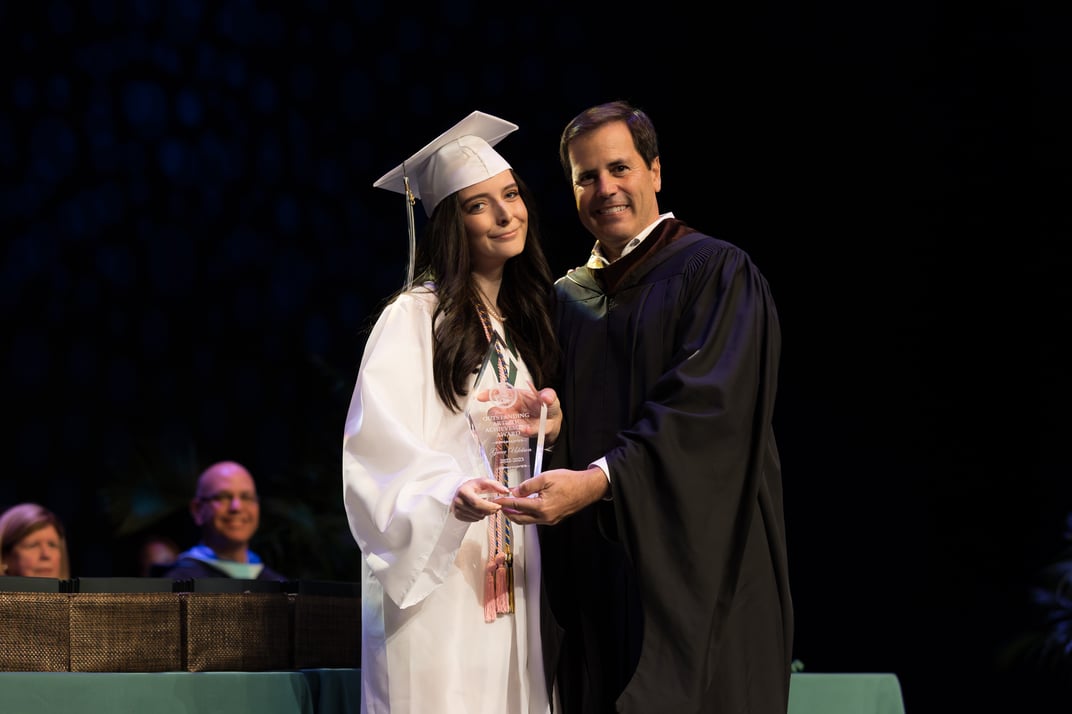 Greer Udelson '23 received the Outstanding Artistic Achievement Award with Mr. Larry Mellone, Director of Fine Arts
Greer has not only shared her musical talents, she has also been a member of the crew team, the student council, the leadership council, and has served as the chair for the Playing for Change concert, which is an Upper School event that raises money for a local non-profit organization.
We sat down with Greer to learn more about the role that music has played in her life and to learn what she is looking forward to as she graduates from the Upper School.
When did you start singing? Is it something you have always enjoyed?
Greer Udelson '23 (GU): I started singing when I was three years old. I began voice lessons, training classically—opera and classical songs. My mom had a musical theater influence as my grandfather, her dad, had been a film producer for Judy Garland, so I eventually branched out into musical theater when I was six. The first song I ever learned was "Somewhere Over the Rainbow." I have loved musical theater and have continued to perform since.


For the past two years, you have served as the co-chair of Playing for Change. What was it like working with your peers in that capacity?
GU: It is interesting wearing several hats in that role. I was responsible for running auditions, promoting and planning the concert, working with performers, handling the donations we received in addition to aspects of which audiences aren't aware. It was fun to hear so many talented students and watch something special being created. It was great to see quiet freshmen find themselves through the arts, like I did, and watch them experience what I have while at Pine Crest. Working with my co-chair and the music director is a great collaborative effort and you learn a great deal about yourself as a performer and worker. I have grown vocally from singing in the Playing for Change concert; as a freshman I sang "Fifteen" by Taylor Swift, and this year I sang "I'll Be There" by Mariah Carey. I sang that song with members of the Fine Arts faculty, Mr. Pierson, and Mrs. Rashbaum. It was a nice closing to my final solo on the Stacy stage.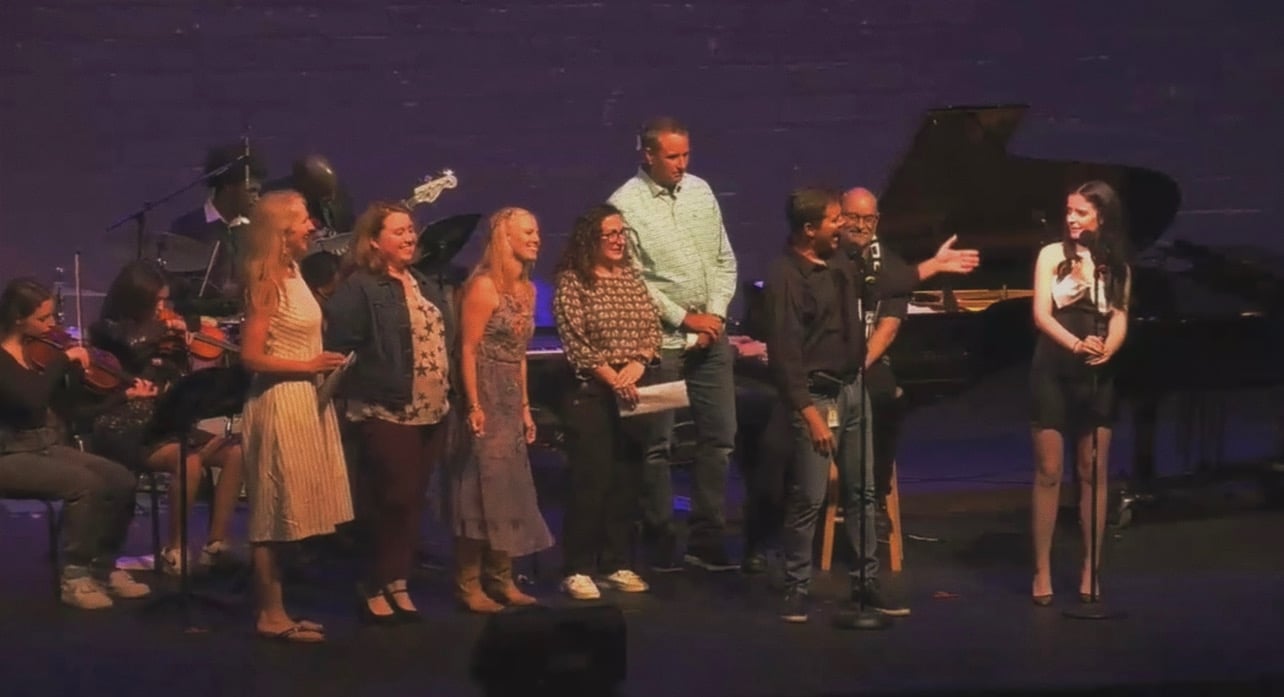 Mrs. Gretchen Fasulto, Choral Instructor, Ms. Noelle Bary, Drama Instructor, Mrs. Nikki Boyd, Dance Instructor, Mrs. Jaimee Rashbaum, Dean of Student Life, Mr. Glen Pierson, Assistant Upper School Head, Mr. Larry Mellone, Director of Fine Arts, and Mr. Michael Testa, Choral Director join Greer Udelson '23 on stage during Playing for Change.
How long have you been playing the flute?
GU: I joined the band here in fourth grade. I always loved the sound of the flute but what has kept me playing is that it helps me with music theory and my singing. It keeps me grounded when I am singing because I go back to the dynamics, balance, and breath support when I sing.
What does the Fine Arts Chair do as part of Student Council?

GU: The role is to promote on-campus fine arts events to the student body. I created the promotional materials for "Clue," the Upper School play, with the Upper School administration. I designed merchandise for the freshman class, the student council, the Steering Committee, and of course Playing for Change. We started a raffle at Playing for Change, which helped get more students to come to the concert and raise money. I tried to involve myself as much as I could in this community because it has given me so many opportunities.
What was it like to be recognized by the Founder's Council for your vocal performance?
GU: It was the perfect way to finish my year! Vocal music has been the center of all of my opportunities and connections. That made this recognition especially meaningful to me.
What have been some of the highlights for you in the Arts?
GU: This year, I traveled to Washington, D.C. to perform for the National Association for Music Education (NAfME). I was one of five singers in the country to be chosen for the modern band. It was the most memorable performance for me to represent Pine Crest, among such talent, on a national level. The energy from that audience is something I'll never forget!
I have been traveling for choral events since fourth grade. It has been rewarding connecting with other musicians, and professors, and it has really helped me build a sense of identity.
Out of everything you have been involved with in the arts, what are you most proud of?
GU: I would say, bridging my singing with community building. Being able to connect to audiences the way I have and building relationships with students and faculty has been the best part of my Pine Crest experience; singing has always been the best way for me to foster that ability.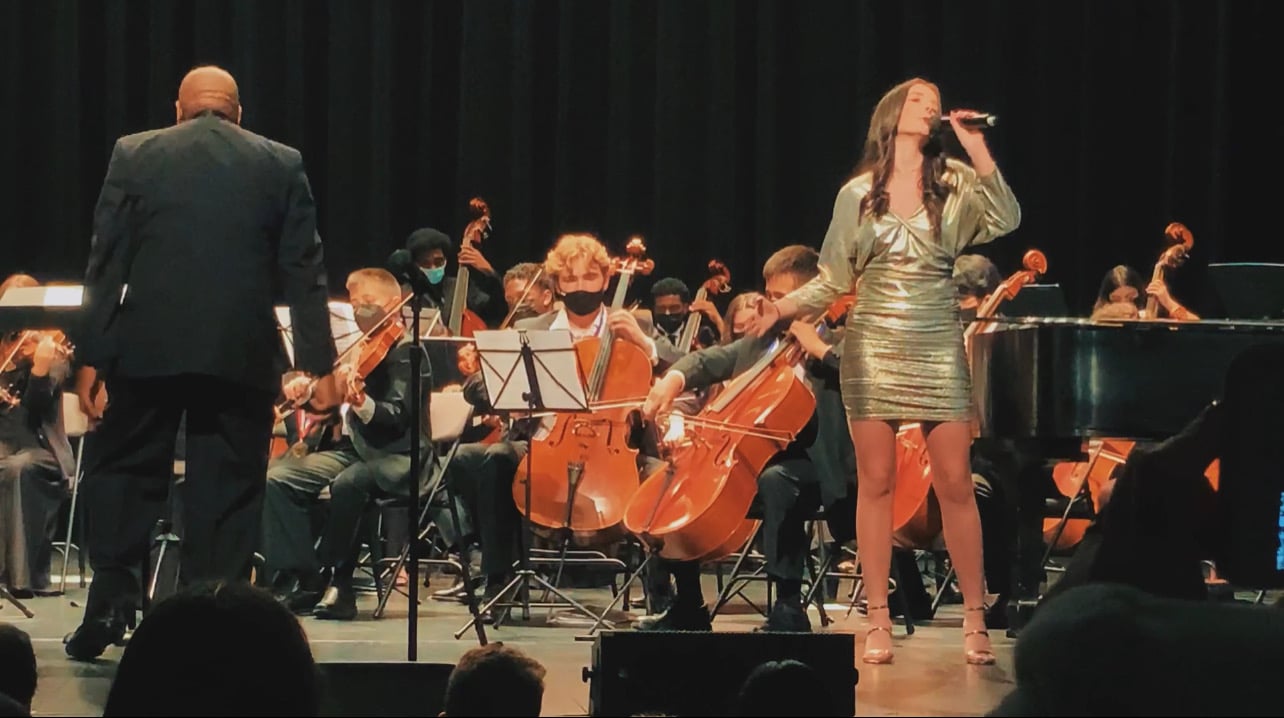 Greer Udelson '23 singing at an Upper School concert.
Do you have a favorite class or teacher?
GU: I loved my voice lessons with Mr. Testa. I have worked with him since fourth grade, experimenting with different genres. He would transition me from opera or jazz to a pop song or musical theater. He calls me a chameleon because of all the different genres I sing. He has definitely watched me grow into my own in many ways. I was shy when I first became a student at Pine Crest, and I found myself in the arts by relating to music or characters from shows. He is among many faculty members who have been so formative over my years here.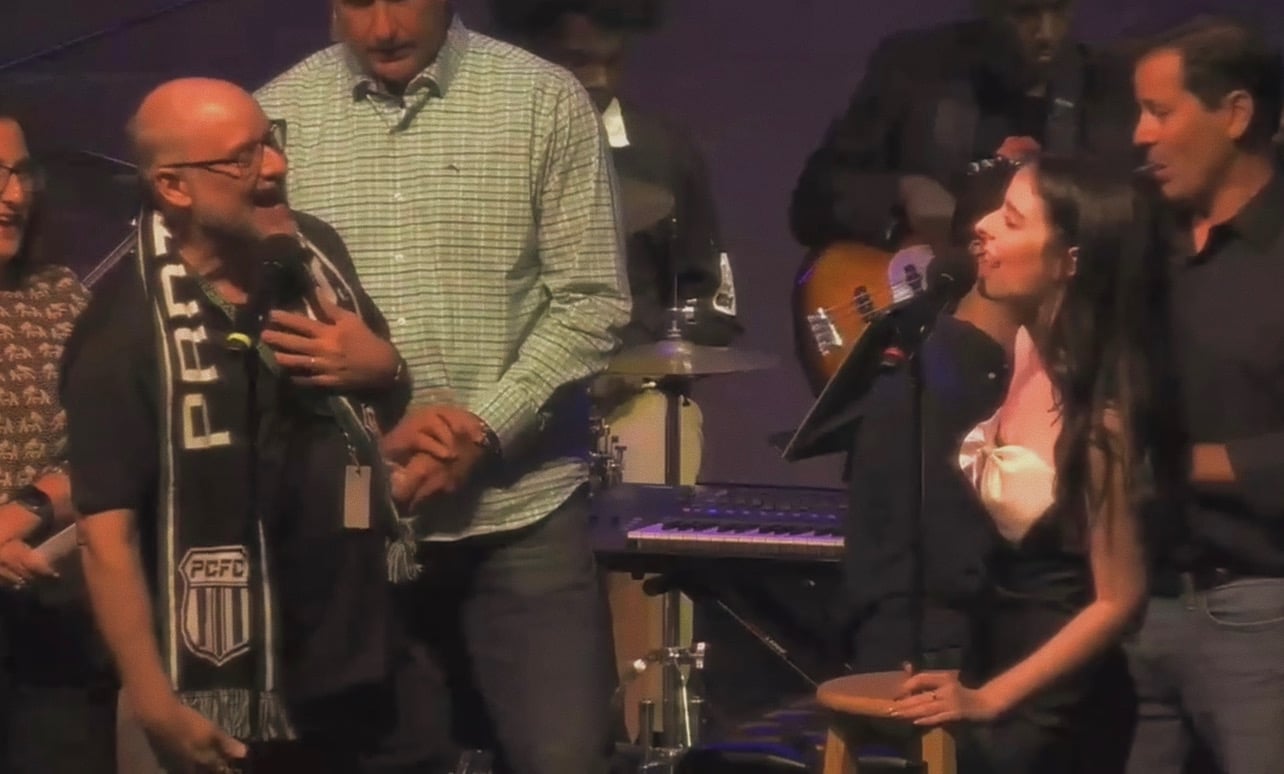 Mr. Michael Testa, Choral Director joins Greer Udelson '23 on stage during Playing for Change.
Do you know where you will be going to college? What are you most excited about as you begin college in the fall? Do you know what you want to study?
GU: I will be going to Elon University and will declare a major in biology. At the same time, I intend to learn more about their bachelor of fine arts degree and find more ways to involve myself in their notable arts program. It is my hope to keep the fine arts in my life, and I will continue working with an acting and singing coach. I will utilize everything that Pine Crest has given me in navigating new opportunities and networking in a new community to open new doors for myself.
What do you think you will miss most about Pine Crest?
GU: I will definitely miss the sense of community and the opportunities I have had. There are opportunities right in front of you here, but there are also opportunities you're able to create for yourself based on what is already in front of you.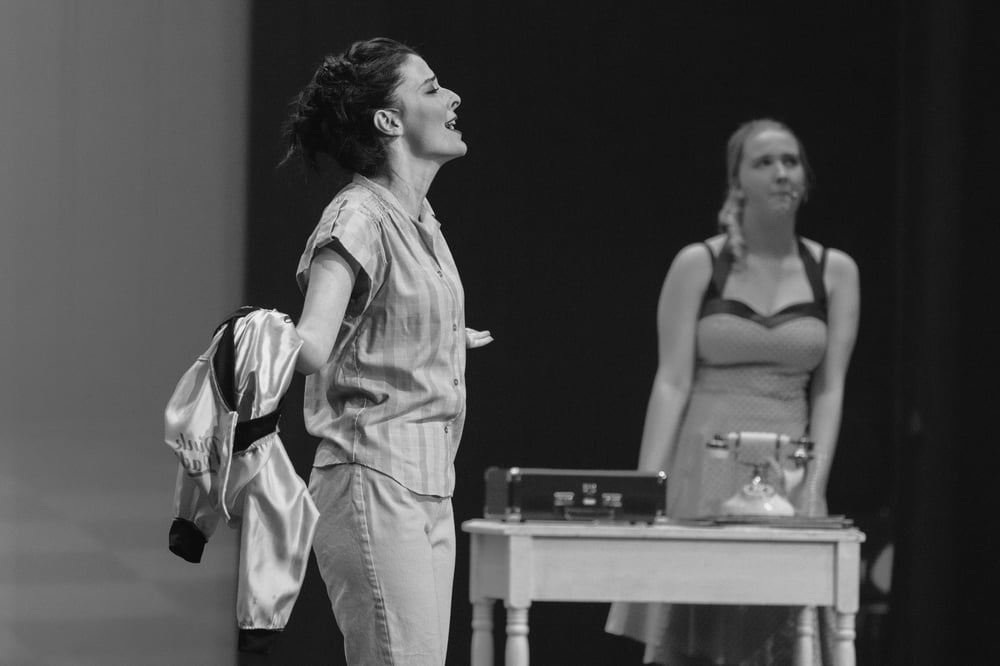 Greer Udelson '23 plays Rizzo during the Upper School production of "Grease."