By: Courtney Klar '22
"To sum it up, I'm the luckiest teacher in the world! I just love what I do," said Ms. Maria Marcello, a 33-year faculty member at Pine Crest School and proud mom to alumnus Nicholas Biamonte '01.
As the Algebra 1 honors and Algebra 2 honors instructor in the Middle School on the Boca Raton campus, Ms. Marcello says she always loved math, and her passion for teaching it at Pine Crest is more than evident.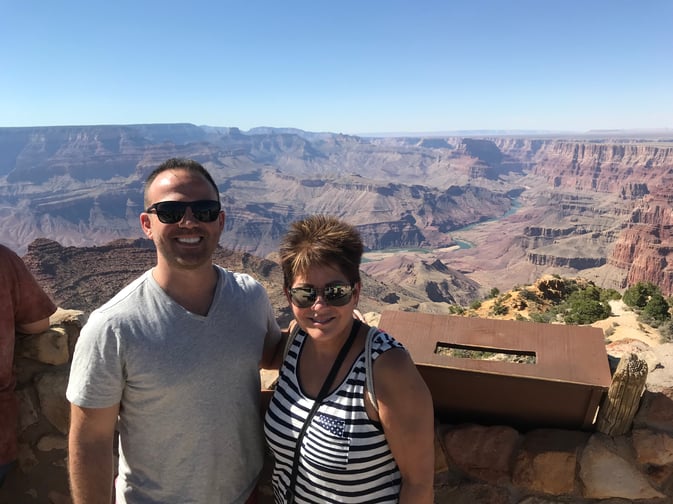 Ms. Marcello with her son Nicholas Biamonte '01 at Bryce Canyon.
"Math just made sense," said Ms. Marcello. "There is just one answer, right or wrong, and you can justify your answer. Other academic areas are more subjective, but math is objective. I have always loved it."
"My strength as a teacher is that I can make math simple for students to understand," she continued. "I give them the rules, and watch them apply them — that's how I was taught and it made math clear to me. I like to provide students with opportunities to apply mathematical concepts and they do a great job. They always make me proud."
Ms. Marcello says she always knew she wanted to be a teacher, but mathematics didn't become an area of focus for her until she was a student in college.
"My calculus instructor," said Ms. Marcello, "he was amazing. Back then there weren't many female math majors and I was one of them. He inspired me to continue my math career, and study computer science as well."
Speaking further on the impact that instructor had on her, Ms. Marcello said, "Great teachers make their students feel empowered. That is what my calculus professor did for me, and it's what I want to do for my students. I want them to know they can reach their potential. I want to make learning math fun and exciting. I always want to inspire my students as they inspire me."
After moving to Florida from New York, Ms. Marcello knew she wanted to teach math at Pine Crest.
"My soon-to-be husband lived in Florida and knew of Pine Crest's reputation," said Ms. Marcello. "He told me it was the best school in the country, so I wanted to teach at Pine Crest. I still feel lucky to work here after all these years!"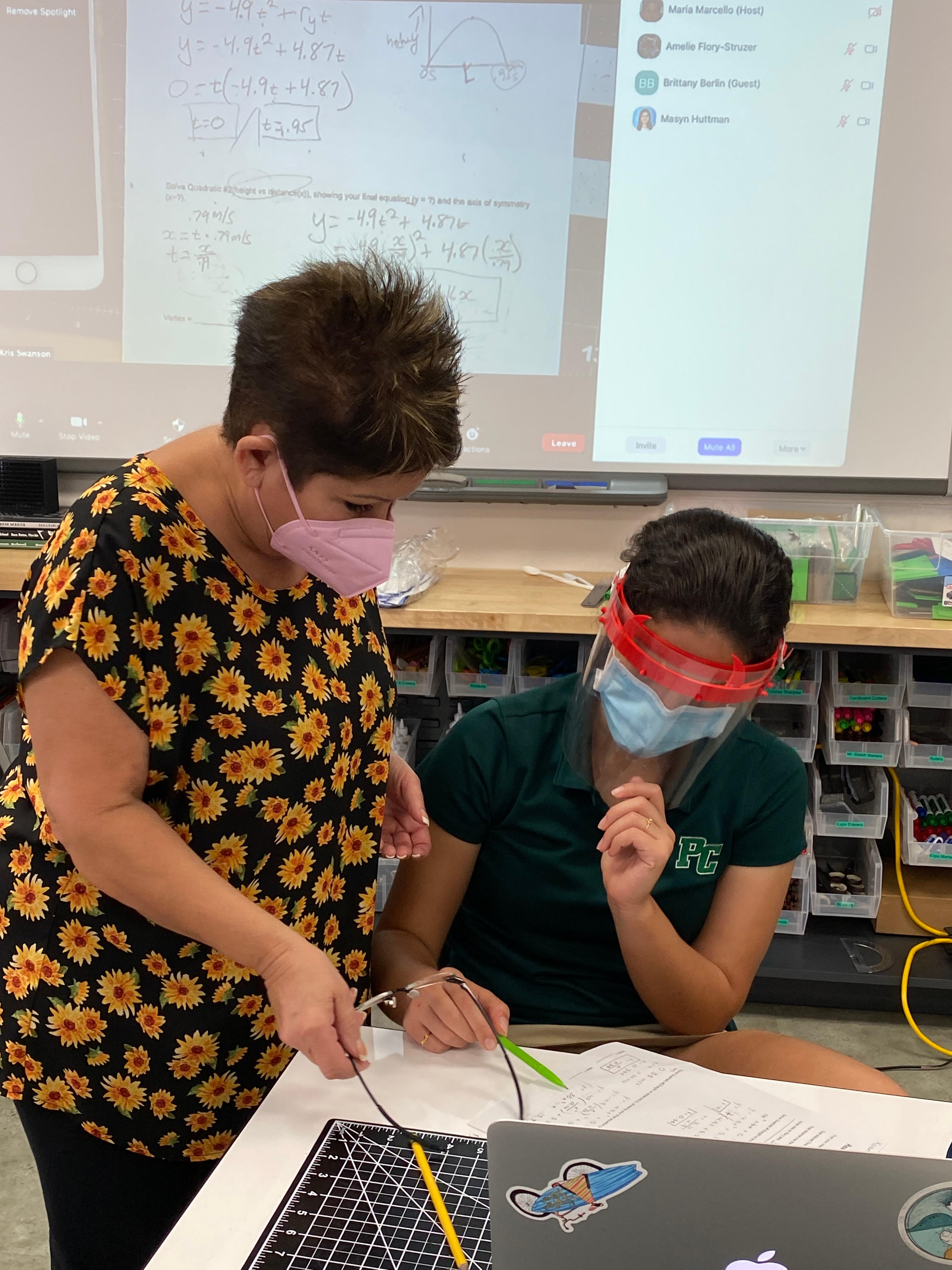 During her first year at Pine Crest in 1988, she taught technology classes to Lower School students. However, the following year, a position to teach math in the Middle School became available, and she has been a key part of the Middle School math department ever since.
"I love everything about this school," she explained. "The resources that are available to faculty, my supportive colleagues, motivated students, and the strong administrative team — I truly am the luckiest teacher in the world!"
On why she loves teaching, Ms. Marcello said "it is rewarding to help students conquer the fears that they have about math. It feels good to know that I have an impact on both students' lives and futures."
Ms. Marcello greets every day with gratitude and enthusiasm and says the key to teaching Middle School students is having a great sense of humor. Any student who has been taught by her can attest to her zeal.
Ms. Marcello jokes about her "celebrity status," noting how she is often recognized off campus by her current and former students.
"My friends and I went to breakfast this past weekend and there was a table of Pine Crest alumni near us," she said. "They couldn't believe how they came up to say hello to me! I see alumni all the time — when I am in Manhattan, at the doctor's office — it's nice to be appreciated and loved."
Outside of the classroom, Ms. Marcello works with the Junior Beta Club, a club that promotes academic excellence and community service.
"I enjoy working with such motivated, creative, high-energy students," said Ms. Marcello. "These students are role models for the rest of their peers. They are the whole Pine Crest package. The Beta Club is student-driven. We talk about their ideas and see what is possible."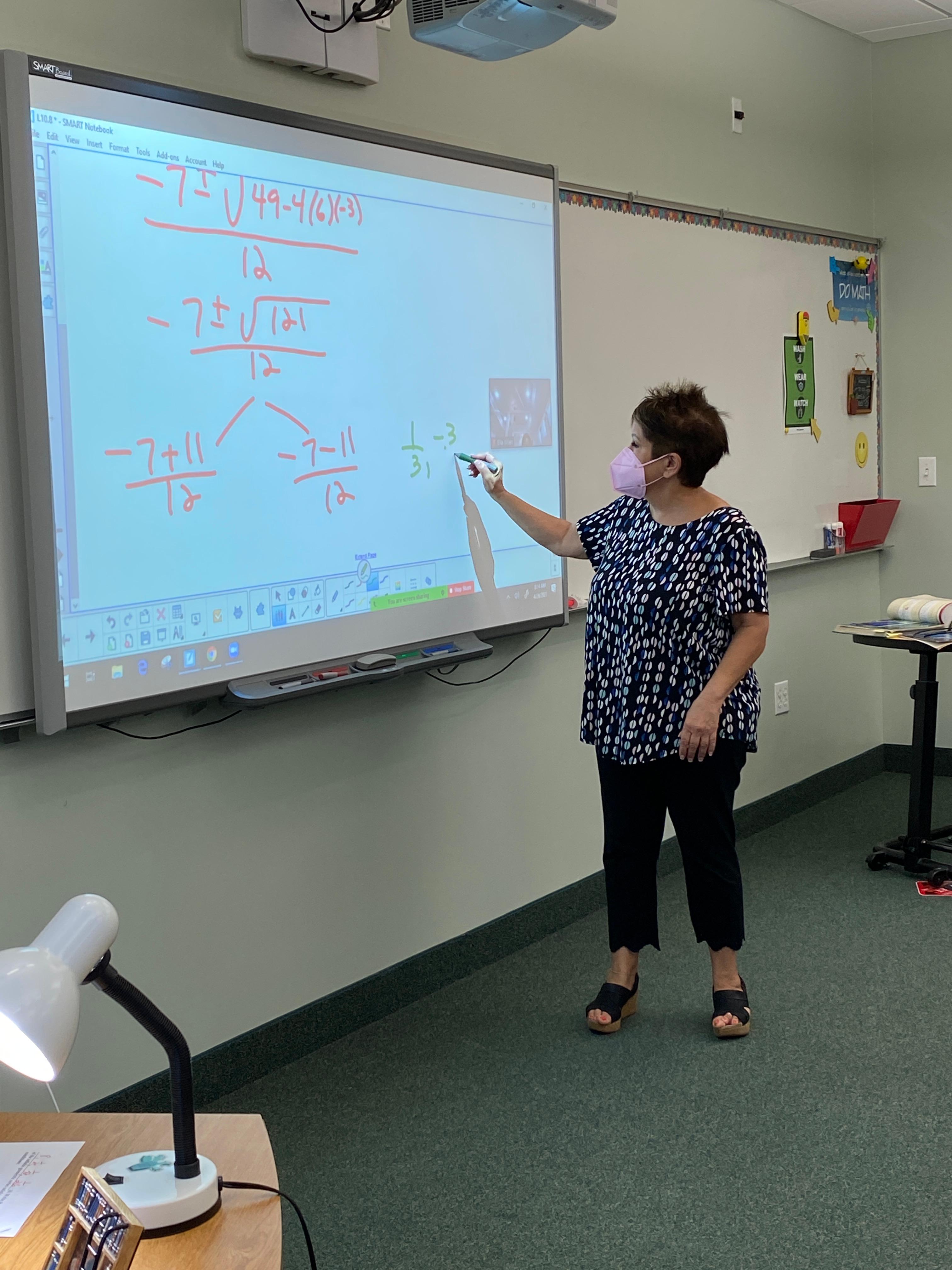 "My favorite project with them is the Food for Families drive that we host every November. It is a school-wide drive and we collect more than two tons of food. We give to food-insecure communities; the students take the lead and motivate other students to bring in donations. At a time of the year when we give thanks for what we have, it is good to help those less fortunate and provide meals for families who otherwise may not have them."
When she isn't teaching, Ms. Marcello loves to read and travel, but she isn't ready to say goodbye to the classroom anytime soon.
"I love my job, I love what I do, and this is the best school in the world! The students keep me busy and young. I am not ready to give that up."