Outdoor learning is expanding on Pine Crest School's Boca Raton and Fort Lauderdale campuses allowing students and faculty to enjoy the countless benefits and lasting impact of outdoor education and play.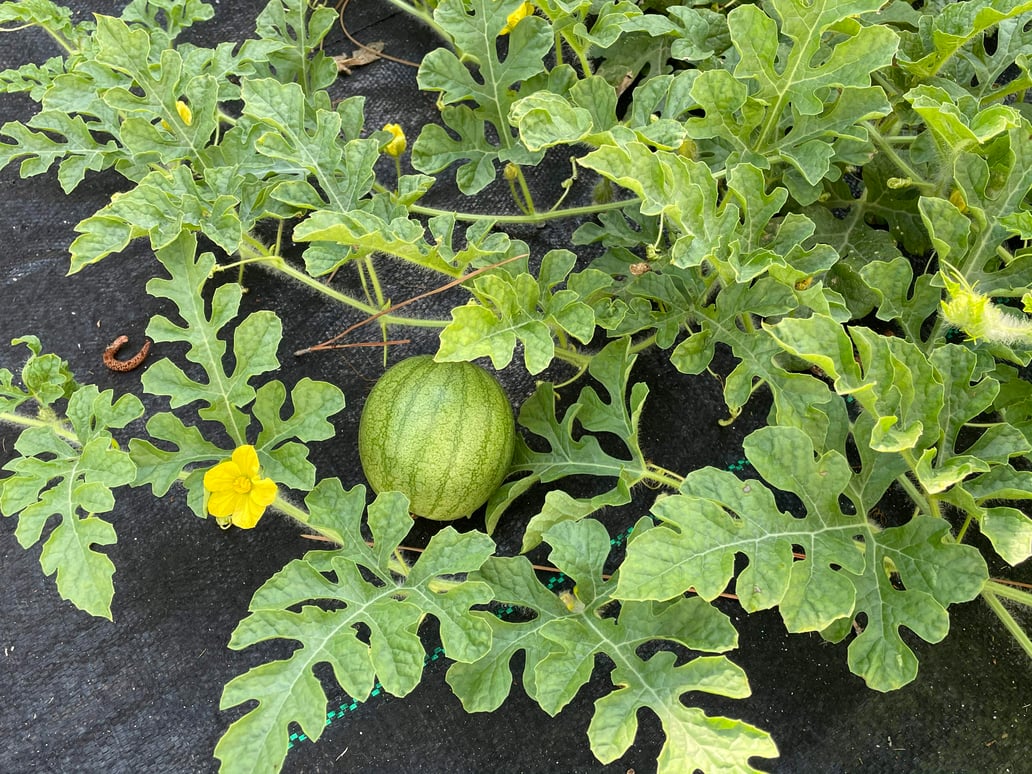 A watermelon grows in the organic garden on the Fort Lauderdale campus.


"Outdoor learning experiences build community and a culture of environmental appreciation," said Mrs. Lisa Ockerman, Pine Crest Executive Director of Educational Design, Institutional Research, and Strategic Initiatives. "Studies show that positive, appropriate experiences with nature bring significant benefits to students. Research tells us that experiences with nature have multiple positive effects on the physical and psychological well-being of children, as well as on the development of their cognitive skills. Additionally, research shows that appropriate interactions with nature help students develop powers of observation, creativity, imagination, and a sense of wonder—important motivators for life-long learning."


"When classes are taken outside, there is more exploration and hands-on experimentation," said Mrs. Ockerman. "Being outside is engaging—it is an opportunity for students to hone in on collaboration skills, and critical thinking."
Reimagining learning spaces, including outdoor locations and wellness areas, to facilitate collaboration and reflection is a part of the School's 2019-2024 strategic plan. Under the umbrella of the School's Social and Emotional Education (SEE) initiative, outdoor learning also serves to help students be mindful of themselves and their surroundings. Nature-based learning experiences support students in developing self-awareness, reducing stress, and creative thinking skills.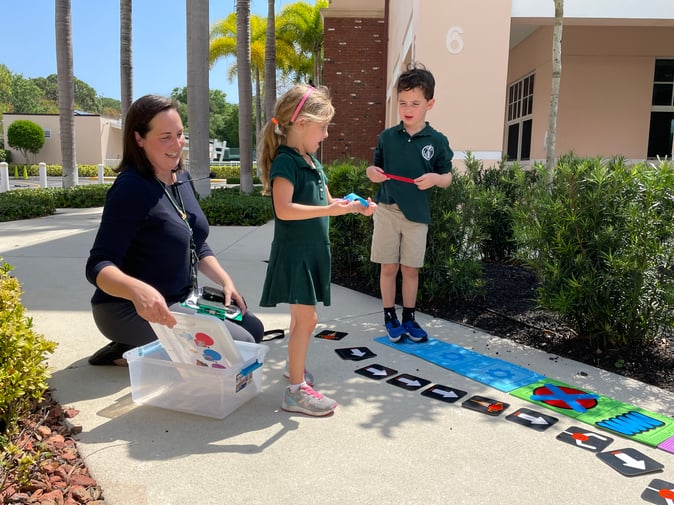 Pre-kindergarten computer scientists learn commands with an interactive board game.

Teachers and students are encouraged to use the outdoor facilities on campus, including the outdoor dining areas and various green spaces. Recently, the School opened two mindful gardens, one on each campus. The mindful gardens were designed as a way to help students feel grounded in the moment.
"A garden can be a retreat to help alleviate stress and improve mood, focus, and increase resilience," said Mrs. Ockerman. "The goal of the gardens is to act as a calming retreat for quiet reflection, thought, and rejuvenation. I think we all thrive on our natural habitat, the beauty of all the things around us. Being outside puts you in a different mindset—it centers you, and allows for a change of pace. It is not unusual to see students in the mindful gardens writing in journals and reflecting."
Another feature of our outdoor learning spaces are sensory pathways, which help develop fine and gross motor skills. Sensory pathways are an important part of sensory play, play designed to stimulate and improve the five senses; smell, touch, taste, hearing, and sight, but also balance and spatial awareness. Sensory pathways also function as an excellent "brain break," helping children to sit still and focus for longer periods of time in the classroom.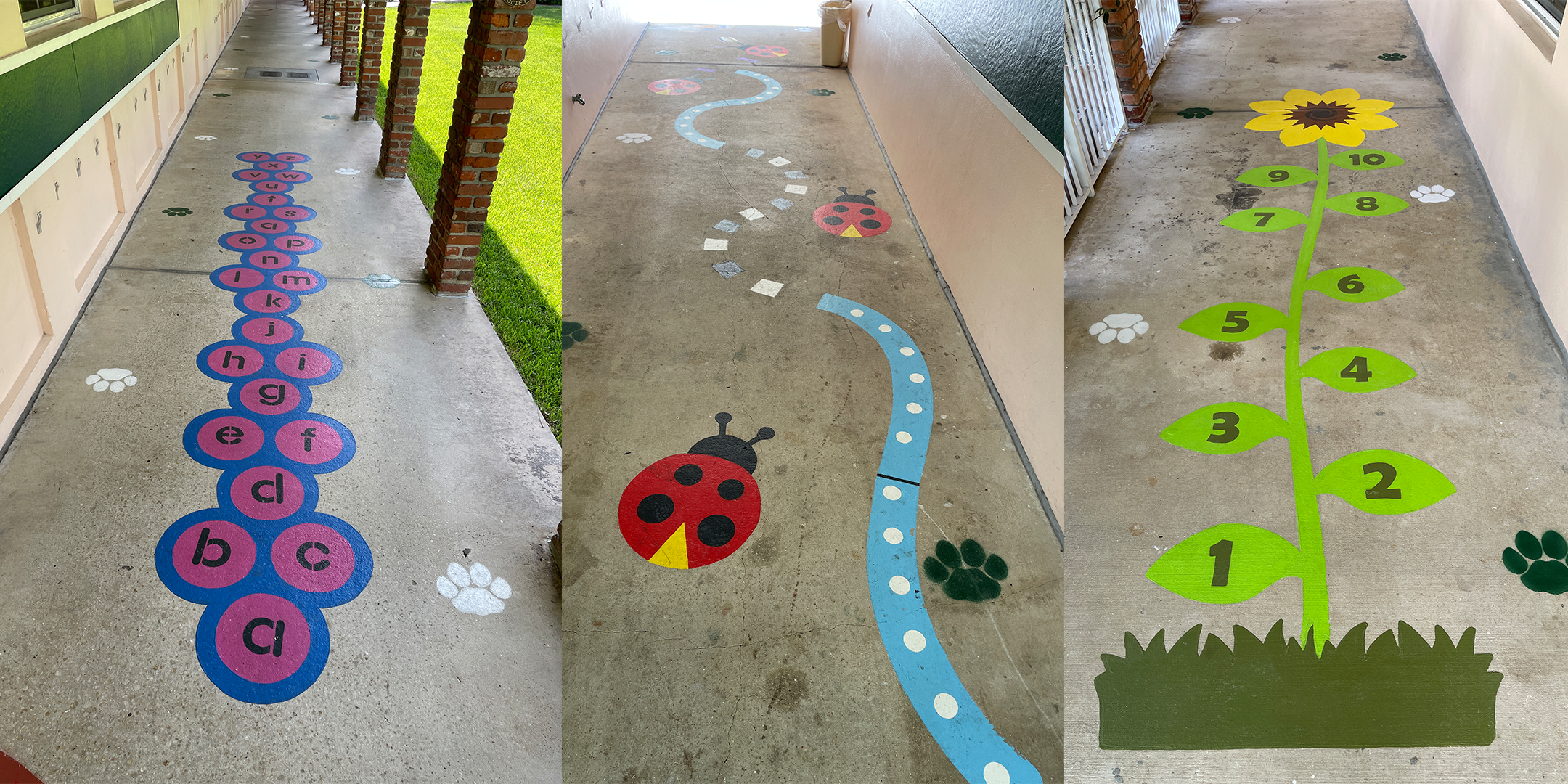 Faculty and students have designated outdoor learning stations. They are mobile stations built on carts with wheels, so they can be moved to any spot outside, while still providing students with the tools they need, including Smart Boards. Unique to the Boca Raton campus is the Rosenthal Outdoor Learning space, a feature intentionally designed to provide any class an area to receive instruction outside.
The organic garden on the Fort Lauderdale campus has become an especially important area for the entire campus, providing a platform for students to explore subject matter in a non-traditional setting. The Pine Crest Facilities team worked alongside Innovation Specialists to construct the garden, including setting up irrigation systems, installing electrical outlets, and putting up iguana-proof Plexiglas.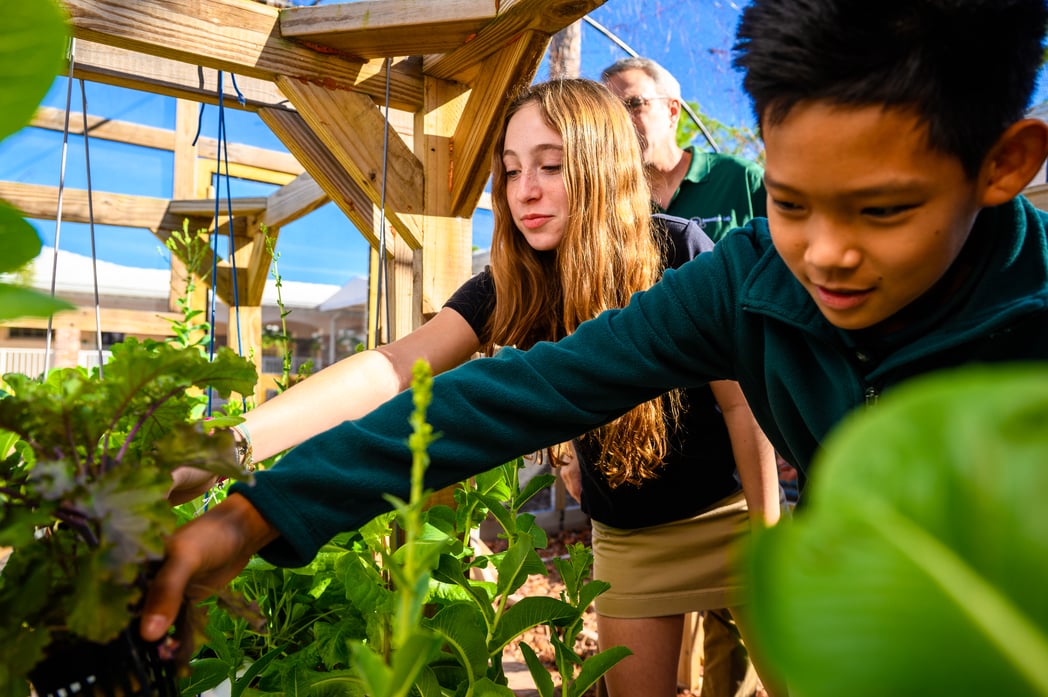 Middle School students tend to various lettuce in the aquaponics loop.

"Lessons in the garden go hand in hand with what students do in the classroom," said Robert Bell, Innovation Specialist. "For pre-kindergarten students, it is where they see how a seed develops, and learn words like 'germination,' 'pollination,' and 'soil,' all of which are tied to what they do in their science classes. As students get to first grade, it's an opportunity to be a scientist by comparing the rates of germination between two sets of seeds. Middle and Upper School students maintain a hydroponics system where they not only grow a variety of leafy greens, but have to consider the nutritional needs that are going into the system depending on the seedlings they choose and make adjustments accordingly."
"What takes place in the gardens is much like the tinkering and innovation that we promote in the iLab," continued Mr. Bell. "Despite our year-round growing season, not everything that we attempt to grow is successful. Through trial and error, collaboration, and problem-solving, we ultimately grow things that bear fruit."
The garden is also a space where students learn about nutrition and gain an understanding of where food comes from.
"Giving students a sense of where their food comes from is important," said Mr. Bell. "Giving them skills to develop self-sufficiency — maybe they will grow things of their own someday. The garden helps beautify the campus, which is already a spectacularly beautiful campus. To have the students contribute to portions of that makes these signature features of the campus even more special."
Students are not the only ones who take advantage of the outdoor spaces on campus. Mr. Ryan Keser, Upper School Science Instructor, practices mindful drawing.
"I began mindful sketching as a hobby," said Mr. Keser. "I have been engaged in urban sketching, a global community of amateur and professional artists who use their natural surroundings as inspiration in their daily lives, as a way to be more present. The goal is not to produce art as much as it is taking a moment for reflection. It involves a careful study of your subject, so you engage in mindfulness practices; you are tuning out the noises around you to tune in to whatever it is you want to focus on."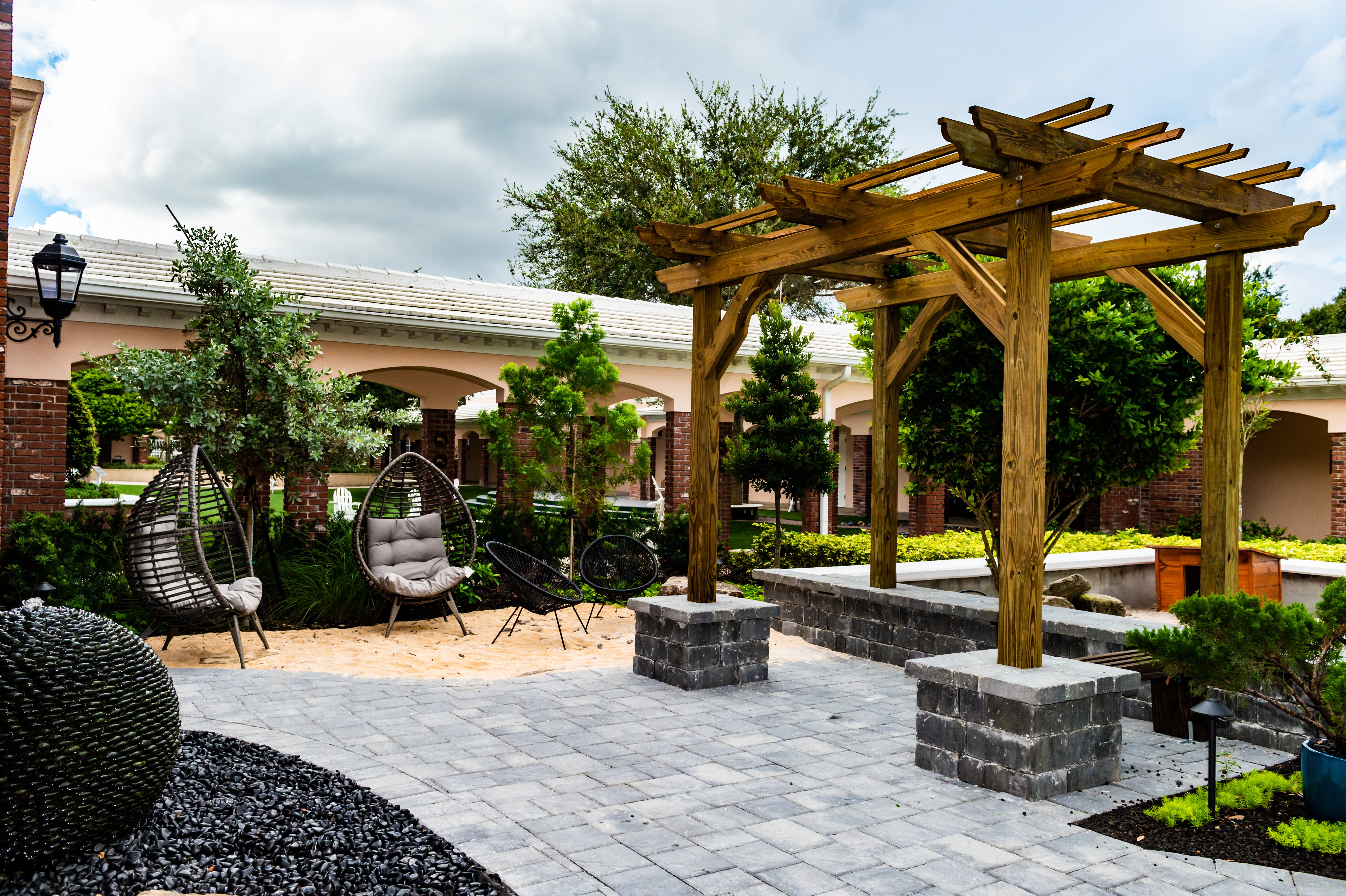 The mindfulness garden on the Boca Raton campus.
"The urban sketching community has simple rules: sketch everyday, sketch your life, share what you sketch, compliment and praise without being critical, and improve your craft," said Mr. Keser. "When I arrived at Pine Crest in Fort Lauderdale, I was impressed with how beautiful our campus is. In my first year teaching here, when I needed a break from preparing my courses or from the energy of the day, I would take the small sketch kit that I keep with me and find a quiet spot on campus to draw. Sometimes it could be the window in my lab, under the umbrella at one of the tables, and now the mindful garden."
Mr. Keser goes on to explain some of the highlights of the mindful garden.
"The mindful garden is wonderful because you get wonderful light with great architectural features and textures," he said. "Between the polished stones, the columnar basalt fountain, the various evergreens and the geometry of the furniture, it is a great place to study and to draw. The campus has wonderful locations all over if you just look."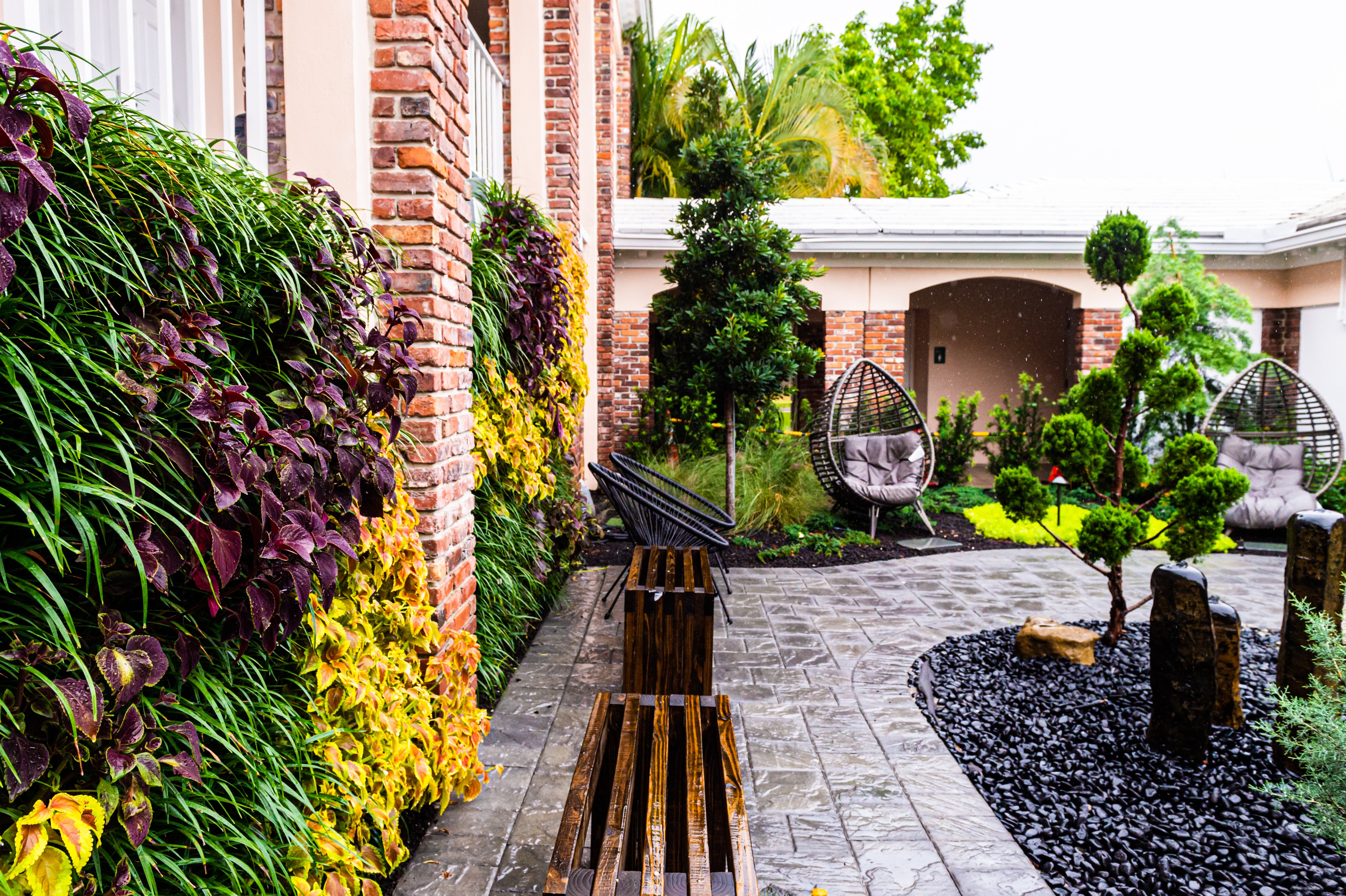 A view of the mindfulness garden on the Fort Lauderdale campus.
When asked what students love about the opportunity to learn outside, Mrs. Ockerman says it is the break from the structured classroom setting.
"When you are outside, nature opens your mind and you think differently," she said. "When you are more relaxed your mind is open to receive new information. Learning outside gives you an appreciation of the world around you. Our goal is always to have students appreciate the world around them."