After being forced to end the spring 2020 athletic season abruptly, Pine Crest Athletics began planning and focusing on student health and wellness for what became an unprecedented 2020-21 school year.
"Dealing with disappointment is a life lesson," said Mr. Jeff Johnson, Pine Crest Athletic Director. "The uncertainty was an opportunity for us to overcome that disappointment and look ahead to what was possible."


Coming back for fall 2020, it was determined that varsity athletic programs would proceed, some with shortened competition seasons, while junior varsity and Middle School sports would only practice.


"This was not an easy year for our coaching staff or student-athletes," said Mr. Johnson. "I am proud of the support that younger students gave to their programs, and their commitment to staying focused with the hope of being able to compete again in the near future. I believe that the culture of our athletic community is a culture of perseverance. The coaching staff's positive attitude and commitment to our common goal of student-athlete wellness and success never faltered."


Once student-athletes returned to campus, they were met by Coach Tim Hibbs, Director of Sports Performance, and the weight room staff, ready to help them get back into playing shape. Despite heading the sports performance program, Coach Hibbs explained that he received assistance from some key individuals who helped make the return to play possible.


"Through the National High School Strength Coaches Association (NHSSCA), a group of the strength coaches in the state of Florida met virtually in May of 2020 and decided there should be a protocol to help ease students back into physical activity," said Coach Hibbs. "Under the guidance of Rich Lansky, Florida NHSSCA State Director, we came up with the return to play protocol of best practices for cleanliness, which Pine Crest was already doing. It helped coaches understand that most students weren't doing any physical activity during the time away, so it wasn't like a typical off-season."


Coach Hibbs described how the return to play protocol looked.
"There had to be a tune-up effort to get student-athletes back in the shape they'd normally be in when a season starts," said Coach Hibbs. "With the help of the Athletic Trainers, Garrick Edwards and Ivan Delgado, a few collegiate coaches, and David Gil, Director of Performance/Biomechanics at VERT, a wearable technology that allows athletes to track their progress in real time with data analysis, we developed an internal protocol focused on injury prevention."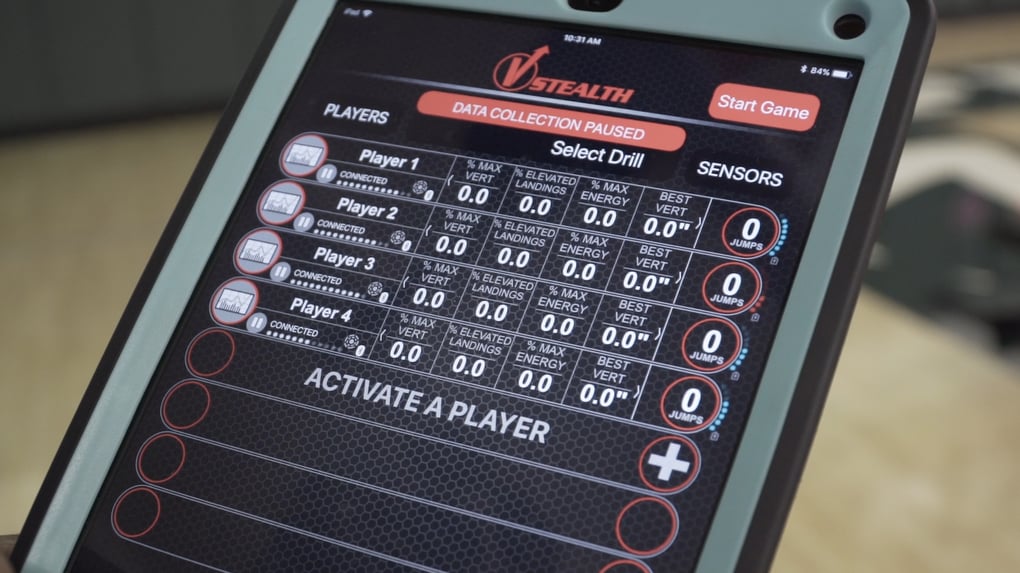 The return to play protocol was not only used with student-athletes on competitive teams, but was implemented in remote physical education classes and on campus in the Lower and Middle Schools.


"The NHSSCA group that I was a part of talked to experts that had worked with National Football League (NFL) players who had been on strike," said Coach Hibbs. "Players on strike were not maintaining their normal training, and once they returned to play, the NFL saw the number of non-contact injuries rise exponentially. They realized that going full speed with athletes who had been 'dormant' was causing an increase in preventable injury. Jumping from dormancy to full blown training is the equivalent of coming back from an injury. We wanted to make sure coaches were ready to help students ease back into movement and we asked the coaches to check in with them to make sure that they were mentally prepared for physical activity."


The mental aspect of physical wellness and returning to play has been an important part of sports performance at Pine Crest School. Coach Hibbs and his staff worked with collegiate coaches, using their input and modeling the systems they have in place to actively track students' moods, how they felt about their workouts, and making adjustments from there.


"Included in the protocol is a questionnaire that we were already using to help us keep up with students' mental wellness," said Coach Hibbs. "For example, we would ask our athletes things like how much sleep they were getting, or what their mood was that day. There were general questions we used to track student wellness early on, making sure they were in a good place mentally. If we saw a trend, like lack of sleep or a consistent bad mood, we would talk to them about it."


"We also tracked the difficulty students experienced in their workouts," he said. "If we thought something would be easy but the student thought it was extremely difficult, we would pull back a bit and make sure the student eased back into their routine. We didn't want to throw too much at them too fast."


Helping students get back to movement, Coach Hibbs and his team partnered with the Hospital for Special Surgery (HSS), a top orthopedic hospital in the United States, to launch a program that students could start at home.


"We actually partnered with the HSS before the global pandemic," said Coach Hibbs. "Once COVID-19 hit, they helped us design a program that students could begin at home. This would allow students to return to the Brandon Knight '10 Sports Performance Center ready for more advanced workouts. The HSS contacted us as they were developing movement patterns to implement into physical education programs. At the onset of the pandemic, we changed our approach to help keep students moving at home. They developed an online program with some of our input, and we worked with them throughout the year with our remote PE classes as well as our on-campus curriculum. It's been a great collaboration and we look forward to our continued partnership."


The partnership with the HSS has been instrumental not only in enhancing the return to play protocol, but in moving forward to help coaches and students with overall movement and technique, preventing more injury and increasing strength and resilience.


Perhaps the greatest triumph for Pine Crest athletics is that despite shortened athletic seasons, countless new protocols, and unprecedented obstacles, the past two school years have brought home more state championship titles than ever in our School history.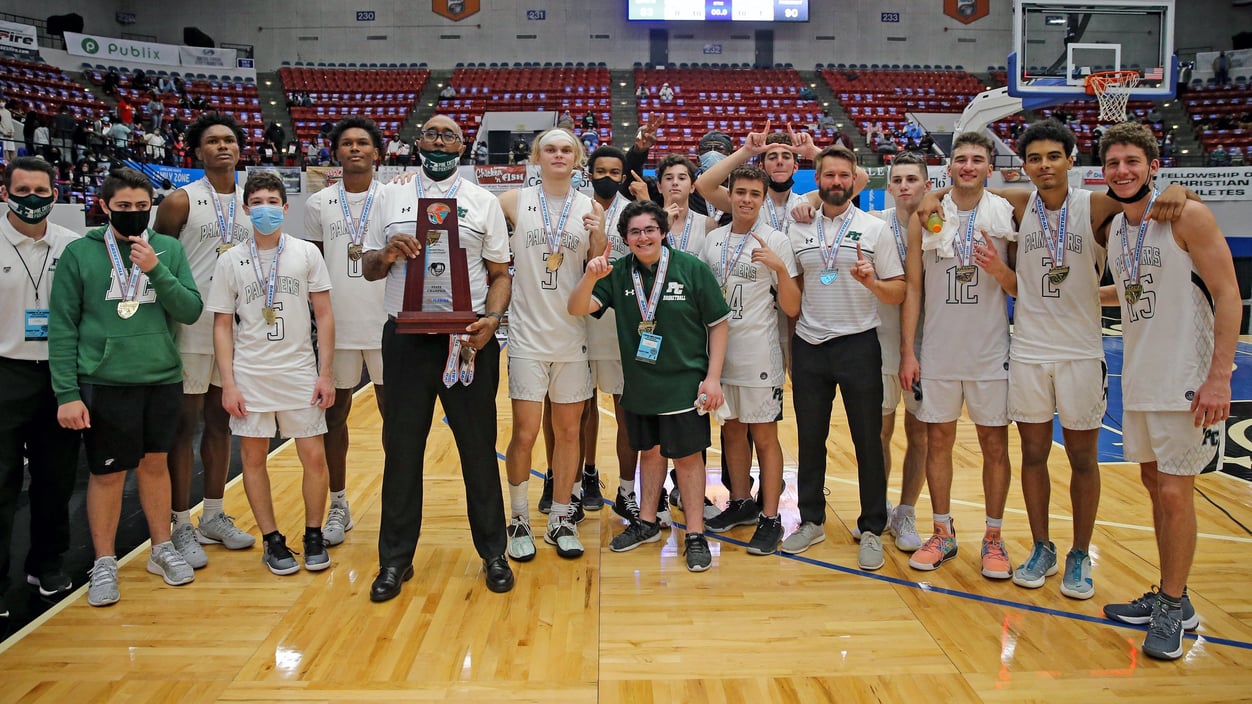 The boys basketball earned the state championship during the 2020-21 season.

"There had never been a year before the 2019-20 school year when Pine Crest teams won more than two state championships," said Mr. Johnson. "It's a true testament to the hard work student-athletes are putting into their sports, and the entire Athletic Department, from the weight room staff and trainers to the coaches who continue to guide their athletes to safer and stronger performances."


The 2019-20 sports season ended in March, with three teams bringing home state championship titles: boys and girls swimming and diving, and girls cross country.


In 2020-21, Pine Crest student-athletes brought home four state championships: girls' swimming and diving, boys basketball, girls scholastic crew, and boys tennis. This is in addition to the nine individual state championship titleholders from the boys and girls swimming and diving teams, the boys and girls tennis teams, and girls crew.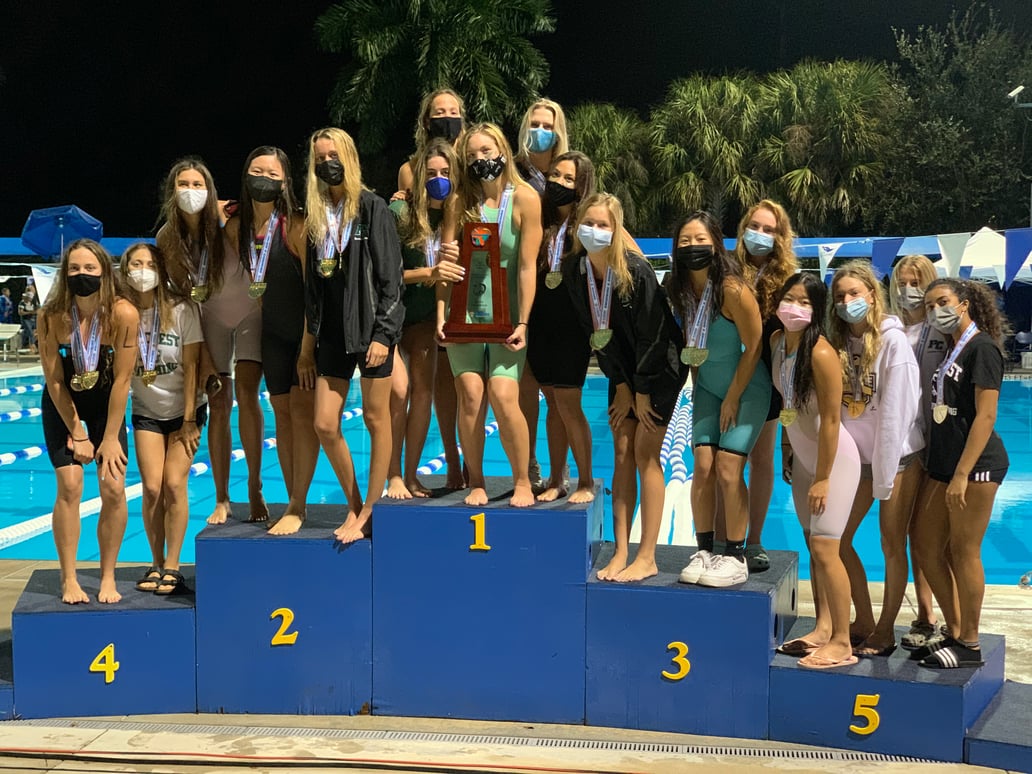 The girls swimming and diving team earned the state championship for the 2020-21 season.
The support of the School community, including the house keeping, facilities, and health office staff, has been critical to keeping the School open this year, but also in maintaining safe athletic facilities for students and coaches.


"As far as cleanliness," said Coach Hibbs, "the health staff got us an electrostatic disinfectant fogger for the weight room. We could not have survived without that. We used it all the time, and thankfully, we had no COVID issues that originated in the weightroom. We were open from the beginning of the school year and it wouldn't have been possible without the Security team and the Health Office giving us the supplies needed to maintain the high level of sterilization."


Ultimately, the Pine Crest athletic program flourished during the pandemic regardless of the many challenges it faced, and its success was the result of the collective efforts made by Pine Crest's administration, faculty, athletic staff, and of course the student-athletes, who all exhibited Panther Pride at its finest.