When Calla Cissel '11 became a nurse manager for Baptist Health Louisville's 21-bed telemetry unit in November 2019, little did she know that just a few months later, she would be managing the hospital's COVID-19 floor.
"My unit was chosen due to proximity to the intensive care unit (ICU) in the event of a patient decompensating and in need of a fast transfer to a higher level of care," said Calla. "It was all about the location to the critical care units."
Calla and her team quickly shifted from a cardiac to a primary nursing model of care. They implemented new safety protocols, focusing on limiting the risk of infection among the nursing team while providing a high level of personalized care to their patients. Each nurse's caseload was reduced from four to five patients to a maximum of three. They transitioned to wearing surgical scrubs and personal protective equipment (PPE), including gowns, goggles, and face shields. Donning the PPE before each patient interaction takes approximately five minutes; doffing (or removing) requires a completely different process and may take up to 10 minutes to complete. Thankfully, the stringent protocols have proven to be effective — to date, no one on the nursing team has contracted the virus.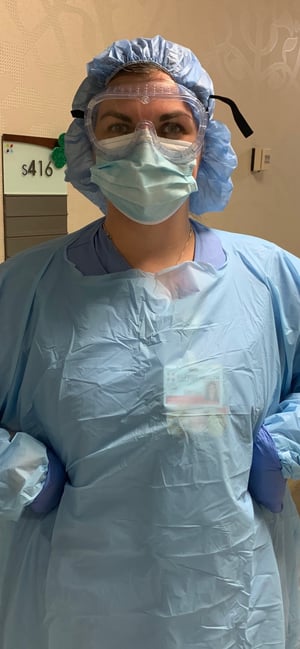 "These last few months have been some of the most challenging in healthcare," said Calla. "Teamwork has been incredibly important between the nurses, physicians, respiratory therapists, environmental services, nursing assistants, and monitor technicians. We have learned how to work together in order to keep our patients safe and provide the best care we can during this difficult time."
Calla's exposure to the significance of teamwork began with her experience as a member of Pine Crest's crew team and later when she went on to row for the University of Delaware's D1 program.
"Teamwork is so extremely important for rowers to be in sync and have the same goal in order to propel forward," said Calla. "It is the same with nursing — we are all there to provide the best patient care and have to rely on those around us to help provide that care on a daily basis."
Another critical skill? "Multitasking!"
Calla honed her skills as a multitasker while balancing early morning weight room, erg room practices, or water practices with the academic load at Pine Crest. During her time as a student-athlete in college, she would board a bus for practice at 4:30 a.m. and return home from a night shift clinical around 1:00 a.m. Now, Calla juggles her role as a new nurse manager with coursework as she pursues her Doctorate in Nursing Practice in Executive Leadership.
"I clearly get bored with free time!" said Calla.
Reflecting on her academic experience at Pine Crest, Calla credits the faculty's early integration to technology and the emphasis on the importance of education with a lifetime desire to always keep learning.
Calla recalls, "Mrs. Harrigan really worked with me and helped me learn how to study in the best way for me," referring to Upper School chemistry teacher Wendy Harrigan '90.
Going through five surgeries between Middle School and Upper School opened Calla's eyes to the medical field and piqued her interest, and her aunt, Chrissy (Blackwell) Marrero MSN, RN '84, inspired Calla to pursue nursing and leadership.
When asked for advice to Pine Crest students or alumni who are considering a career in nursing, Calla said, "Do it! You have a guaranteed job (even during a pandemic). Nursing is a special career. We are able to help people through some of the hardest parts of their life. We are their lifeline and support them through every health decision big or small. We see birth and death with different views. It is an extremely challenging but also extremely rewarding career."

Are you or a fellow Pine Crest graduate working on the front lines through your profession or volunteer service? If so, please share your story.