Six months ago, Nicole Urban '14 could not have imagined herself working on the front lines of the COVID-19 pandemic. In her role, Nicole works as a nurse in the neuro intensive care unit at New York Medical Center caring for patients with life-threatening neurological issues.
"It is so gratifying and rewarding to be in the forefront of better understanding neurological disorders and developing new techniques to recognize and address them," said Nicole.
Nicole and her colleagues quickly pivoted when COVID-19 arrived at the Medical Center. Operating rooms were closed, and every room was converted to accommodate the new coronavirus patients, starting on the first floor and eventually expanding to every room in the hospital.
"It was very distressing to see we were not prepared for such a rapid influx of patients," said Nicole. "It felt like a Category 5 hurricane had arrived with little advance notice."
Nicole is comfortable working in intensive care units and is accustomed to treating severely ill patients. Nevertheless, she said nothing could prepare her for an early incident that drove home the extent and seriousness of the growing pandemic:
"A family held a wedding in Brooklyn and had invited a good number of their family and friends. Unbeknownst to anyone, one of the guests had contracted the virus and was highly contagious, exposing everyone at the celebration to the virus. Within days of the wedding, guests were exhibiting serious COVID-19 symptoms and rapidly began to fill the majority of the hospital's rooms."
Nicole knew that the vast majority of patients incubated with ventilators at that time would not survive.
The hospital's nurse-to-patient ratio quickly rose to 3:1, a historically unheard of number. Nicole's team had to quickly recruit recently-graduated nurses from local nursing schools. Though they typically had only a few month's experience, they immediately joined forces with Nicole and her colleagues.
"We were all working 12+ hour shifts, and I was humbled to see the new nurses' devotion and dedication to saving lives," said Nicole. "Everyone understood the enormous risk of contracting the virus."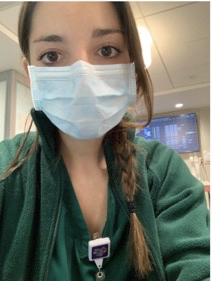 Due to the shortage of personal protective equipment, Nicole and colleagues were given one N95 mask per week, which they would place in a paper bag at the end of each shift and trust it was sanitized every day before reusing it.
When not on duty, Nicole manages a GoFundMe page to coordinate food deliveries, often three meals a day, for patients and fellow healthcare workers. She arrives at the hospital each morning before her shift begins to ensure the food is properly set up and distributed. She is also donating pizzas for the health care workers at Sloan Kettering, Mount Sinai East and West, New York University and Columbia Presbyterian. Nicole constantly scans social media for healthcare workers to feed and takes recommendations from friends and family who know someone on the front lines.
Despite the risks and exhausting work load, Nicole is grateful for the chance to help all those suffering in so many ways.
"I couldn't be happy if I was giving less than 100% of myself for each and every one of my patients and colleagues."
Are you or a fellow Pine Crest graduate working on the front lines through your profession or volunteer service? If so, please share your story.