Pine Crest School is pleased to announce the completion of renovations to the East Campus Athletic Complex, which includes Banks Field and the Elliot Family Track.
The East Campus Athletic Complex serves the entire Fort Lauderdale campus community. In addition to physical education courses for Lower and Middle School students and junior varsity and varsity athletics, the Complex is used for field days, summer camps, and by engineering and robotics students as a test site.
The most extensive renovation was the resurfacing of the track, originally constructed in 2005.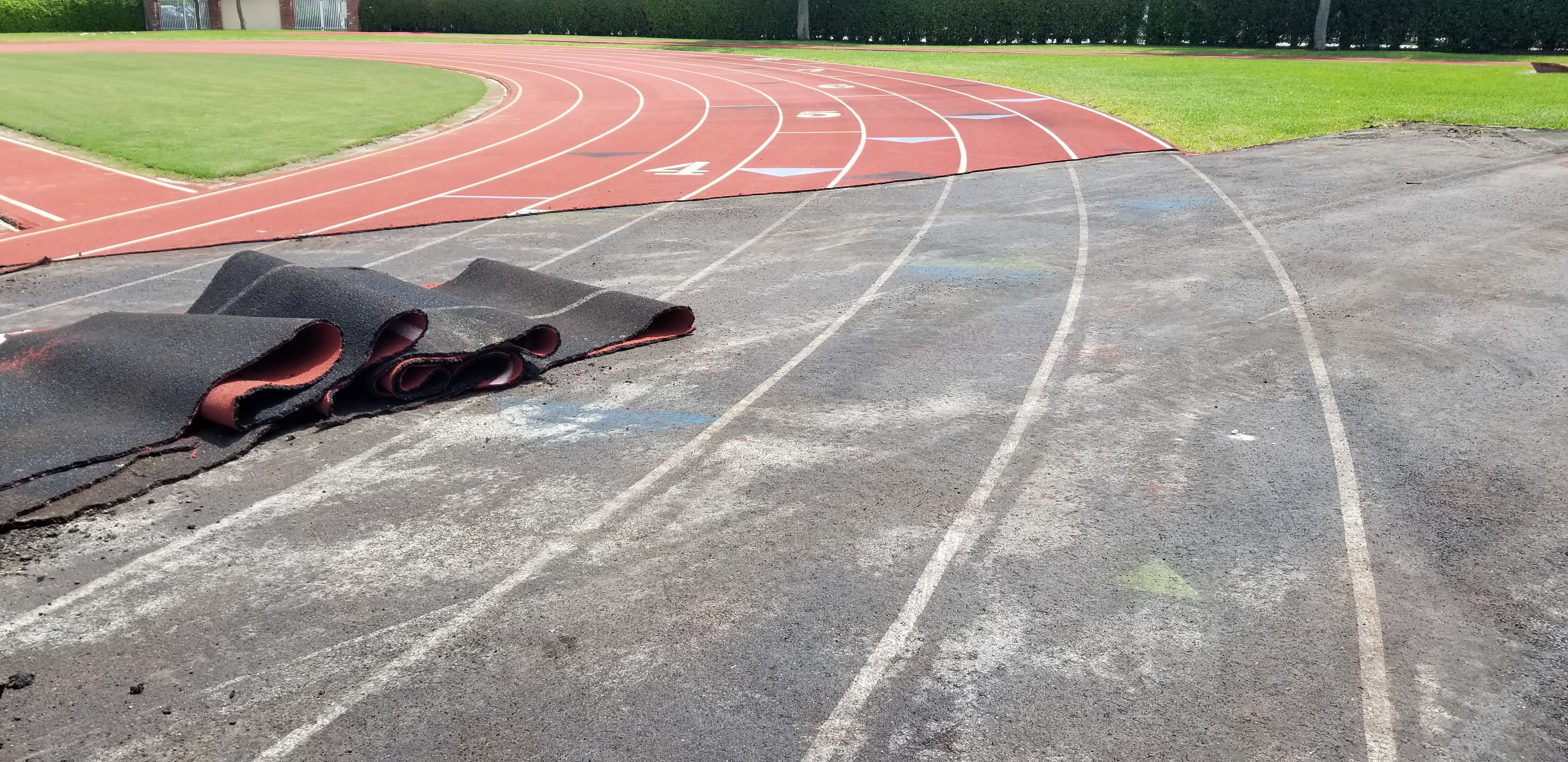 "A track is unique in that it serves student-athletes from all sports," said Jeff Johnson, Athletic Director. "Everyone benefits from utilizing that facility, much like the Brandon Knight '10 Sports Performance Center."
Banks Field has been upgraded with a state-of-the-art video board, replacing the current scoreboard. This new asset is versatile and ready for multiple uses.
"The board will serve as a traditional scoreboard showing the score and game clock for Middle School events such as football, soccer, and lacrosse," said Mr. Johnson. "It is capable of working with the track timing systems to display live meet results and standings, and has an HD video screen, which can be used by the entire school community for assemblies and outdoor learning."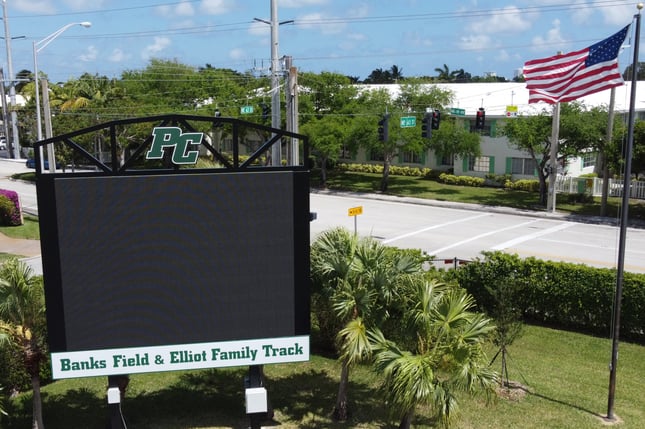 Renovations to the Complex began in the fall of 2020 and were funded through Pine Crest's endowment, which comprises gifts from parents, alumni, and faculty whose philanthropic investments ensure Pine Crest programs and facilities best serve our students.
"We are grateful to all of the people who supported this renovation and allowed it to move forward — our School president, Dr. Dana Markham '18H, our facilities team, and all of the benefactors for this tremendous upgrade," said Mr. Johnson.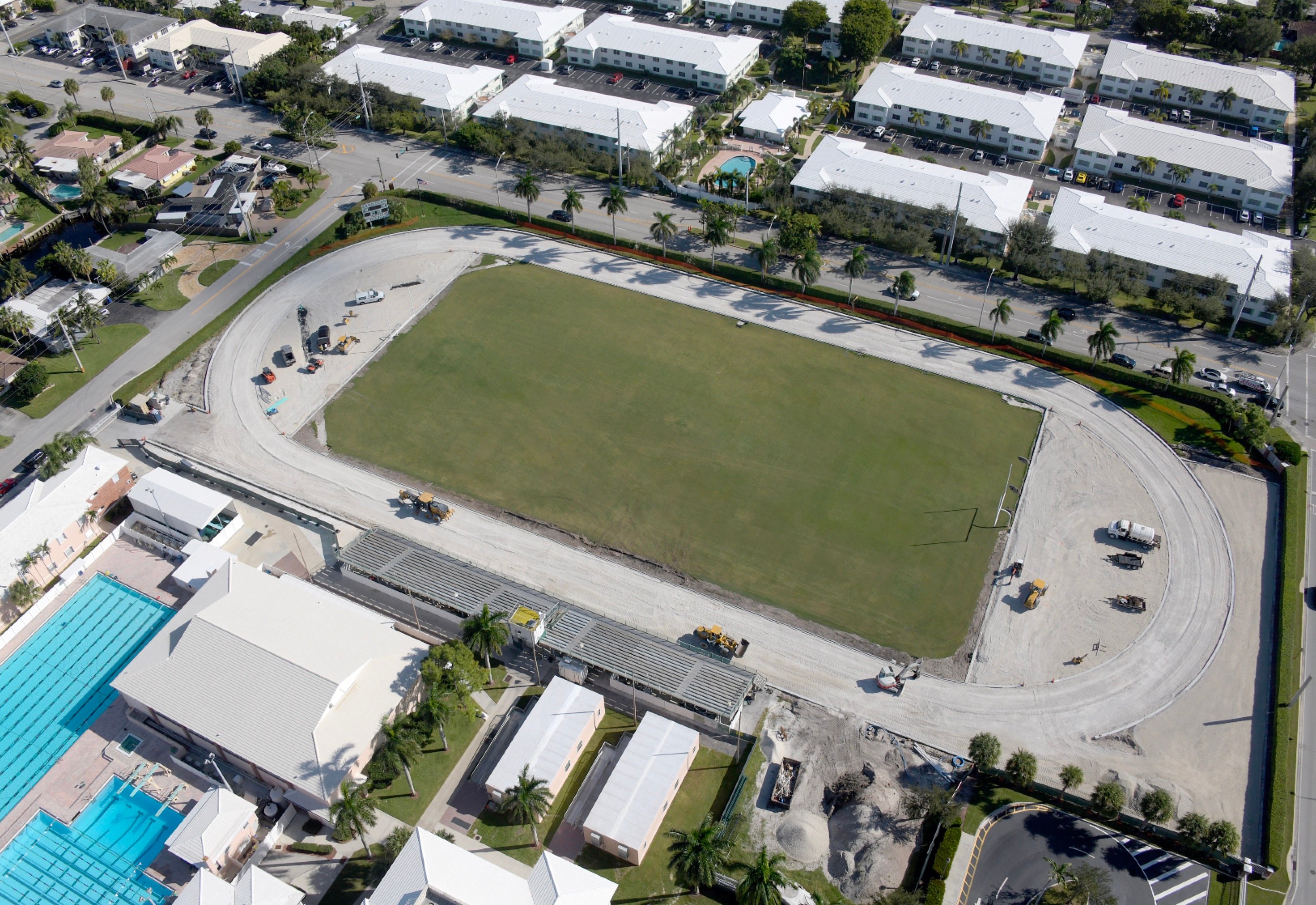 Aerial of Elliot Family Track Demolition Courtesy of CSR Athletic Construction
For the resurfacing of the track, "we have selected Beynon's BSS-1000 Performance Series full-pour polyurethane surface," said Paul Baur, Cross Country and Track and Field Coach. "It delivers optimal shock absorbency and superior energy return. We will be one of the only high schools in the country with this quality of surface."
"We have moved the high jump to the south end of the track with the long jump, triple jump, and pole vault areas to accommodate jumpers and coaches during practice and meets," said Coach Baur. "The shot put landing area has been moved from the field endzone to the north 'D-zone,' the area between the end of the field and the track, and we added a safety cage for discus and hammer from Gill Athletics. The javelin will now throw from a track runway, not grass, and it has been moved to the north end with the shot put and discus to accommodate throwers and coaches. The D-zones have been expanded and we have added continuous track surface along the home stretch outside of lane eight along the entire west side in front of the bleachers."
The track is grey with green 4x1 exchange zones and jump runways — a unique color choice that will radiate less heat.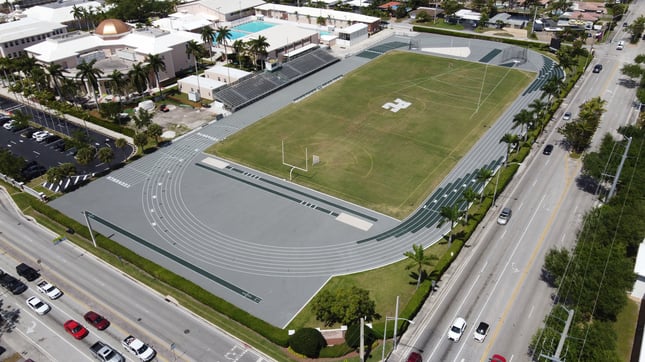 Banks Field was named to recognize Walter Banks '61 for his philanthropy. This three-generation legacy family includes Mr. Banks' children Debbie Banks-Snyder '84 and Walter "Lee" Banks, Jr. '85, and his seven grandchildren.
The Elliot Track was named to recognize the Elliot family for their philanthropy. Dr. Jeffrey Elliot and his wife Samra are the parents of alumni Ross '04 and Gregory '08. Dr. Elliot has been a coach at Pine Crest for more than 20 years, and Ross and Greg were both standout hurdlers whose School records still stand.
If you have questions, or would like to learn more about supporting Pine Crest School, please contact Susan Peirce, Vice President of Advancement, at susan.peirce@pinecrest.edu or 954-492-4121.