For the ninth consecutive year, Pine Crest School's Boca Raton campus has been recognized by the Green Schools Recognition Program (GSRP) as a Green School of Excellence.

This exciting achievement comes as a result of a collaborative effort of faculty, staff, students, and administrators to develop leadership and provide a nurturing learning community that prepares students to meet the global challenges of the future.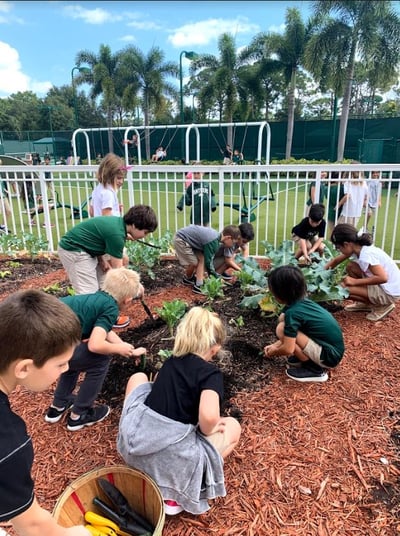 "Green School practices are at the core of how staff and administration think about curriculum and operations," shared Wendy Swanson, Assistant Head of Academics and Instruction for Lower School on the Boca Raton campus.


There are many on-campus activities that take place which makes this recognition possible, including a Leadership in Energy and Environmental Design (LEED) Gold Certified Lower School building and other areas on campus that assist the School in earning this recognition each year.


Lower School and Middle School grade levels use areas around campus that include the Greenfield Greens Organic Garden, Mazer Family Butterfly Garden, Morris Family Amphitheater, and the Pine Crest Animal Courtyard Habitat. Energy conservation designs around campus and our unique curriculum approach to using environmental themes, concepts, and projects integrate "green topics."


Lower School students participate in the Water Conservation Poster Contest sponsored by the City of Boca Raton Water Department while learning about the need to protect and conserve water. While unable to this year due to the COVID-19 global pandemic, Pine Crest students would take field trips where the environment is the core focus of the trip.

Students visit MarineLab in Key Largo to study coral reefs, Loggerhead Marinelife Center to study rehabilitated turtles, and the Everglades to study animal habitats, effects of pollution, and the importance of water conservation. Students in kindergarten would visit a local family-owned farm where they learned about the sustainable farming process and were able to view and learn about fresh vegetables grown in our community.


The sixth grade Life Science classroom hosts and operates an aquaponics tank. Comprised of two tanks, the bottom contains fish that provide fertilizer for the plants in the upper tank, where the hydroponic vegetables grow and filter the water for the fish. The water constantly cycles through both tanks and provides for both the fish and produce making it a sustainable food source.
Sixth grade students learn about plants by growing their own variety of produce, including several types of lettuce, strawberries, cherry tomatoes, and cucumbers.
As part of the Middle School's Make a Difference Fair, students in grade seven participate in an interdisciplinary unit where they create an invention intended to improve a social and environmental issue. Students from all grade levels visit the fair.


The collaboration with our families during community service projects and health and wellness initiatives also contribute to Pine Crest earning the highest level of recognition. In lieu of traditional fundraising, Pine Crest School has strengthened its commitment to increasing community awareness and support of local charities and organizations which promote a culture of sustainability and healthy living. By integrating environmental themes, lessons, activities, and projects in all subject areas and collaboration across disciplines to meet curriculum and school learning goals, we are preparing our students to be future-ready leaders.
Pine Crest students develop skills to study current environmental topics/issues and explore possible solutions using a problem-solving, community-oriented approach.


The Green Schools Recognition Program (GSRP) is an initiative of FAU Pine Jog and the Community Foundation for Palm Beach and Martin Counties. Pine Crest School of Boca Raton is able to maintain the status of Green School of Excellence each year due to purposeful planning, organization, and the commitment of the administrators, teachers, staff, and students.
Criteria for recognition requires ongoing evidence across six categories. The first three categories are school grounds enhancement with outdoor learning spaces and habitat improvement, school sustainability initiatives, and health and well-being initiatives. The remaining three categories are curriculum, community involvement, and having a school-wide culture of environmental sustainability and healthy living.