Pine Crest School Executive Director of Security and Support Services Joseph Markham has been named as a finalist for Campus Safety Director of the Year by Campus Safety magazine. Finalists are selected from a pool of national candidates representing pre-kindergarten through grade twelve schools, colleges and universities, and hospitals.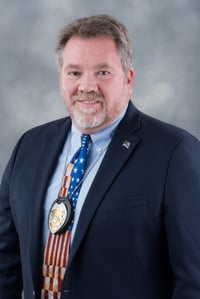 Safety and security are top priorities at Pine Crest. Over the past 18 years, Mr. Markham and his
team
of security professionals have helped build a culture of safety and security at the School, where everyone in the community plays a role.
Pine Crest Security has implemented high-level situational awareness training for faculty and staff, added state-of-the-art monitoring and communications equipment, increased staffing, and enhanced protocols for crisis preparedness and response.
From visitors checking in with security when arriving to campus, to wearing an identification badge at all times while on campus, to parents, faculty, and staff adhering to drop-off and pick-up protocols, Pine Crest's program has become the benchmark for independent and public schools.
Campus Safety magazine recognized Mr. Markham for these achievements and more, specifically highlighting communications and the School's hazardous weather preparedness and response during Hurricane Irma in 2017.
Director of the Year winners and runners up will be announced at the Campus Safety Conference in June 2019.
Click here
to read the spotlight story.
Congratulations, Mr. Markham!