Since joining the Pine Crest School community in 2006, Coach Eileen Pliske, Middle School Athletic Director on the Fort Lauderdale campus, led the varsity girls lacrosse program to 13 Florida High School Athletic Association (FHSAA) district championships and two regional championship titles. To speak only about the titles she has as a coach would diminish the impact she has had on student-athletes throughout her time here.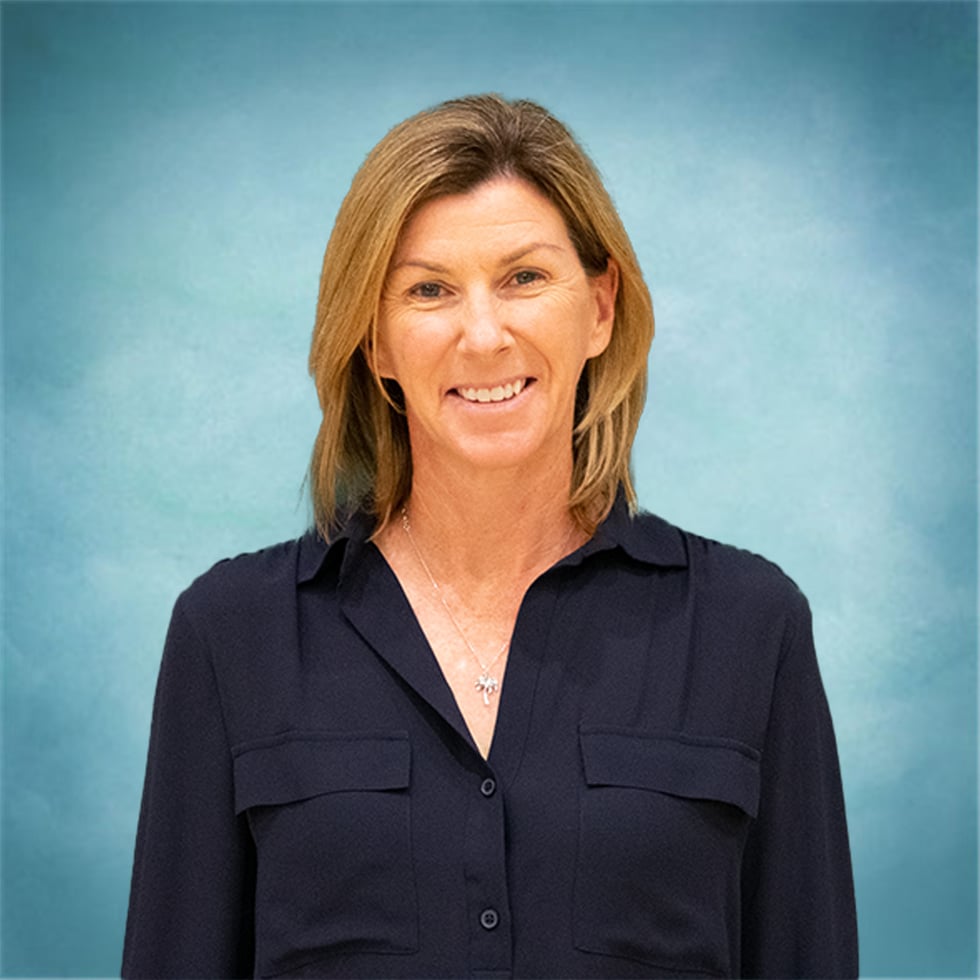 Coach Eileen Pliske
Originally from Long Island, New York, Coach Pliske always knew that she wanted to be a teacher. She earned her bachelor of arts degree in elementary education from Loyola University in Maryland. After graduating, she spent four years teaching third grade students in Virginia before moving to South Florida with her soon-to-be husband, Dave.
A former collegiate lacrosse player and coach, Coach Pliske started coaching a club team in Coral Springs shortly after the birth of her first child, Maggie '18.
"I started coaching as a volunteer," said Coach Pliske. "I did that for three years, while I was a stay-at-home mom and had two more children, Henry '19 and Maura '20. In 2003, lacrosse started becoming a part of high school athletics programs. I took my first high school coaching job at North Broward Preparatory School and then came to Pine Crest in 2006."
Reflecting on her move to Pine Crest, Coach Pliske said, "The relationships are the best part of being at Pine Crest. I still remember my first day on this campus when I met Macarena Santos '08. I was walking on campus, and she stopped me and asked if I was the new lacrosse coach. She stuck out her hand and said 'nice to meet you.' That was my first introduction to Pine Crest students. Pine Crest students are different—they want to be the best they can be. I've always admired how self-disciplined and motivated they are."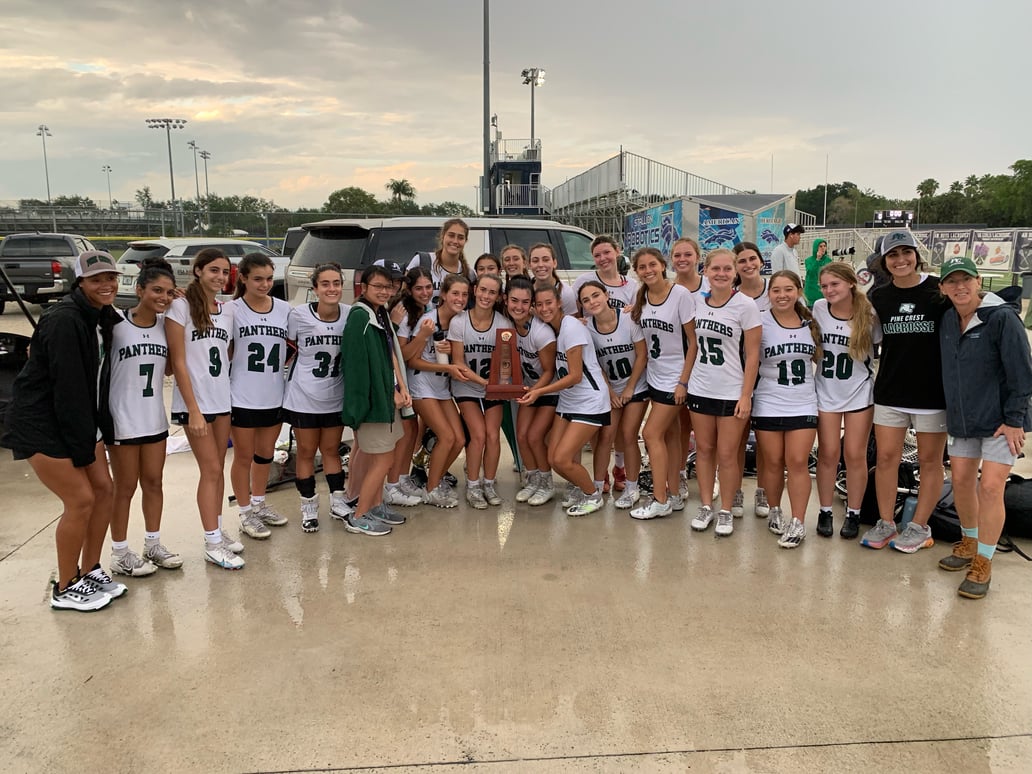 The girls lacrosse team earned their ninth consecutive district championship in 2023.
"Students would study on the bus to and from games," said Coach Pliske. "They are so disciplined on their own, especially in managing their time, and that carries over onto the field. It has been a dream job to coach these students."
Coach Pliske is known for having a holistic coaching style, incorporating self-reflection and gratitude into her program and fostering positive experiences for her student-athletes.
"I was always around good listeners," she said, "I was taught to be a good listener myself, and I think that makes all the difference as an educator—listening first. Students aren't just out there from four to six in the evening for practice; they have an existence before and after they get there, and as a coach you have to be dialed into that."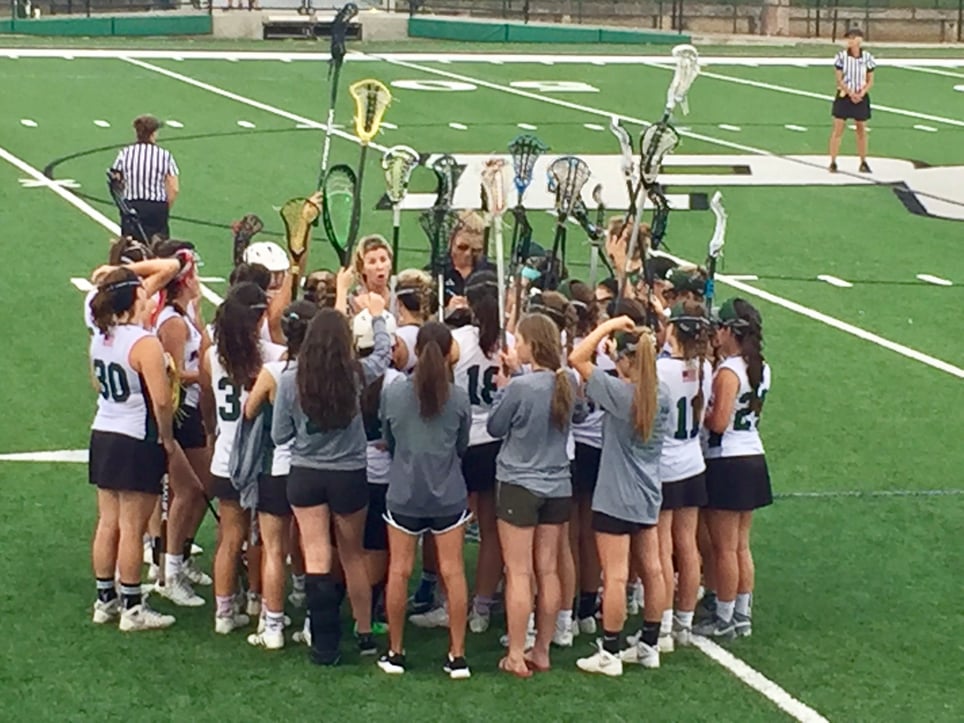 Former players of Coach Pliske attest to her supportive nature.
"Coach Pliske recognized my unrealized talents, and she pushed me to be greater," said Sterling Champion '08. "She taught me how to use my potential to be a good team leader. I'm grateful for her because she was a phenomenal female role model that gave me the opportunity to step into my power."
Alumna Jasmine Docal '13 said, "I was able to be a successful athlete because Coach Eileen always made sure I was doing well emotionally, mentally, and socially. Her coaching style was grounded in character development. She held us accountable to become better people. She wanted me to be an outstanding lacrosse player, but I think she wanted me to be an outstanding person and student even more. She never pushed me to just work hard in lacrosse; in fact, the goal I was chasing was to be the package deal. She constantly asked me about my school work before/after practice and made sure I was meeting with teachers and taking care of what I needed to."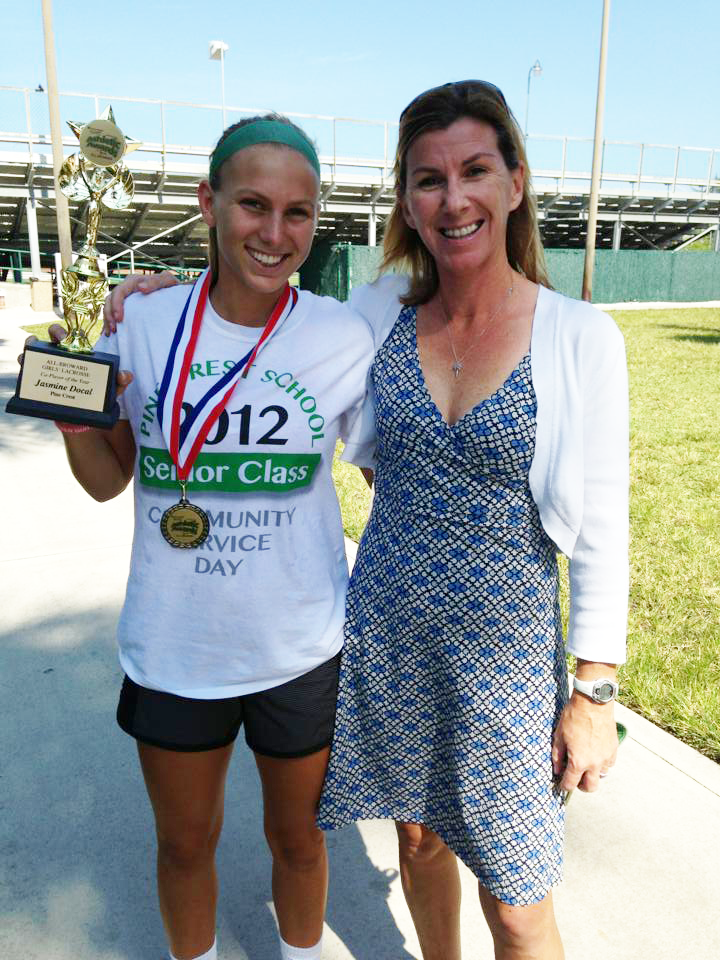 Jasmine Docal '13 and Eileen Pliske, Jasmine had just been named All-Broward Lacrosse Player of the Year.
When asked to share her proudest moment at Pine Crest, Coach Pliske said she has had many proud moments, but there is one that stands out. "Seeing my own children graduate from here and being able to witness the benefit of a Pine Crest education, that has been huge," she said. "If I didn't have this opportunity to be at Pine Crest, they wouldn't have had this opportunity. I am grateful to see them emerging as well put-together adults who have benefited from attending Pine Crest."
The Pine Crest community wishes Coach Pliske well as she begins a new role as the Athletics Director of St. Edward's School in Vero Beach, Florida.