As class begins each day at Pine Crest, you will see a Lower School classroom in their morning meeting connecting through song or engaged in activities like mindfulness stretching.


In Middle School, you might find a classroom practicing mindfulness and breathing techniques before diving into a lesson.


In Upper School, you could observe an English class collaborating through peer editing or a science class talking about ways to reduce stress as a means for maintaining a biological equilibrium.


These are all examples of Social and Emotional Education in action across both Pine Crest campuses. Pine Crest's Social and Emotional Education Initiative uses the power of emotions to create more effective and compassionate classrooms.


"Social and emotional skills are critical whether you are four or 40," said Krista Promnitz '97, Co-Chair of the Social and Emotional Education Initiative. "It is important to know how to manage yourself. It is important to know how to create and sustain good, healthy working relationships."


According to research from The Aspen Institute, students who participated in evidence-based social and emotional learning (SEL) programs showed significant improvements in social and emotional learning skills, behavior, attitudes, and academic performance, as well as reduced emotional distress and conduct problems.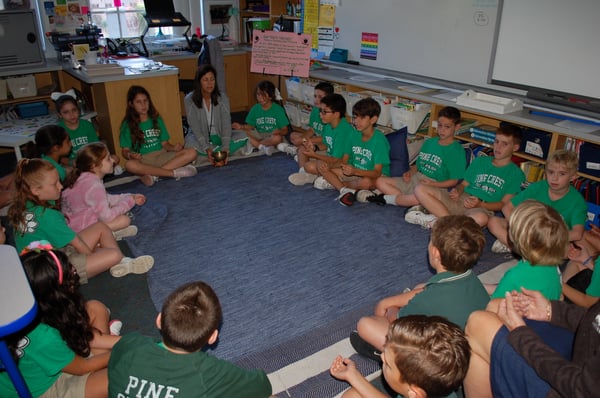 Third grade teacher Marisa Dearman '86 conducts a mindfulness breathing activity with a singing bowl.

"We know for our students to be successful in today's ever-changing world, it is imperative that we help our students grow into emotionally responsive adults who are able to collaborate with others while exhibiting empathy, compassion, and kindness," said Lisa Ockerman, Co-Chair of the Social and Emotional Education Initiative.



Pine Crest's Social and Emotional Framework includes four distinct pillars: social awareness, self-awareness, self-management, and relationship management.


First grade teacher Cindy Brocato says her students always look forward to social and emotional learning activities. These activities help them bond as a class and understand what their expectations are for the day.


"Research shows that cognitive growth stems from social interaction. The more that students feel a sense of community, classroom, and family, the safer they feel," said Cindy Brocato, first grade teacher.


"In classrooms of older students," said Mrs. Promnitz, "you'll notice a change in the way teachers and students are communicating with one another. We are talking in a more positive way; we talk about what we expect and what we want, rather than a long list of 'don'ts.'"


Social and emotional learning also comes in the form of peer editing. As students read papers from one another, they get to see different points of view and learn effective ways to communicate and provide feedback.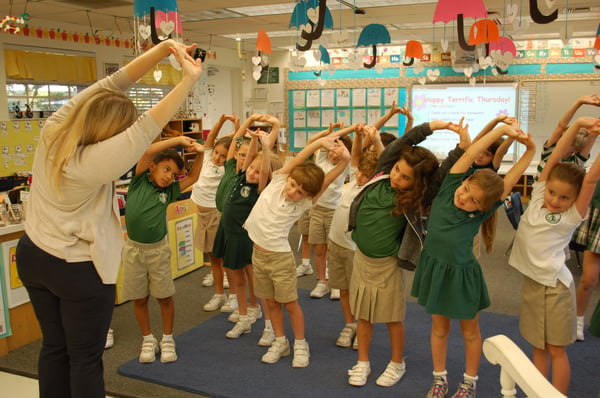 Kindergarten students take a five minute mindfulness stretch break.
"It has opened my eyes a lot and given me new methods of working with papers and working with essays," said Charlie Hazleton '22. "Peer reviews will help me with social skills and working with others."


The faculty has received intensive training in social and emotional education through Pine Crest's professional development resources, including workshops, book clubs, and speakers who also present to parents. Pine Crest emphasizes hiring emotionally responsive faculty and staff to ensure that social and emotional education continues to make a difference in the lives of students.


"My own children come home and talk about their morning meetings," said Mrs. Promnitz. "They love what is going on in their classrooms and they talk to me about the different techniques that their teachers are using to help them regulate themselves and help them manage their learning environment."


"It is great to see that what we are working on so diligently with our teachers is translating into the classroom and that our students are not just absorbing it, but applying it and are excited about it. It's fun; it's interesting and they feel really good about learning these skills."


"Our students are learning to lead with empathy and creativity," said Mrs. Ockerman. "Pine Crest is committed to supporting our students to develop an entrepreneurial mindset that empowers them to shape the future."