By: Sabrina Kreiss '21

Originally from Vineland, New Jersey, Pine Crest School Choral Director Mr. Michael Testa moved to Florida in 2001 to work with the Florida Grand Opera.

During that time, a former faculty member introduced him to Pine Crest where he became a member of the Fine Arts faculty in 2005. Now, almost 20 years later, Mr. Testa oversees and teaches chorus for students in the Lower, Middle, and Upper Schools on Pine Crest's Fort Lauderdale campus, in addition to Advanced Placement (AP) Music Theory.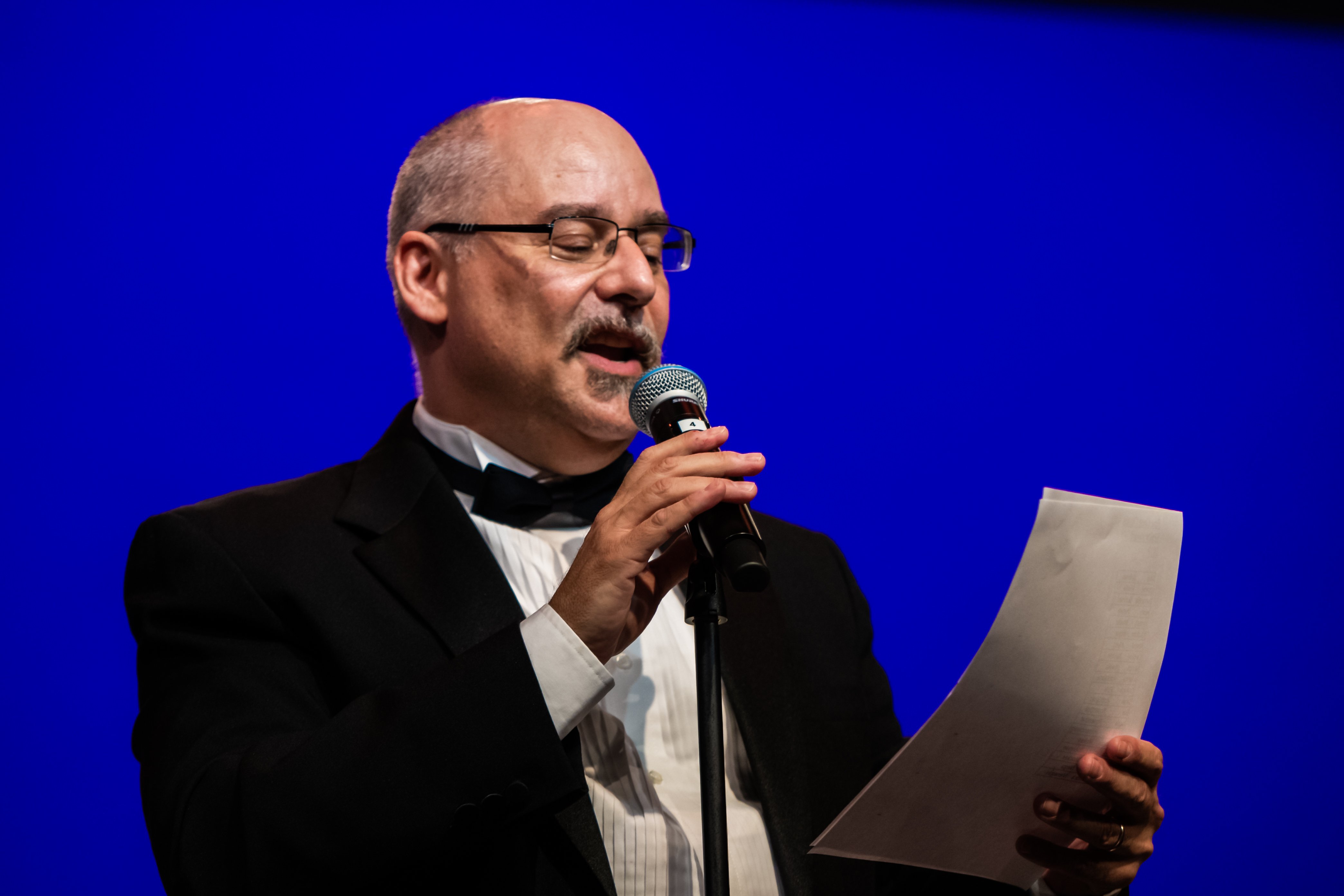 After graduating from Rowan University with his bachelor of arts in music education, Mr. Testa began performing all over the United States as an opera singer.

Mr. Testa began graduate school at West Chester University shortly after earning his bachelor's degree. There, he studied music performance. Feeling drawn to education, he began teaching extracurricular classes in music throughout his collegiate studies. He landed his first teaching job at a K-8 public school while studying for his master's degree.

I had the opportunity to meet with Mr. Testa to learn more about his career at Pine Crest and his passion for music and singing.


What inspired you to start teaching? Did you always know you wanted to be an educator?

I've known that I wanted to teach since I was in high school. I come from a big family of teachers and lawyers, and I definitely did not want to be a lawyer! I first thought I wanted to teach history, but then decided to pursue being a music teacher after being involved with the chorus, orchestra, and band in my high school. To me, teaching is like "little performing." I love working with students and sharing my knowledge and experience with them.


When did you start singing?

My music career began by playing instruments, though I would often harmonize with my siblings on road trips as a child. I joined chorus during my sophomore year of high school and have continued singing for the past 44 years.

Can you share with us all the instruments you play?

I started out on the clarinet because my father was a fine and well-known clarinetist. He was requested by all of the big stars of the day — Glen Miller Band, Frank Sinatra, Sammy Davis Jr. — would request him to play for their pit orchestra when they performed in Atlantic City, New Jersey. So, I started on the clarinet and hated it!

I switched to bassoon, then flute, and piccolo. When I went to college, I was accepted as a flute major and a voice major but I had to choose one. I still play all of the instruments, the recorder too. I actually just played the penny whistle at church.

I will accompany the Lower School for most of our chorus concerts on the flute. I will also play the recorder part on Stairway to Heaven when I jam with the older students who play guitar.

Do you prefer the instrumental side of music, or the vocal side?

I'd have to say vocal, BUT what is funny is that I am getting back to the flute. I always played the flute as an avocation, but I recently bought an expensive flute in New York City and have been playing a lot more.

I expect I will play more as my voice continues to change with my age. It is kind of like an arc, I started my foray into music playing instrumental and will most likely end with it.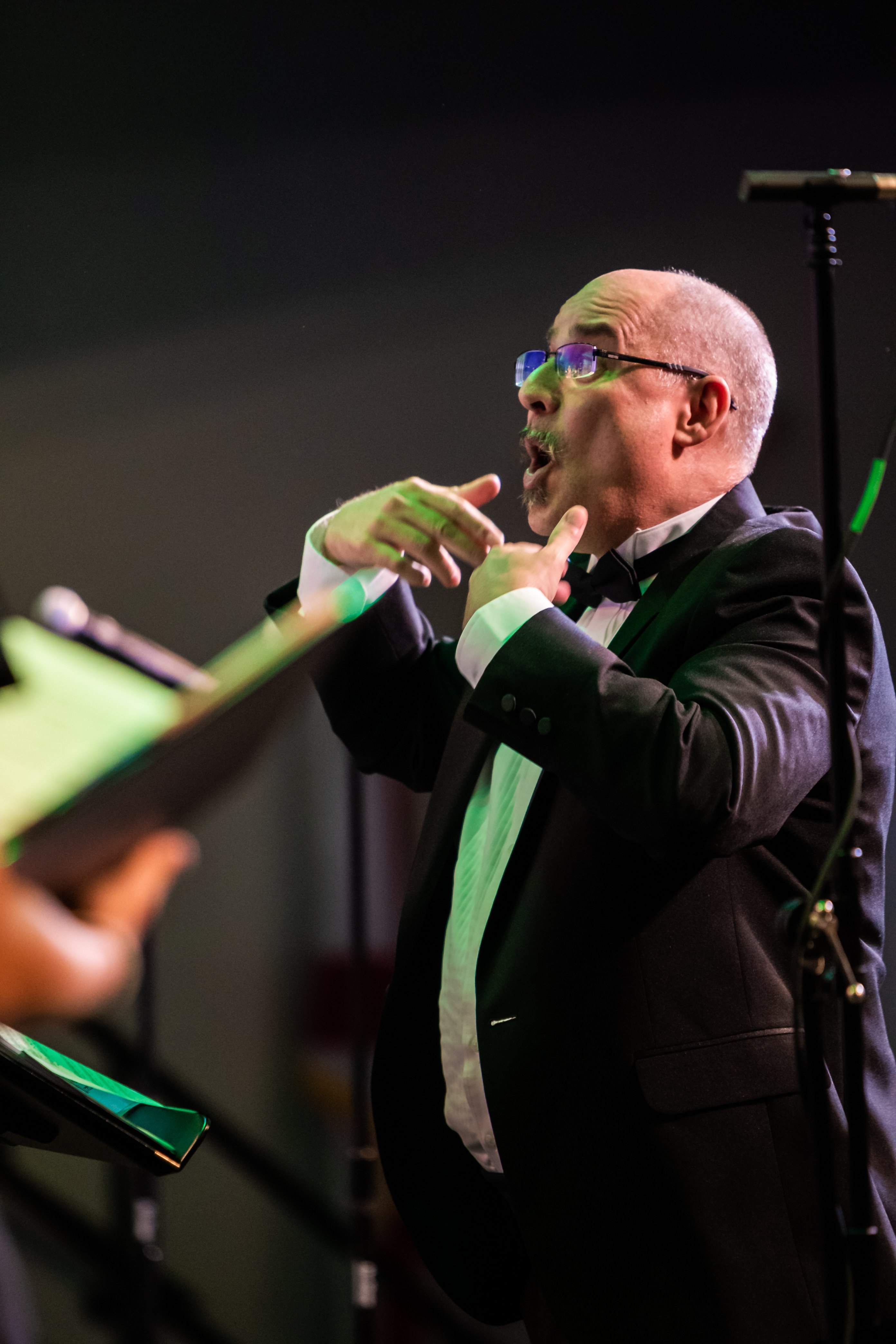 What led to your opportunity with the Florida Grand Opera? Do you still perform with them?

MT: I have my master's degree in voice, and I have always been an opera and musical theater performer. I came from performing with the New York City Opera, their many facets — main stage, City Opera national tours, City Opera education programs. After September 11, 2001, I was ready to leave New York. I got a call from the former director of the City Opera and he invited me to audition for the Florida Grand Opera.

I have been with them now for more than 20 years singing in a variety of roles. I have been very involved with opera, and I still sing opera and I enjoy the Florida Grand Opera — it is a great company.

What was your first role at Pine Crest? Have you always been involved with the chorus?

MT: I have always been involved with the chorus. I began my Pine Crest career as a part-time chorus teacher and have worked my way up to becoming the Choral Director.


How has Pine Crest changed since you first started teaching here?

MT: Pine Crest has changed a lot since I came here in 2005. The new Upper School building was constructed during my time here. In 2011, what is still affectionately called the "Old ICI," became the chorus room. We have loved getting to use the space over the last nine years and have truly made it into our home.

What is the most rewarding part of working with students?
MT: Seeing them succeed, whether in the arts or in other courses. Pine Crest students have talent and intelligence like no other group of students I have ever worked with. It is so rewarding to see photos and hear stories about my former students succeeding and doing what they love. Knowing that I was a part of that student's success is an amazing feeling.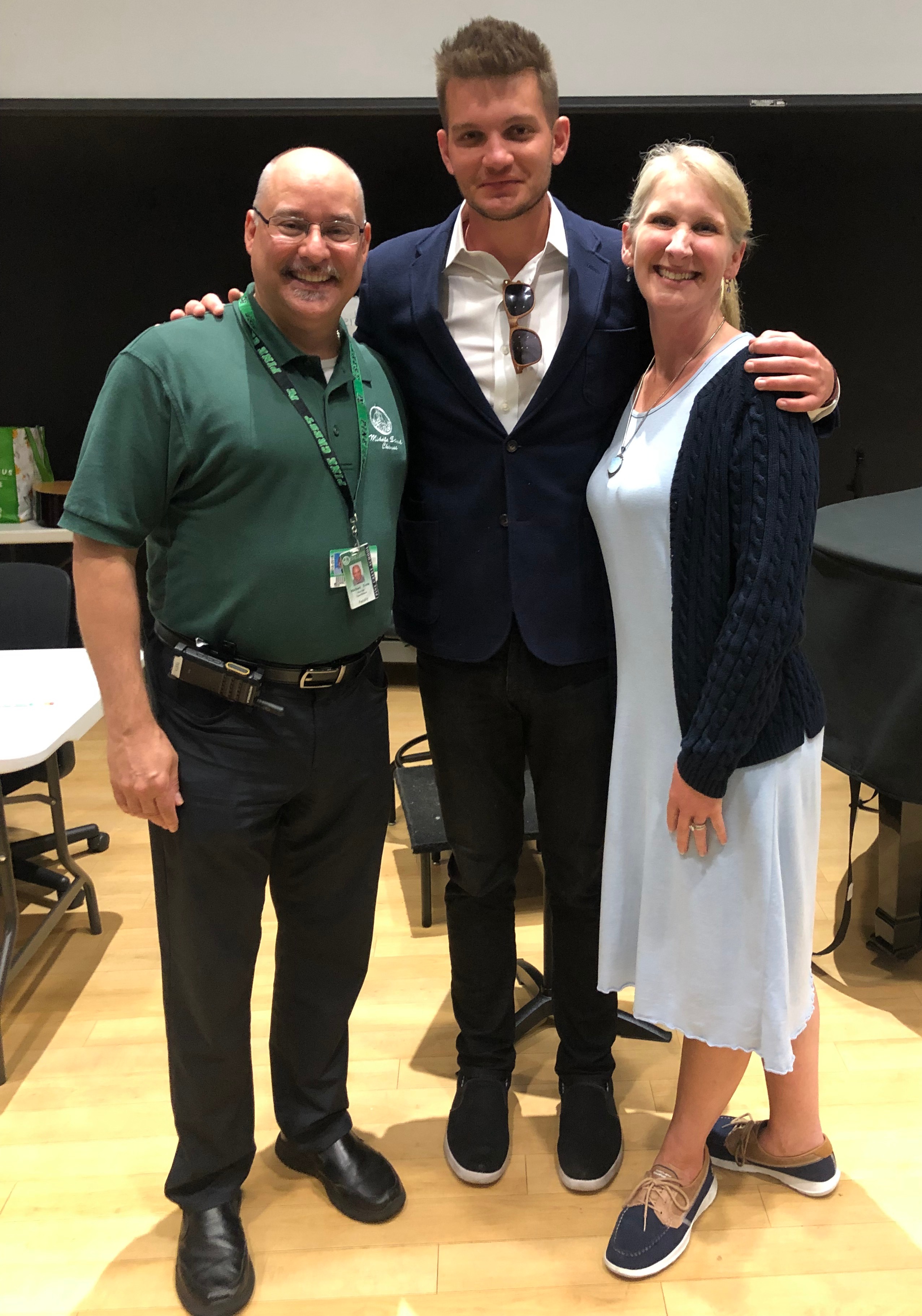 Mr. Michael Testa, Hayden Grove '11, and Mrs. Gretchen Fasulo
What is special about music and music education? Why do you believe so strongly in it, and why do you feel it is different from the other curriculum taught in schools?

The reason I love it so much is because everyone can partake in music no matter the level of talent. We have amazing singers and people who love to sing. We get them together and make music and have a good time.

Music education encompasses all of the other disciplines. You can't talk about a song without talking about the history of it — what was going on when it was composed, which like any art, is a reflection of what was going on in the world. A classical song, a protest song, they were all a reaction to what was happening in the world. Not only is history involved when you talk about music theory, but you also talk about math. Making chords and intervals is very mathematical. When you talk about lyrics, you talk about English and grammar, putting poems to music that become songs. That's why I love music education.


Where does your inspiration come from? Who have been some of your mentors or idols over the years?

You always strive to be like the great artists

—

I love the crooners, like Sinatra and Michael Bublé. I wanted to be like the great opera or pop singers, I want my choirs to sing like the Mormon Tabernacle Choir.

Musical theater, great shows, and songs always inspired me. Hopefully, I pass that on to the students, that I can share music they may not know of and inspire them to look forward on the path they want to go on.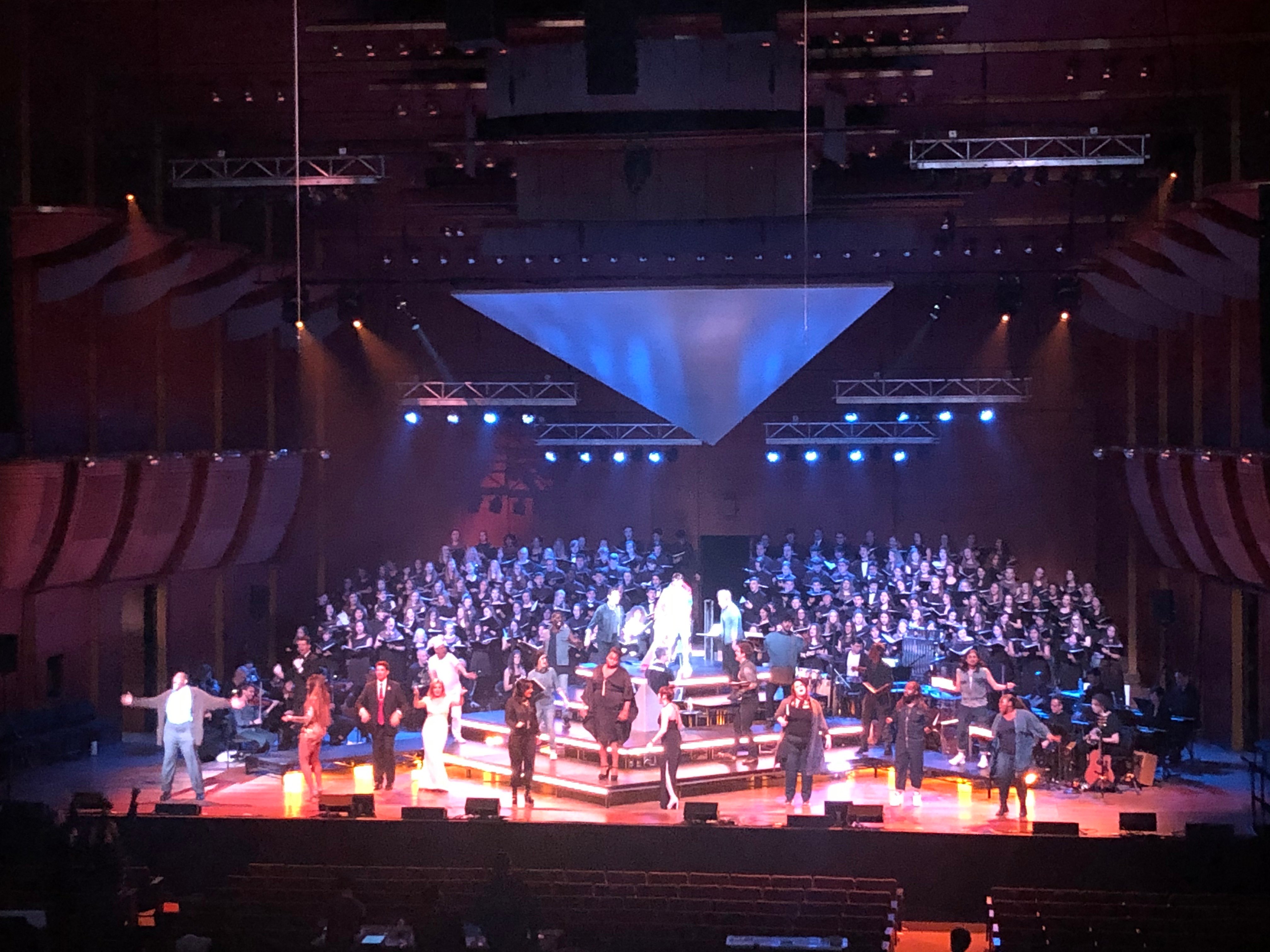 Upper School chorus members on stage at the Lincoln Center in New York City performing with the cast of Joseph and the Amazing Technicolor Dreamcoat in February 2020.
How do your students inspire you?

Students inspire me when I see someone with hidden potential succeed. Seeing students reach that breakthrough has always been one of my favorite parts of teaching. It makes me so happy.


Many teachers change schools over the course of their careers. What is it about Pine Crest that has kept you here for all these years?

It truly is the quality of the students, the quality of the faculty, and the quality of the campus. Those things really keep me here, but my chorus students and I have such a special bond. We actually just had a Zoom to say goodbye to our seniors and their parents; that's what keeps me here. The connection we have with our students is unique.

We are afforded a lot of opportunities here. Students are able to compete at the solos, ensembles, and other festivals. We have been able to travel to New York City to perform at Carnegie Hall, Lincoln Center musicals — there are many great opportunities for us as teachers and for the students to perform and that's a lot of fun about teaching here.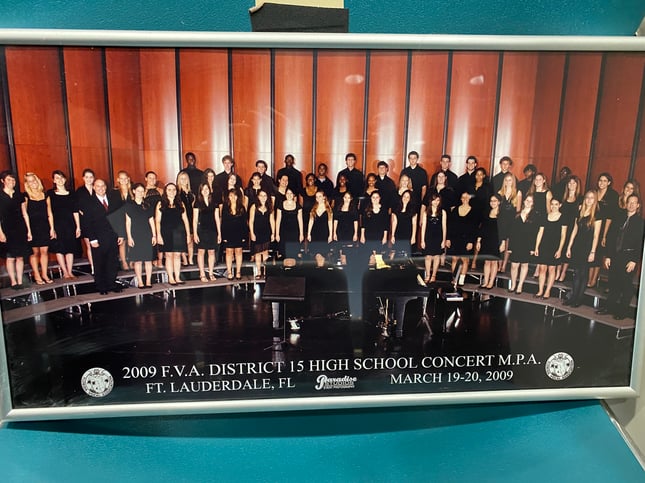 What would you like to see from the chorus program in the future?

MT: More opportunities to do different types of ensembles, like a jazz choir, a capella group — branching out to involve people who aren't necessarily in the chorus and have them in the program somehow. Just being able to expand but maintain the level of excellence that we strive for.


What is something that your students would be surprised to learn about you?

I'm very good at trivia. I once auditioned for Who Wants to Be a Millionaire and was selected for the talent pool. I didn't make the final cut to be on the show. I also really want to be on Jeopardy one day. I haven't auditioned for them yet, but I will one day.