We are honored to shine a spotlight on the Chen family, who generously donated $1.5 million toward the construction of the Center for Teaching and Learning on the Pine Crest School Fort Lauderdale campus.
The Chen Family has been a part of the Pine Crest School community for more than 30 years. The relationship began when Mary and James enrolled their sons Christopher '94 and Gordon '97 in the Upper School. It became a Panther legacy when Christopher and his wife Stephanie enrolled sons James '22 and John '25, and Gordon and his wife Jessica enrolled their sons Nathan '25 and Andrew '27.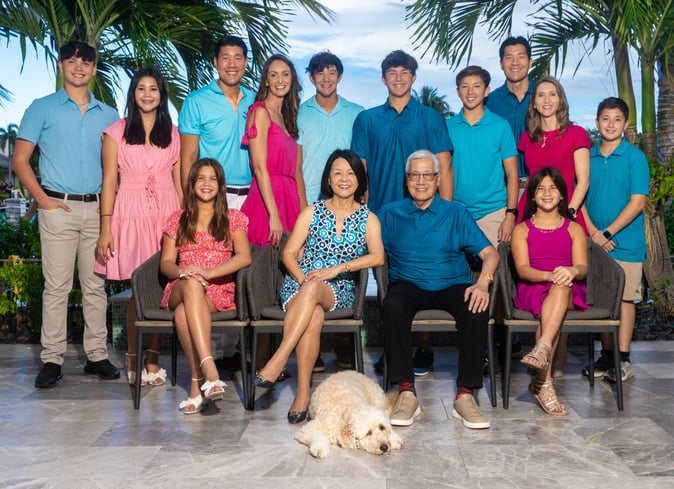 The family owns ChenMed, a company founded by James and Mary to provide accountable, compassionate, and coordinated physician-led family care. James, Mary, Christopher, Stephanie, Gordon, and Jessica are advancing a global model offering affordable, human-centered care to medically underserved communities.
The Chens' affection for Pine Crest grew stronger as the next generation joined the community as students. Stephanie, whose uncle William Leonard '70 and aunts Melanie Hays '71 and Betsy Leonard Booth '74 are Pine Crest alumni, said, "The learning spaces are brimming with excellence—the passion that the teachers have for what they do is so evident. Teachers are happy to be in their classrooms, they are facilitating lifelong learning, and they themselves are lifelong learners, with many pursuing doctoral or master's degrees. It's not hard to pursue excellence when you love what you do, and it is obvious that Pine Crest faculty love what they do."
It is more than the school's academic environment that continues to impress the Chens. Athletics and community service are a big part of the family's Pine Crest experience. "We're very big into sports," Chris shared. "Gordon and I were both four-year varsity athletes, and James and John are both football players. We love the environment that Coach Tim Hibbs has created around the program. The team serves and volunteers every weekend. They attend cross country meets and help set up the team's tents. They also feed the homeless every Saturday, even after hardfought games. It's so wonderful for our children to see that not everyone has what they have, to see firsthand the inequities in the world, and to make a difference and show up for their classmates and their community."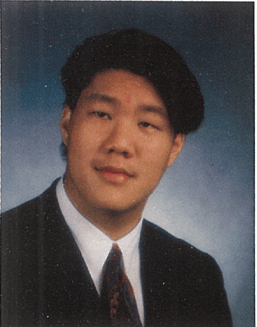 Christopher Chen '94 as a senior in the Upper School


Sharing Chris' sentiments, Gordon continued saying that "we are excited that Pine Crest is committed to world class academic excellence and to developing the character and leadership skills that students need to change the world. Through sports, community service and clubs, our students benefit from countless opportunities for growth. In addition to parents, the students' teachers and coaches fuel their passions. I know alumni would be proud of the incredible resources and opportunities students have today."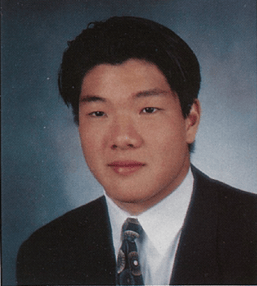 Gordon Chen '97 as a senior in the Upper School
Reflecting on his own teachers, Chris says, "Dr. Barbara Grosz '91H gave me my biology background that is helping ChenMed transform healthcare in America; we played a game in Mr. Robert Crawford's class that started my interest in running a business; Mrs. Cheryl Doolittle pushed me to overcome AP Chemistry. I am also thankful to my football and wrestling coaches and fellow dorm students who helped me understand what it means to train hard."
"Watching our sons' Pine Crest experience strengthens the bond I have with my children and with the School," said Chris. "Pine Crest was an academic and athletic powerhouse when we were students. It is wonderful to see how it continues to be a powerhouse and even more wonderful to have our children experience it."
Having generously supported many facets of student-life at Pine Crest, the family was inspired to make a philanthropic investment toward the construction of the Center for Teaching and Learning because of Pine Crest faculty. The family is most excited to see how the facility will be used to accelerate faculty learning, provide a warm welcome to the campus, and create new spaces for students to learn and explore.
"Pine Crest, in reality, is in the 'people' industry—the teachers, faculty, and coaches are the service," said Stephanie. "Schools are groups of amazing, passionate teachers who are invested in the future. Without proactive, strategic investments, it's difficult to find devoted educators. Dr. Dana Markham '18H is a large part of why we made this gift. Her dedication to the School's faculty is the key to making Pine Crest what it is; she knows that people are the number one asset. We have to invest in our people to help Pine Crest keep top tier talent and consistently attract new talent."
As a family, the Chens are making their mark in the delivery of medical care and in philanthropy. Knowing that there are many worthy organizations that the family can share their resources with, Mary says, "You can only invest in what you believe, and so we seek to donate to places whose mission we support and who have the people in place to carry that mission forward. We believe in Pine Crest's mission, the faculty, and staff, and know that the teachers and administrators are ready for this gift and what needs to be done." James adds, "They have a vision and strategy and are ready to carry it out together."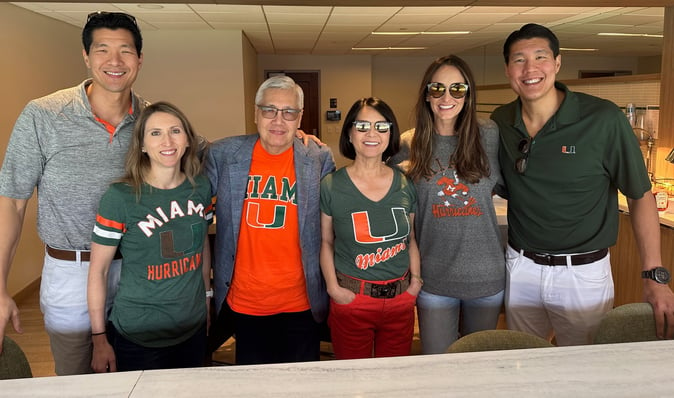 "Pine Crest is just so amazing inside and out," Jessica said. "The facilities and campus are safe, there are beautiful buildings, great extracurriculars like robotics, Model United Nations, debate, and the list of wonderful things expands each year. This is why we give."