The Beyer family joined the Pine Crest School community three years ago. After touring Pine Crest, twin brothers Alexander '28 and Nikolaus '28 told parents Anthony and Vanessa that this was the school for them.
"They love to learn," said Anthony. "They saw immediately what they could be doing as students at Pine Crest. They wanted to be here. Alexander loves mathematics, and Nikolaus is interested in writing and history. Both are very tech-savvy and enjoy the humanities. As a family, we believe in supporting the humanities because we think they have been overlooked in modern education. You need a well-rounded education to be a well-rounded person, and we love that Alexander and Nikolaus are exposed to everything at Pine Crest. They love the increased independence they are finding in Middle School. Vanessa and I are thrilled with the education they are receiving."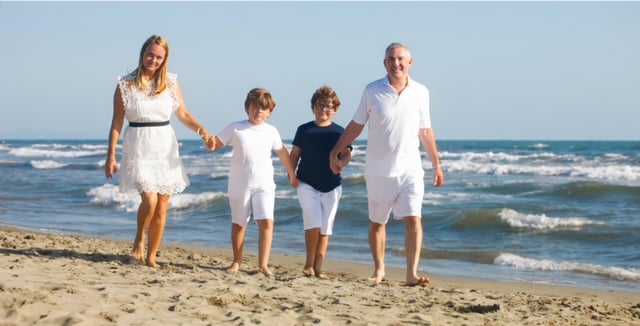 Anthony comes from a family of philanthropists, which is a source of pride as they continue a legacy of giving back. The family is a proud donor to many organizations, including The Norton Museum of Art, The Washington Institute, where they established a fellowship for Turkish Studies, The Israel Museum, United Way, and the Cleveland Orchestra.
"We involve our children in all of our giving," said Anthony. "I share with them how and why we support the organizations we do; we want them to understand the investment process behind giving back. It's all about the 'who'—investing in great institutions, leaders, and people."
At the onset of the COVID-19 global pandemic, Alexander and Nikolaus approached their parents with an idea.
"They had just started distance learning, and they came to me and said, 'Dad, distance learning is great and we can do this because we have computers. What about kids who don't have them?'" said Anthony. "So we researched, and we found an underserved school that was not able to provide distance learning because a majority of the students didn't have laptops. The school was trying to raise money to purchase them, so we talked to our children about it, and they asked us to provide the computers for the school. We donated 150 laptops. It was their idea to give in this manner, and I credit Pine Crest for helping to foster the empathy they displayed."
Recently, the Beyer Family made a substantial gift to Pine Crest's Transforming Tomorrow initiative, allowing for the construction of The Beyer Center for Emergent Leadership in the Middle School on the Boca Raton campus.
As part of the School's strategic plan to prepare future-ready students, Pine Crest President Dr. Dana Markham '18H encourages students to discover their strengths, understand when to step up and lead, and know when it is best to step back and let others lead. The Beyer Center for Emergent Leadership will provide space for Middle School students to engage in project-based learning, innovation, and entrepreneurship curriculum designed to develop emergent leadership skills.
On what drew the Beyers to the project, Anthony says, "We believe in fostering great leaders in our society, no matter what they go on to do. The world needs great leaders in every field—medicine, non profit—every aspect of life. We need to help foster great leaders."
"I believe in investing in people and organizations," he continued. "The hallmark of our philanthropy is our commitment to investing in people with the values, abilities, and passion to change the world—individuals who can inspire transformational change, particularly in education and medicine. We are interested in cultures of excellence, and we see that in Pine Crest. That is why we are investing in Pine Crest."
Anthony goes on to explain why philanthropy plays such an important role in the values to which he and his family subscribe, and why he encourages others to give back as well.
"We believe in giving back," he said. "One of our highest priorities is trying to give back to institutions that are going to help form the fundamental building blocks in our children. In education, leadership, in creating good citizens—I think that every family at Pine Crest should seriously think about supporting the School financially if they are able and have the means to do so. If you are going to entrust Pine Crest with your children's education, you should take the additional step of making the financial investment in Pine Crest, which is going to have a direct impact on their education and the experience that the School is able to provide to all students."
Understanding that not all families come from equal financial backgrounds, Anthony says, "I would encourage people to give whatever they can because it's going to pay dividends—not only to their children, but for the future of Pine Crest as an organization. It is a great institute of learning and we should support it."
Offering his final thoughts on the lasting impact philanthropy can have, Anthony says, "I think it's important for people to have the discussion with their families about how much they should give, why they should give, and the importance of giving. It's one of the greatest things you can do. There is so much satisfaction in giving back, especially when your children are benefiting from such an excellent education. It is excellent because the school receives the funding to help its faculty continually grow and improve. The School is as good as the community that supports it. Financial support is an important pillar of maintaining the culture of excellence at Pine Crest."