Pine Crest Lower School instructor Ms. Jean Sungenis, or Ms. Sunny as she is fondly referred to by her students, has been lighting up our classrooms since 2000. Originally from Vineland, New Jersey, she moved to South Florida in 2000.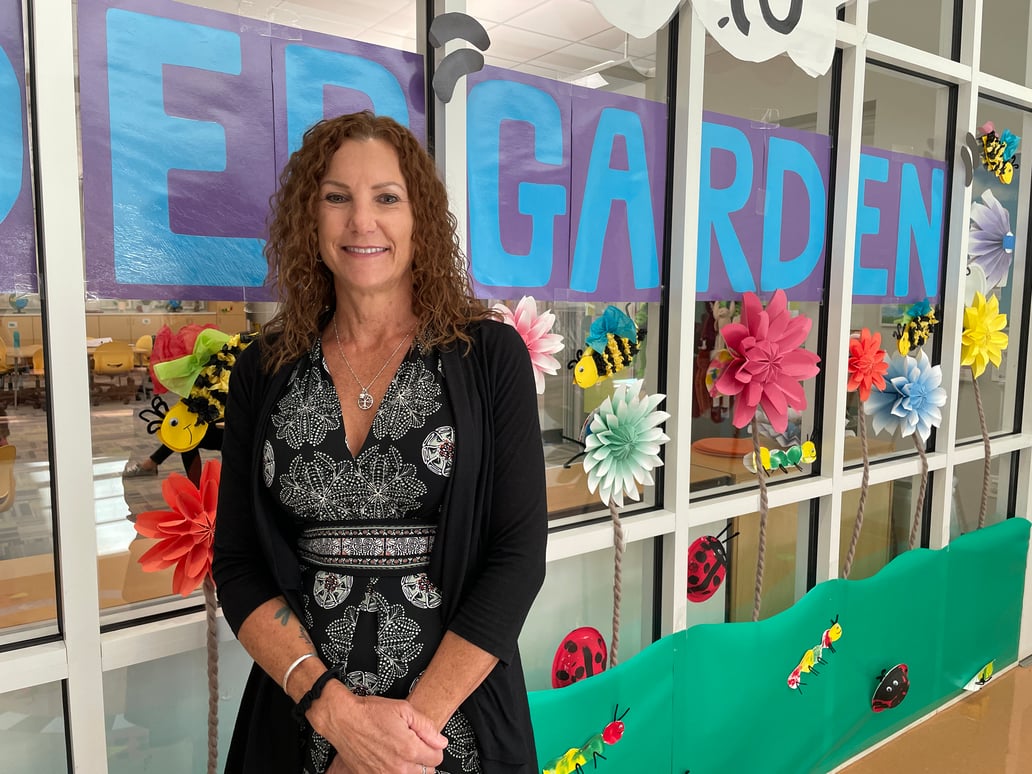 "When I was a little girl," said Ms. Sungenis, "I loved to play school. I loved learning and teaching and taking care of others—animals, friends, or family. That nurturing side of me continued to grow as I got older. My third grade teacher is the reason I wanted to become a teacher. She made that year so memorable for me. I knew in my heart that if I could reach one student the way she reached me, that teaching was something I would want to do for the rest of my life. Now, 37 years later, I have only ever been an educator and I wouldn't change a thing."
On arriving at Pine Crest for the first time, Ms. Sungenis said her jaw dropped. "I have been in awe of this wonderful, educational facility ever since that first day. Every single day, I drive on to this campus and it feels like my first day here. I believe that giving children the opportunity to learn and grow in an environment like this is phenomenal. The people who work here are not just people, these are my friends—my family. It is a place I never want to leave; every single day I am grateful to be a part of Pine Crest."
Ms. Sungenis began her career at Pine Crest as a kindergarten teacher. She then spent 10 years teaching second grade before returning to kindergarten last year. "I love kindergarten the most," she said. "I love the exploration of the children and how they see things, do things, and learn things. I love when they begin putting letters and sounds together and start learning how to read. Then, all of the sudden they are reading short books and solving math problems. It is just fun! The students make me laugh every day, and I love their hugs. It is my happiest place!"
One very unique thing that Ms. Sungenis is best known for is the "Tooty Ta," a dance that she does with her students every Friday.
"The Tooty Ta started when I went to a workshop years ago. There were about 300 teachers in the room and the moderator said 'get up and let's Tooty Ta!' I was immediately hooked! I introduced it to my students, and they've been doing it every Friday since then. About three years after I started it here, some of my former students asked me if they could come back and do the Tooty Ta with me and that is how the reunions started. I have been hosting those reunions for 17 years now. Alumni home from college come back, Upper School students come back—my whole classroom is filled with former students. It is the most rewarding and fun day of the whole school year."
Outside of the classroom, Ms. Sungenis is an avid motorcycle rider. "I have driven a Harley Davidson for the last 21 years—her name is Ruby. I also have a 1981 vintage pick-up truck that I love to drive." Ms. Sungenis explained that most of her students also become very familiar with her love for gardening and caring for animals. "I enjoy doing anything that gets my hands dirty," she said. "I always say that if I don't have dirt under my nails every single day, my day is not complete."
As she reflects on her experience here, Ms. Sungenis also has some advice for incoming faculty to Pine Crest. "This is a place where you can spend the rest of your career. This is a school where you are able to make mistakes, able to try new things, make friendships and relationships with colleagues who truly care about you. The administration is beyond wonderful—they support our ideas and give us the resources we need. This is a place you can call home."