In 2019, Pine Crest faculty, staff, and administrators created and finalized the School's strategic plan to be executed over the course of the following five years under the leadership of President Dr. Dana Markham '18H.
Amid a global pandemic and uncertainty, the School continued looking into the future and began making plans to launch several projects in support of the five-year goals and objectives. These "Transforming Tomorrow" projects are bringing to life one of the strategic plan's fundamental elements of creating flexible and welcoming spaces on both the Boca Raton and Fort Lauderdale campuses.

To begin, the School launched an effort to secure the philanthropic gifts necessary to fully renovate the Mae McMillan Fine Arts Center on the Fort Lauderdale campus. Construction of the upgraded facilities began early in the summer of 2021.
"The Fine Arts Center includes instruction in three areas—visual arts, band, and orchestra," said Mr. Larry Mellone, Director of Fine Arts. "Within those major program areas are very exciting spaces, for example, a high-tech music production studio and a piano studio will be included in the orchestral suite of spaces. There will be four visual arts areas, a purpose-built drawing and painting classroom, digital arts classroom, a 3D sculpture and ceramics classroom, and a post Advanced Placement (AP) art seminar room. The band suite will have dedicated jazz band and rock band rehearsal spaces. In addition to these cutting-edge upgrades, we wanted to take advantage of outdoor learning spaces. There will be three outdoor collaborative art pavilions where students may go outdoors and paint, have a jam session, dancers can come over from the Palmer Dance studio and dance outside."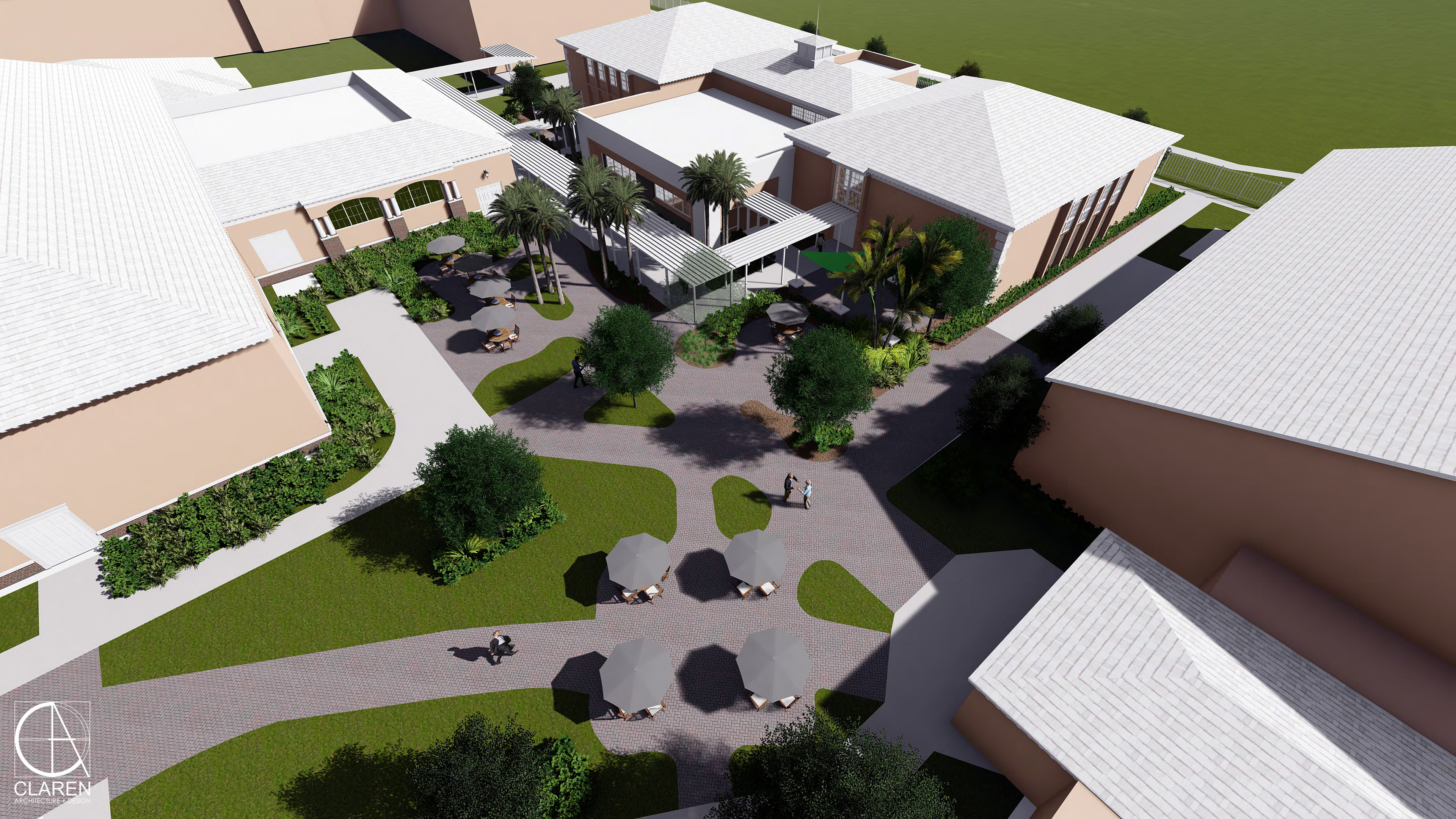 The renovation of the Mae McMillan Arts Center will provide advanced facilities to support students' unique talents and goals.
"Each space has been purposefully designed for the arts at our school," said Mr. Mellone. "Dr. Mae McMillan planned this building 50 years ago, and it has served students well for that time. This renovated space will allow them to reach their goals for many years into the future."
Among the donors making the renovation of the Mae McMillan Fine Arts Center possible, is the Hudson Family. The Hudson Family have been longtime supporters of Pine Crest School. Holly (Hudson) Bodenweber '88 and Steve Hudson '87 are following in the footsteps of their parents Bonnie Huizenga Hudson and Whit Hudson, as well as their uncle H. Wayne Huizenga '55 through their own philanthropic support of our School. The Hudson Family's philanthropic gifts have enhanced students' experiences in countless ways. From the renovation of the Hudson Family Library, completed in the summer of 2021, the construction of the Huizenga Science Center in the Upper School, and the establishment of the Hudson Technology Endowment, the family's annual support to The Pine Crest Fund brings a multitude of opportunities for students and faculty every day.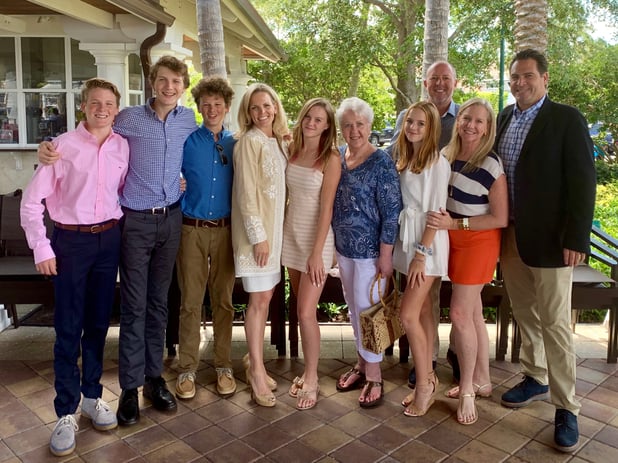 The Bodenweber and Hudson Families
Fourteen (14) benefactors joined the Hudson Family Foundation in making philanthropic gifts that are making the renovation possible. These commitments include two anonymous $1 million gifts.
"Our family is humbled and grateful to be a part of the Fine Arts renovation, as the arts are an integral part of shaping Pine Crest students," said one of the anonymous benefactors. "Participation in and access to the arts are some of the greatest opportunities Pine Crest offers, and we are proud to support every student's artistic passions, pursuits, and possibilities."
Breaking ground in fall 2021, the Beyer Center for Emergent Leadership is being built for the Boca Raton campus Middle School. The Beyer Center will provide space for Middle School students to engage in project-based learning, innovation, and entrepreneurship curriculum designed to develop emergent leadership skills.
"Dr. Markham is the inspiration behind the Beyer Center for Emergent Leadership," said Mrs. Lisa Ockerman, Pine Crest Executive Director of Educational Design and Strategic Initiatives. "She is passionate about emergent leadership and giving students the skills to lead—teaching them to know when to step forward and when to step back."
The school's emergent leadership programming prepares and empowers students to be effective leaders and active citizens by presenting lessons with an emphasis on leadership skills such as decision making, problem-solving, public speaking, critical thinking, perseverance, and adaptability. The program is unique in that it is not written as an add-on curriculum; rather, it suggests ways that the content and activities that are currently being taught at Pine Crest can support the development and practice of leadership skills for students.
"To prepare Middle School students for Upper School and beyond, we feel it is important to create large, flexible spaces for collaborative projects," said Mrs. Ockerman. "The new space will have areas for faculty and students to make interdisciplinary connections, working together in flexible rooms that can be made larger by opening pocket doors. There will also be a flex space dedicated to faculty where they can brainstorm and work together."
The two-story building will feature classrooms for 2D and 3D design fabrication, computer science, and emergent technology—augmented and virtual reality, eSports, artificial intelligence and coding—and robotics. The second floor will bear the name of the Teplitsky Family in recognition of their leadership gift. It will also be home to a Middle School library, service learning space, and the emergent leadership programming.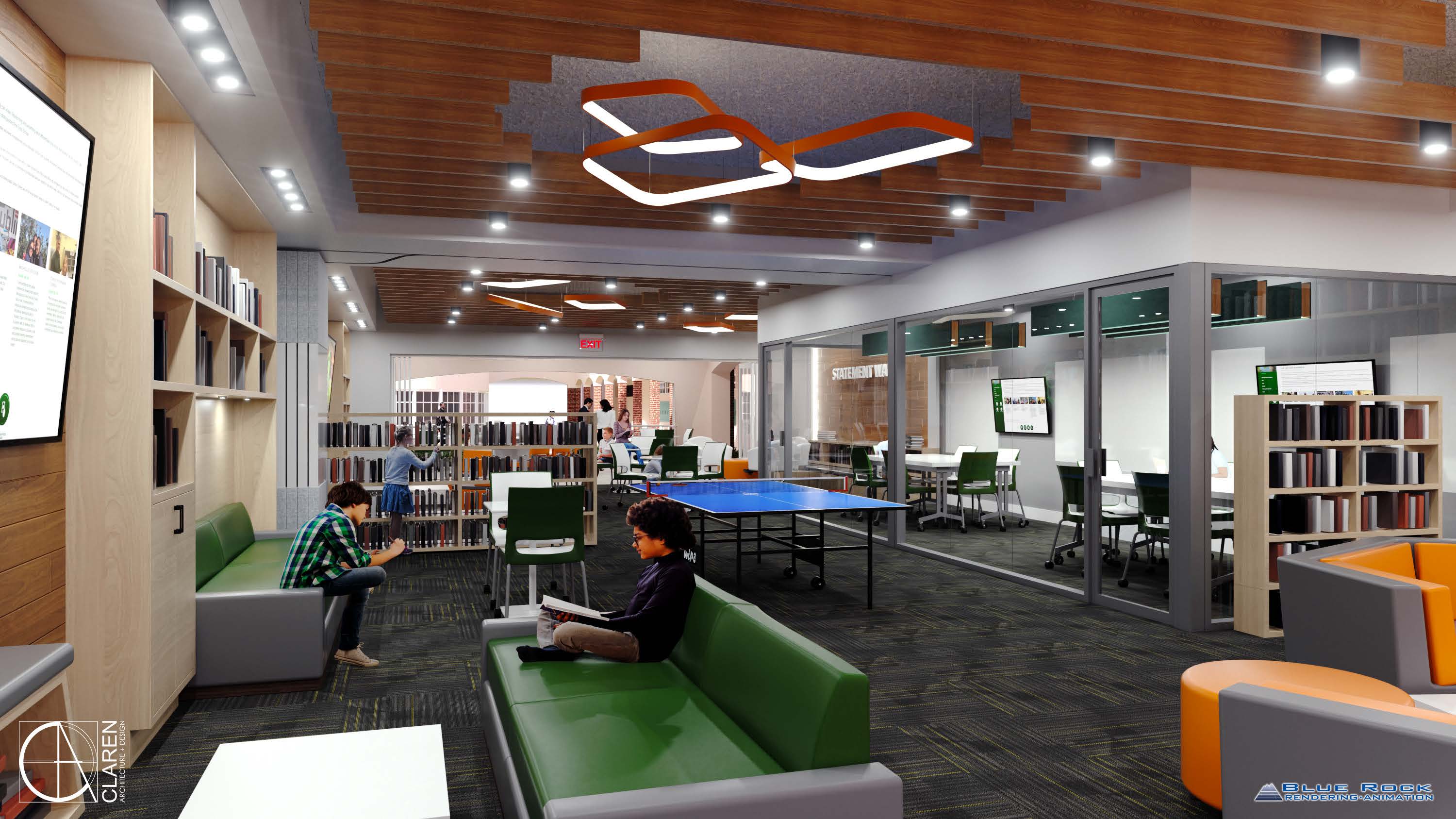 Recently, Anthony and Vanessa Beyer, parents to twins Alexander '28 and Nikolaus '28, made the lead gift to launch construction of the Beyer Center for Emergent Leadership.
On what drew the Beyers to the project, Anthony says, "We believe in fostering great leaders in our society, no matter what they go on to do. We care deeply about investing in people and in individuals who can inspire transformational change, particularly in education and medicine. We are interested in cultures of excellence, and we see that in Pine Crest."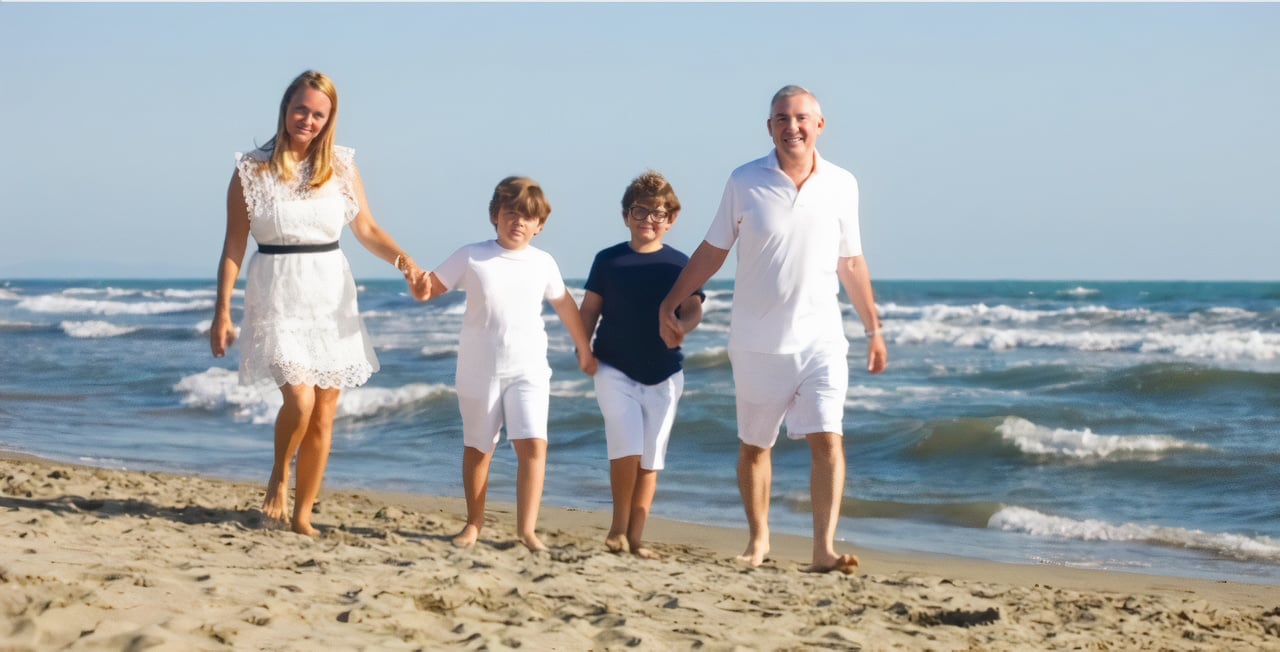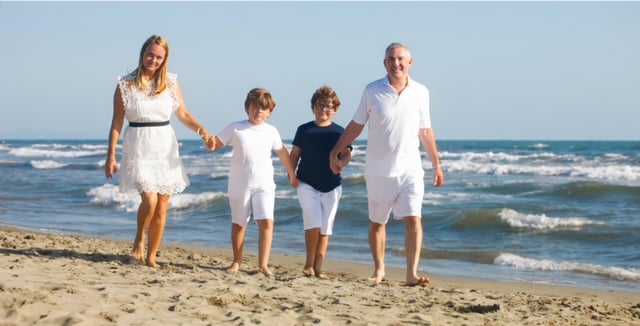 The Beyer Family


"The philanthropy from the Pine Crest community," said Mrs. Ockerman, "enables us to offer our students experiences with emergent technology and the type of coursework and equipment you see at the high school and college level. Philanthropic dollars give us the ability to truly prepare our students for tomorrow."
For information on investing philanthropic dollars in the people, programs, and places of Pine Crest School, contact Susan Peirce, Vice President of Advancement, at susan.peirce@pinecrest.edu or Alisa Karten, Associate Vice President of Advancement, at alisa.karten@pinecrest.edu.