For 37 years, Mrs. Lisa Weihe has been driving the same route from home to Pine Crest School. A beloved pre-kindergarten teacher, Mrs. Weihe began her tenure when her eldest daughter started pre-kindergarten in 1985.
"All five of my children went to Pine Crest," said Mrs. Weihe. "I was fortunate enough to be home before my children were old enough to start school. When my son Will '10 started at Pine Crest, I decided to go back to work."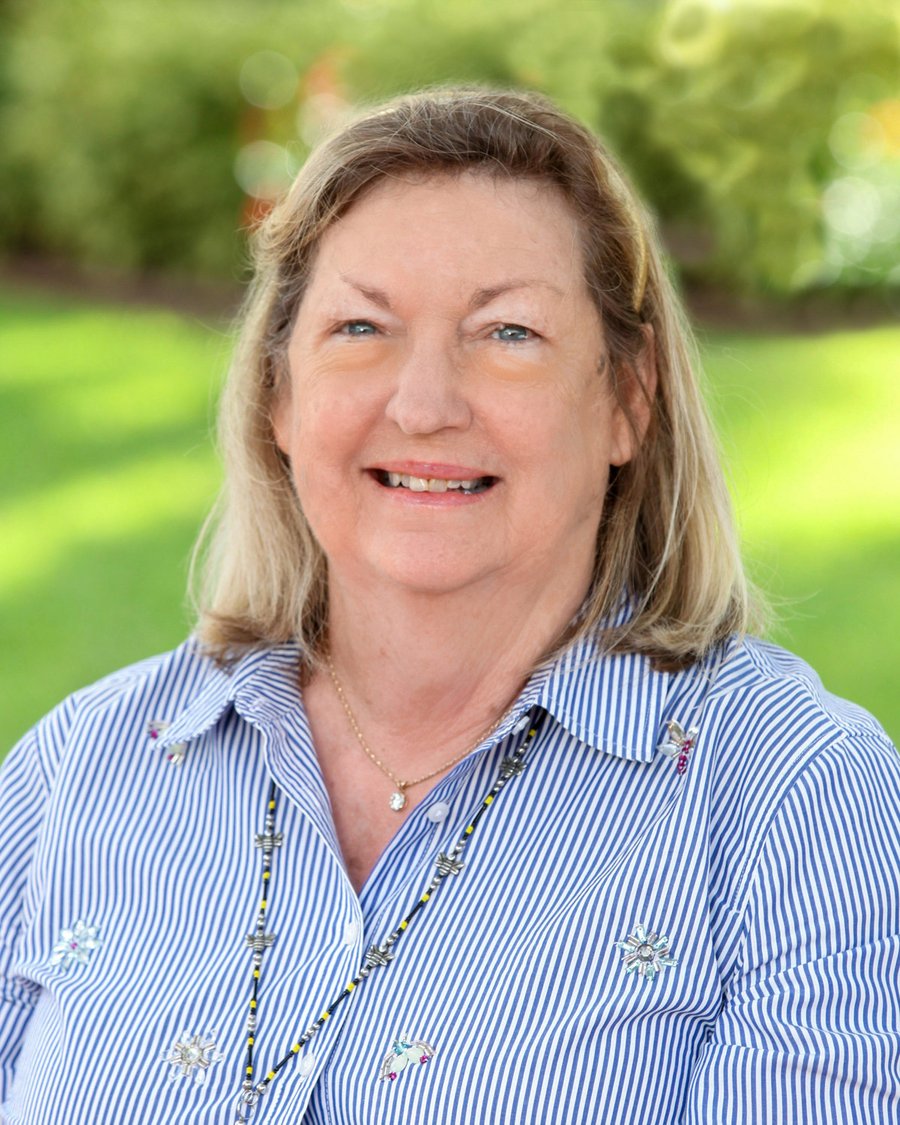 Having a background in education, Mrs. Weihe began substitute teaching at Pine Crest until she was offered a full-time position as a teacher II with kindergarten teacher Mrs. Linda Fanning.
"The following year, Linda became the Pre-Primary Head, and they offered me the lead teacher position. That was in 1999," she said. "I taught kindergarten for 18 years and then moved to pre-kindergarten for the past six years. I love pre-kindergarten and am so glad I moved. This age is so genuine—to be a part of students' first year at Pine Crest is so special."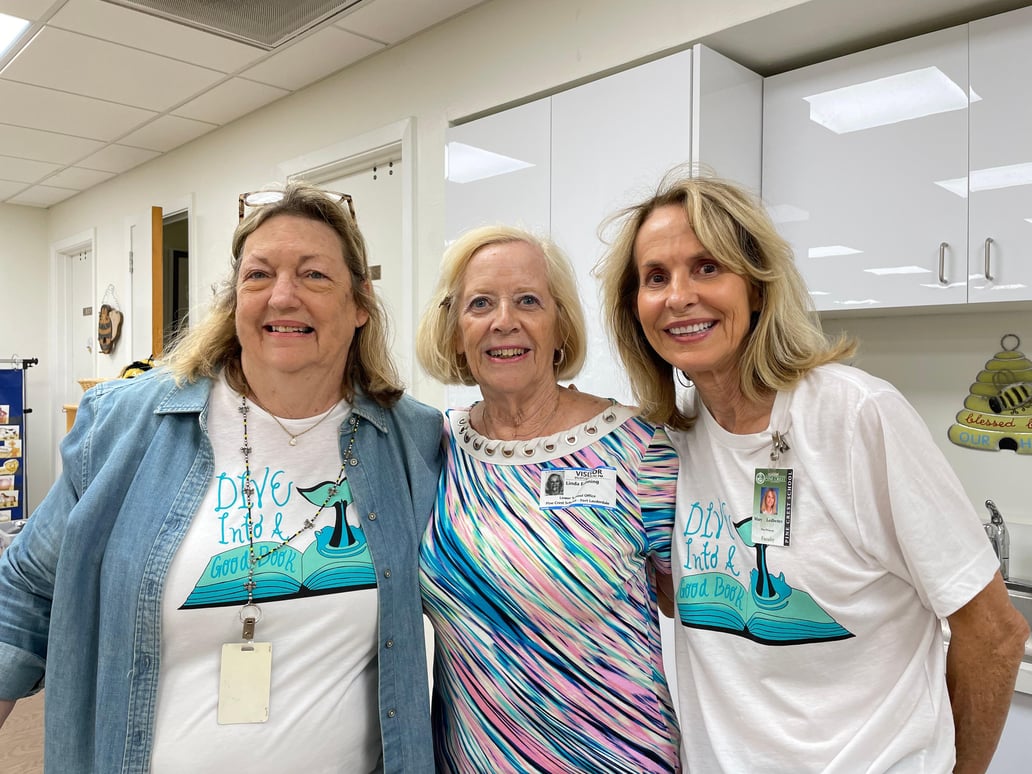 Mrs. Lisa Weihe, Mrs. Linda Fanning, and Mrs. Mary Ledbetter
Having always enjoyed teaching and working with young children, Mrs. Weihe says teaching our youngest students is so meaningful because of their innate curiosity.
"They love to learn," she said. "They teach me a lot, and I learn from them too. They are like little sponges. They get so excited over every little thing we do each day."
As a pre-kindergarten teacher, Mrs. Weihe knows that she is students' first introduction to Pine Crest.
"I just want them to feel comfortable and happy," she said. "If students are comfortable, happy, and excited, then what else could you be?! I like to be a part of that—helping them to enjoy coming to school and be open to learning."
Reflecting on what makes pre-kindergarten at Pine Crest unique, Mrs. Weihe said, "I think because pre-kindergarten is their first experience at the school, it sets the tone for the children and their families. If parents know their child is happy and safe and loving school, the rest just falls into place."
"I think that academics are a big part of it. Pine Crest faculty is good at not just looking at the academic part of a student's life, but the social and emotional parts as well. It is like a pie—academics are part of it, but there is so much more. We try to nurture all of those parts. I feel so lucky that oftentimes, we are the ones who experience when the light bulb goes off—When they read or write a sentence for the first time, and say 'look what I can do!' They feel so proud of themselves."
As much as Mrs. Weihe loves what she does, she shows deep gratitude for her teacher II of 18 years, Mrs. Mary Ledbetter.
"I couldn't do it without her," she said. "Aside from loving being with the children, Mary and I have enjoyed teaching together for many years, and that has been such a pleasure. She is definitely the creative one of the two of us. I like the camaraderie of the team; there is no ego. We are here to help, be with the children, teach them, and to help the families."
Knowing that Mrs. Weihe could teach anywhere, Pine Crest has remained a special place for her.
"I have always been proud to be part of the Pine Crest faculty," she said. "Besides how beautiful the campus is, I think that we are so lucky to have children who love to learn, families who are appreciative of the faculty, and an administration who really backs us up. I am very grateful for that."
"There is something special about loving coming to school—every day is new and different. You never know what you are going to get. I always feel lucky that I love my job."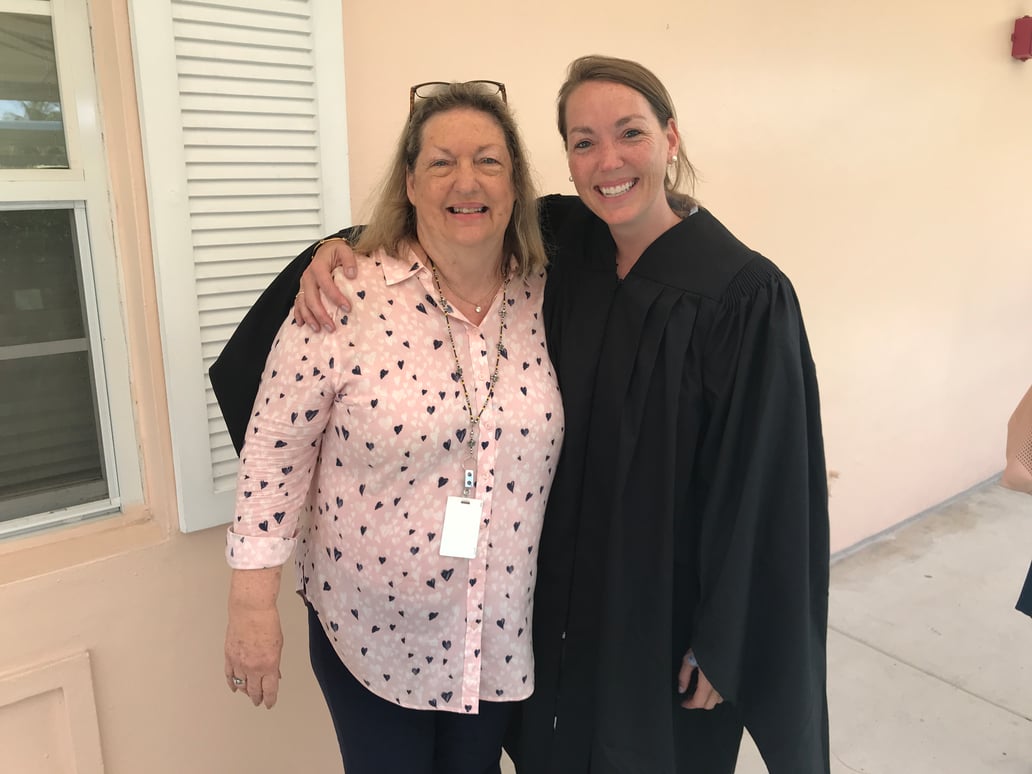 Mrs. Lisa Weihe and daughter Kate (Weihe) Dobbie '00, who performed the wedding of Q and U in 2019.
Thinking about a favorite memory from her almost four decades here, Mrs. Weihe said she has always enjoyed watching students grow up.
"Another unique part of Pine Crest and teaching young children is the unique opportunity to watch the children grow up," she said. "We see them turn into wonderful young adults. One of my favorite days of the year is the seniors' last day of school at the end of April. They come down to the Lower School in their college T-shirts, and visit us. They'll say 'that was my cubby!' They'll remember where they sat. I also enjoy attending commencement and seeing all of the families."
There is no doubt that in 37 years, Mrs. Weihe has had many moments of pride.
"You're proud of each child and all that they have become," she said. "Another special thing about this age is that it is very obvious from the beginning of the school year to the end how much the students have grown—physically, emotionally, and socially. As they get older, it's not as obvious as it was in pre-kindergarten, but we are able to glimpse that. Each one of them is so special."
As she looks ahead to retirement, Mrs. Weihe looks forward to spending time with her grandchildren. "Brooke '98 lives in Louisville, Kentucky with her two children, and Kate '00 is in Sun Valley, Idaho with her son. I want to be at my grandchildren's assemblies and grandparents' days and see them grow."
For new faculty joining Pine Crest, "I would like them to know what special environment this is," Mrs. Weihe said. "This is a family that will nurture the child from their young years all the way through Upper School. I love being a part of Pine Crest and how it has grown over the years."