By Danielle Weisfisch '20

Pine Crest School students on the Boca Raton and Fort Lauderdale campuses, from pre-kindergarten through eighth grade, build and maintain digital portfolios.
What are digital portfolios? They are an electronic compilation of student work used to show their growth throughout their different classes.
Digital portfolios are "a dedicated space for students to pause and reflect on their learning and set new goals for themselves," said Jessie Metzger, Digital Portfolios Chairperson and Upper School Coordinator for Student and Faculty Communications.
"I really liked creating my digital portfolio," said Jordyn Kronrad '25. "It lets me express my creativity by showing how I learned in my own way. I also learned different ways to use technology and can apply it to other projects in the future."
Digital portfolios develop and increase metacognition, thinking about thinking.
"Learning how to think about our thinking helps us understand ourselves as learners," said Mrs. Metzger. "Digital portfolios ask students to look back at their work and ask 'what did I do well, what worked here?' or 'what could I do differently next time?'"
STUDENTS CHOOSE WORK TO INCLUDE
The process for developing the Digital Portfolio program began several years ago with a team of teachers who worked together to establish the mission and objectives for this program. Student choice was established early as a critical component of digital portfolios for Pine Crest.
Based on their grade level and teacher, students are given a goal in terms of the number of artifacts they should upload to their digital portfolios. However, students ultimately choose which to include in their digital portfolios; it is the student's documentation of their individual learning journey. Student choice is essential and a powerful part of the process.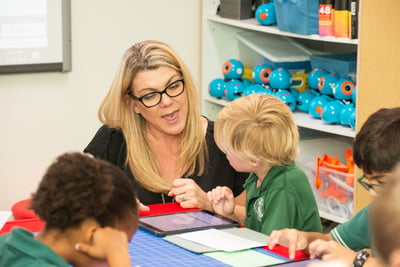 "An artifact can be anything from sharing a math problem-solving strategy to a video book review," Dr. Ella Yankelevich, Lower School Computer Science and Technology Specialist.
Students select the work they wish to include in their portfolios. This allows them to see that their best work may not be the work that was the easiest or received the best grade, but it challenged them to learn something new about themselves.
"Computer science and technology specialists work with teachers to support students through a reflection, selection, and upload process for each artifact," said Dr. Yankelevich. "Throughout the school year, students select work samples in a variety of subject areas, including certain 'specials' (music, art, Spanish…), to upload to their digital portfolios as artifacts."
Students are not only taking ownership of their learning; they are also gaining technological skills in creating their digital portfolios.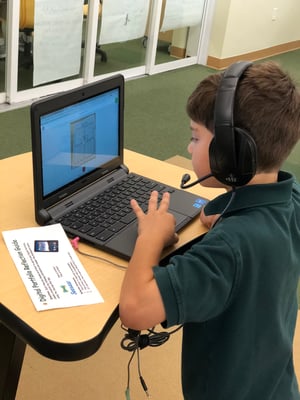 THE SOFTWARE BEHIND DIGITAL PORTFOLIOS
During the pilot phase of our Digital Portfolio Initiative, the faculty tested eight different tools in order to determine the best fit for students. For pre-kindergarten to grade three, students use a program called Seesaw.


"Seesaw is a digital platform that works on computers and mobile devices to allow students to capture their learning," said Dr. Yankelevich. "Students can use the Seesaw app on an iPad (pre-kindergarten to first grade) or the Seesaw website on a Chromebook (second and third grade) to record video, take or upload images, draw, write, or attach a link. Students in pre-kindergarten through first grade log in to their digital portfolio by scanning a QR code specific to their class each year. In second and third grade, students log in using their school Google credentials."
To Dr. Yankelevich, Seesaw is an amazing tool that allows both teachers and students to pause and reflect on their teaching and learning. Students take ownership of their work by showing what they know and have an authentic audience for doing so.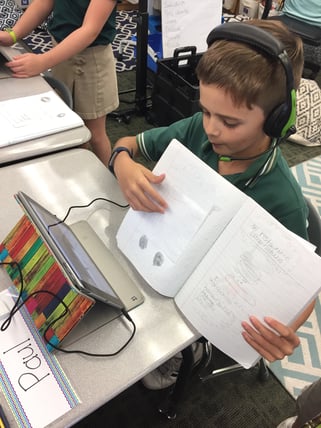 Starting in fourth grade, students begin using Google Sites to create their own websites to house their digital portfolios.
"Students create their Google Sites portfolio with the assistance of many teachers," said Ms. Debra Jacoby, Lower School Computer Science and Technology Specialist. "With Seesaw, we use an account run by the teachers who manage and review student uploads. Then when students enter fourth grade their Seesaw accounts are transferred to Google Sites."


"When students transition from the Seesaw platform to building a Google Site, we take time to download their work off the Seesaw platform," said Ms. Jacoby. "Once the students have their site built, they then create a tab which includes all of their past work. The Computer Science/ and Technology Specialist demonstrates the basic foundation of how to build the site."
"After the site is built, additional time is scheduled with each subject area to focus on the type of artifact that the subject requires. For example, a writing class requires more uploading of documents while a Spanish class might use more audio in order to capture the student's language skills. Classroom teachers help advise students on the quality of selecting their artifacts and assist in broadening the written reflective process for the students."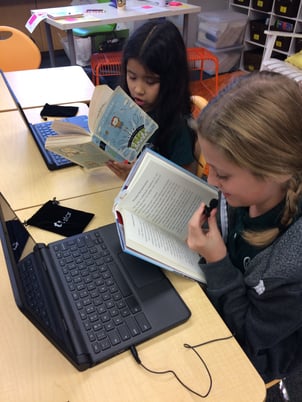 CONTINUING THE LEARNING
"What is impressive about our program," said Ms. Jacoby, " is that students get a chance to look back at their work over the years. This allows the students to see their growth."
"One example is in reading fluency. Students have the opportunity to select an independent reading text and record themselves as part of their artifact. Then, students give feedback on how their reading sounds to them and how they can improve."
"The difference between a beginning of the year fluency artifact and an end of the year fluency artifact is huge. Students who participated in digital portfolios last year have really enjoyed listening to their recordings from the past and are amazed at their own progress."