At Pine Crest School, we believe our students must learn to be as agile and adaptable as possible.

High-brain human traits such as global understanding and empathy, deep thinking and learning, and complex problem-solving mindset through collaboration will distinguish our students and set them up for success.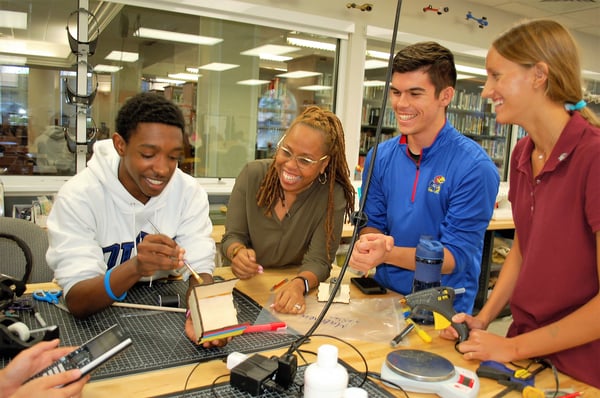 In the spirit of meeting the learning needs of our students, Pine Crest encourages and offers innovative, cutting-edge educational opportunities for them to try new ideas and experiences, take charge of their own learning, and make meaningful pathways for exploration and growth. One of these opportunities is entrepreneurship.


In teaching entrepreneurship, we offer students a chance to develop entrepreneurial mindsets. An entrepreneur is innovative and resourceful; he or she creates value. An entrepreneurial mindset may be applied in many aspects of life, personally and professionally.


Skills may include:
initiative and self-direction
risk-taking/willingness to try and fail
flexibility and adaptability
creativity and innovation
critical thinking
problem solving
the ability to see opportunities
assemble resources
consider calculated risks
empathy


Pine Crest's approach to entrepreneurship is educational in nature with a focus on skill building and collaboration.


Entrepreneurship at Pine Crest is a mindset.


Entrepreneurship provides an additional platform for students to fail forward.


Entrepreneurship programs complement a strong academic core and Pine Crest strategic initiatives, including innovation, computer science, and Social and Emotional Education.


Located in the Huizenga Science Center/Egan Library building on the Fort Lauderdale campus, Entrepreneurship Dedicated to Global Engagement (EDGE) is a dedicated space for faculty and students to gather, learn, plan, collaborate, and work on entrepreneurship-related projects. Entrepreneurship at Pine Crest is not confined to this space; it is woven throughout the classrooms, fields, courts, and stages.


Pine Crest students who discover a passion for entrepreneurship have a clear trajectory, from Middle School wheel courses and Upper School clubs (DECA, TSA) to Upper School coursework in AP Micro/Macro Economics and the McMillan Fellowship in Social Entrepreneurship Honors.


Learn more about academics at Pine Crest School.